Ajit rules out aid to private carriers
n Minister says they will have to learn to fend for themselves
n Govt can't keep injecting funds into cash-starved AI
Vibha Sharma
Tribune News Service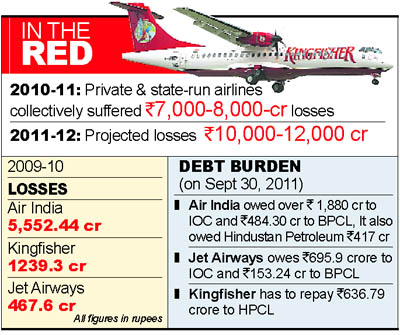 New Delhi, January 11
Civil Aviation Minister Ajit Singh today ruled out financial help to private carriers but indicated relief to some in the form of opening up 49 per cent foreign investment in the cash-strapped sector.
A tough talking minister also advised national carrier Air India to get its act together if it wanted to survive in the long run. "Air India is a public sector unit, so the government has an obligation. However, Air India will have to become competitive. They will have to restructure their costs in line with the industry as a whole because the government cannot keep pouring money into it," he said.
Private airlines, however, will have to learn to fend for themselves. This was his clear message to Vijay Mallya, ruling out a bailout for either Kingfisher Airlines or any other cash-strapped private carrier hoping for such clemency from the government.
"Kingfisher is a private enterprise and banks can only lend if they are satisfied with the business plan of the company. If the banks feel they can recover their money and make profits, they will lend, otherwise not," he said when asked if the government was willing to give financial support to the Mallya-promoted airline.
Kingfisher had recently sought Singh's help, saying that the company would not be able to sustain the present scale of operations it did not get government help soon.
The silver lining for struggling-for-survival airlines is that Ajit Singh is in favour of allowing foreign companies to buy equity in Indian carriers, a demand being pursued mostly by Mallya who feels that FDI would help them raise the much- needed equity. "Yes, I am in favour of 49 per cent FDI," the Civil Aviation Minister categorically told The Tribune.
The idea to increase the FDI cap from the earlier proposed 26 per cent to 49 per cent was recently mooted by a committee of secretaries. The Group of Ministers (GoM) is likely to discuss the issue in a day or two.
"Finally, the Cabinet will take the decision. The Committee of Secretaries has recommended raising the FDI limit in the sector," Singh said.
However, apart from Mallya, there are not many takers for the move.
Carriers like Jet Airways and IndiGo feel that FDI above 24 per cent would make them susceptible to hostile takeovers in difficult financial situations. Ajit Singh, however, gave an assurance that there would be enough safeguards to take care of such concerns.
Under the current rules, up to 49 per cent FDI is allowed in aviation companies, but foreign airlines are not allowed to invest. When Vayalar Ravi was in charge, the Civil Aviation Ministry had proposed 24 per cent FDI, a suggestion that was countered by the Department of Industrial Policy and Promotion (DIPP).