Elections a low-profile affair this time
SP Sharma/Balwant Garg
Tribune News Service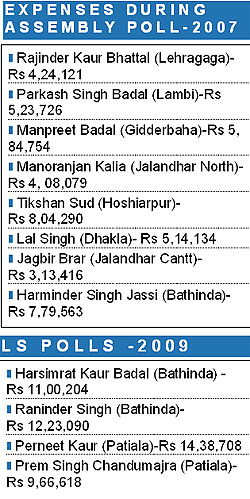 Bathinda/Faridkot, January 13
With the Election Commission tightening the noose on election expenditure, candidates of various political parties have evolved different methods to remain within the capped amount but in the process, those traders who were anxiously waiting to make a fortune out of the polls, have been left disappointed. Durries borrowed from Gurdwaras and traditional cots are being used to seat the audience instead of chairs particularly in the rural areas.
This assembly election in Punjab has witnessed many changes as gone are the days when the political parties and the candidates contesting elections were offering chairs to sit, serving tea and eatables to the audience and ace folk singers, comedians, ballad singers and dancing parties regaled the crowd with lively singing and sparkling one-liners. But the entertainment is missing this time.
With an expenditure limit of Rs 16 lakh on every candidate and the Election Commission's expenditure monitoring division keeping tab on each penny spent, the elections are not only straitjacketed in terms of campaigning but are also a low-profile affair.
As use of each chair in the election rally will add Rs 5 in the poll expenditure, so the contesting candidates are depending on cots and durries.
But in this low profile campaigning, while the participants in the election rallies in the rural areas do not face difficulty in sitting on cots, in the urban areas, it is very discomfiting for the participants.
While the election posters, buntings, hoardings and flex boards are almost invisible this time, campaigning on the deafening loudspeakers is also missing. It was only during a visit to Fazilka that a loudspeaker fitted rickshaw blaring patriotic songs and campaigning for a particular candidate was found.
"Earlier, the election was a roaring business time for all tent houses and printers. But this time, we are sitting idle," said a printing press owner in Faridkot. Vijay Verma, a leading printer of Bathinda, said he had invested about Rs.one crore towards installing a new press and stocking paper in the hope of doing a good business during the election, but his hopes have been dashed as no candidate has come forward to get his posters printed.
Singers and dance troupes, always in great demand during the election time, are seeing a low-spirited business. "Earlier, the singers were booked months in advance of the election but this time, there was no such booking," said Nirmal Singh Sadhawalia, director of a leading music business company.
Taxi operators were also sitting idle as not many vehicles have been hired by the political parties. The election expenditure monitoring cell in every constituency is maintaining a strict vigil on camouflaged expenditure, said Ravi Bhagat, Deputy Commissioner, Faridkot.
While all individuals will have to furnish their expense details within three days but political parties will also have to give a detailed account of the overall expenditure under various heads within 75 days of the conclusion of the polls, said KK Yadav, DC, Bathinda.