M A I N N E W S
B'desh army foils plot to topple Hasina govt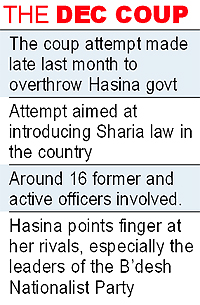 Dhaka, January 19
The Bangladesh army said on Thursday it foiled a coup attempt by retired and serving officers late last month which intelligence sources said was driven by a campaign to introduce Sharia law throughout the majority Muslim country.
Impoverished Bangladesh has a history of coups, with army generals running the South Asian nation for 15 years until the end of 1990.
"Specific information has been unearthed that some officers in military service have been involved in the conspiracy to topple the system of democratic governance," Brigadier General Muhammad Masud Razzaq told reporters. He said around 16 former and active officers were involved. Some had been detained and would appear before a military court.
Sources in the army said the coup attempt was made late last month. "The attempt has been effectively controlled and now the process is on to punish the culprits," one military official said. The Prime Minister's Office and the Home Ministry did not comment, but addressing a rally outside Dhaka earlier this week, Hasina urged Bangladeshis to remain alert. — Reuters