Couple chemistry
Soha Ali Khan and Kunal Khemu will be playing the perfect role models on UTV Stars' Superstar Santa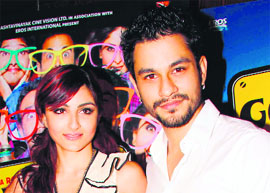 The idea is to strike the perfect balance; not to go overboard bragging about the commitment part and not to keep the relationship under wraps. Soha Ali Khan and Kunal Khemu took no time to realise that when you are a public figure, your fans have a right to know what's happening in your personal life as well! "And then you have a moral obligation as well. People begin to treat you like role models and you have to be one, on and off the screen. It is important to carry yourself with a certain amount of dignity," says Soha.
real talk: Soha Ali Khan and Kunal Khemu
The right MOTIVE
DJ Motiv8, the mentor and founder of Black Eyed Peas, finally takes out time to know his own self
DJ Motiv8, aka Monroe Walker, the official DJ of the band Black Eyed Peas, makes his first-ever appearance in India for a show at Kava, Sector-26, Chandigarh, on Friday.
Farah finds acting funny!
Choreographer-turned-filmmaker Farah Khan finds it funny that she is now also dabbling in acting.
Guzaarish going places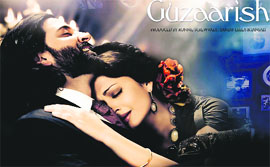 Hrithik Roshan and Aishwarya Rai starrer Guzaarish - meaning 'request' in English - is set for a Peru release in February this year, as Bollywood looks towards newer markets. Guzaarish deals with the serious subject of euthanasia and received a four out of five star review and was called "one of the most unusual love stories of recent times". The fact that the film has already won recognition in markets outside of India, including in France, gives UTV Motion Pictures reason to be hopeful about its reception in Latin America.

Dad's the way to go...
Bollywood heartthrob Ranbir Kapoor is all praise for his father Rishi Kapoor's performance in Karan Johar's Agneepath and says it is the latter's passion for work that inspires him to do better.
Congratulation and celebrations…
As Riteish Deshmukh and Genelia D'Souza approach their wedding, B-Town seems to be in a celebratory mood. The two actors are set to get married in the first week of February in what will be a celebration lasting four days and it looks like the whole of Bollywood will join in. On Tuesday night itself, a pre-wedding bash was held for the happy couple in a restaurant in Bandra, Mumbai.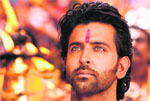 No director's hat for Hrithik
Hrithik Roshan has revealed that he will not be directing Krissh 3. As rumours went by, it was speculated that Hrithik would direct the third installment of the Indian sci-fi movie alongside dad Rakesh Roshan.
Brad owes it to Bono
Brad Pitt has credited Bono for helping him become the man he is today with his humanitarian advice. The movie star admitted to The Hollywood Reporter that he "sought out" the U2 singer after a visit to Morocco made him realise just how severe poverty was in certain areas of Africa.
GET PHYSICAL
When pressure is positive ...
Yoga mudra
Among the many practices creating positive pressure on the lower abdominal region, yoga mudra is considered to be the most important. Mudra means a symbol. It is claimed in hatha yoga that the practice of this mudra awakens the mysterious kundalini power located in the lower abdominal region, by applying positive pressure to that region.
Attain the asana 
Yoga mudra is practiced in the lotus pose. If you are unable to practice it in padmasana, then practice it in ardha padmasana or in sukhasana (easy pose). If this is also not possible, then sit in vajrasana.
TRENDSETTER
Comfort over trend
Every person has a sense of style in his own right. Yet there are only a few who'd attract the second glances, who have the power to make the camera go zoom on them. It could be the tousled hair, it could be torn jeans. Our this week's face in the crowd, Jatin Dutt, final year student, University Institute of Engineering and Technology, believes in being simple and groomed all the way.
Telly-VISION
Karanvir Bohra will now be seen in the lead role of upcoming serial Saubhagyavati Bhava
If it gives us unadulterated, uninhibited melodrama, it also makes celebrities; we are not talking about Salman Khan but Indian television. The flat screen box (idiot box is an old term) has churned out celebrities faster than movies. Karanvir Bohra, the lead actor of UTV production's Saubhagyavati Bhava, a television serial on Like Ok channel is one such name.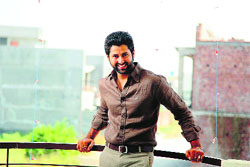 Mission B-town
Ludhiana lad Pardeep Joshi is taking rapid strides in the tinsel town
When we hear that Punjab has a lot of talent, be it in acting or singing, we completely agree. As we have yet another Punjab da munda Pardeep Joshi who is ready to make a Bollywood debut.
ON SCREEN: Pardeep Joshi
Kiss and tell
Actress Kirsten Dunst publicly accepted her new romance by kissing her rumoured beau, On the Road co-star Garrett Hedlund, at a film festival. The duo was seen at a star-studded party at the Sundance Film Festival in Utah.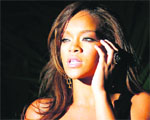 Small debut
R&B star Rihanna is making her TV debut with a British fashion talent hunt show. The 23-yrear-old singer and style queen will take the role of executive producer, working mostly behind the scenes, but will appear occasionally in the 10-part series that will be hosted by Girls Aloud singer Nicola Roberts. The multiple Grammy award-winner will help shape the show that will search for the next generation of raw fashion talent who will be challenged with creating outfits for a string of musicians and celebrities during the course of the series.
Straight talk...
Priyanka Chopra talks about Agneepath, her associations in Bollywood and more
Fresh take
I hadn't seen the original Agneepath till I signed this movie. The reports of the movie are good and people have liked Hrithik, mine, Sanjay, and Rishi Kapoor's work. My role has been written fresh. I am happy for Karan Malhotra, the director as this is his first film.
Agent Vinod is Indian: Saif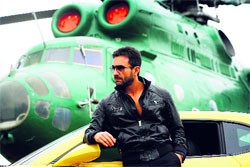 Dismissing any similarities with fictional spy agent James Bond, Bollywood actor-producer Saif Ali Khan says his character in Agent Vinod is totally desi.
The much-awaited action-spy film, with Saif and his real life lady love Kareena Kapoor, is ready for release. And comparisons with the James Bond series are inevitable, says Saif.

Desi boy: Saif Ali Khan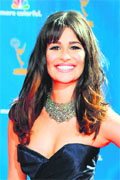 Hangin with Lea
Lea Michele is the face of Candie's spring marketing campaign, titled Hangin at Home. The 25-year-old follows in the footsteps of the brand's previous faces including Britney Spears, Vanessa Hudgens and Fergie. In a newly released ad for the shoe giant, the Glee star strikes a seductive pose while reclining atop silk linens and furry pillows.
Who believes in ghosts?
Daniel Radcliffe has said that he has never seen a ghost and doesn't believe in them. The actor who stars in new supernatural thriller Woman in Black—doesn't believe he will ever share the experiences depicted in the movie because he doubts the existence of supernatural beings.
New Entry
Rajshri Productions' will soon launch their new show on Sahara One. Producer Kavita Bharjatya's show is called Jhilmil Sitaron Ka Aangan Hoga, which will be about daughters getting marryied and bringing ghar jamais.
Good going...
Soon after the launch, Star Plus' prime time, Diya Aur Baati Hum became a popular and hit show. And while Suraj and Sandhya's story is an important part, Bhabhoo too plays a crucial role in heralding the achievement. We spoke to Bhabhoo aka Neelu.
chatter box
The perfect shot
This January, History TV18 takes you into a world of extreme precision and detail. Witness the greatest shots in military history as expert shooters recreate moments which look like science fiction. The expert marksmen take viewers into the less explored world of firearms and the art of warfare.
The year ahead
If your birthday is January 28...
Incidentally, your birthday in 2012 commences on Vasant Panchmi which is the most auspicious day. A positive year for the self - employed people. You'll be able to make great investments and increase your earnings. Some unavoidable circumstances may delay the household chores.
Astro Turf
ARIES: Scarifies today can put you in a far better place. Now is the time to sit at home and relax. Any real estate transaction should not be started. Sudden travel could disturb plans. Tarot message: Value the judgments which shape your money aspects.