Police exhausts fuel fund again
Chandigarh, February 1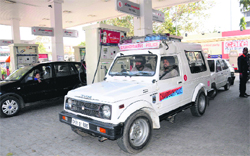 For the second time this financial year, the UT police has exhausted its quota of funds worth crores for fuel for its fleet of vehicles and is left at the mercy of the UT Administration for additional grant of Rs 1.5 crore. With no fresh funds flowing, some police vehicles were today left stranded for want of fuel while some others got the fuel refuelled from the Sector 33 petrol station on a temporary basis.
A police Gypsy being refuelled at the Sector 33 petrol station after the MT Section in the Police Lines, Chandigarh, ran out of fuel. tribune photo: manoj mahajan
Malkhana in charge sold 631 case properties
Panchkula, February 1
While the Panchkula police was busy arresting criminals, a real "thug" was sitting right inside its "malkhana", eating into the case property under police custody. Sukhwinder Singh, former in charge of the judicial "malkhana", where the police keeps case properties, managed to sell as many as 631 case properties without letting his colleagues get a whiff of it.


ROSE FESTIVAL
Proposed cost cut by Rs 17 lakh
Chandigarh, February 1
In less than 24 hours, the municipal corporation (MC) authorities have trimmed the proposed cost estimates of the Rose Festival by about Rs 17 lakh.
Return laptops or pay, former councillors told
Chandigarh, February 1
As many as 35 former councillors have been asked to either return the laptops issued to them in the next two days or pay the depreciation cost of Rs 29,043 to the authorities.
Rent of night food street kiosks cut
Chandigarh, February 1
The finance and contract committee (F&CC) today decided to decrease the rent for night food street kiosks by Rs 5,000 from this year and allot those through a draw of lots.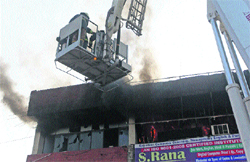 Machinery worth lakhs gutted
Chandigarh, February 1
Machinery worth lakhs was gutted in a fire which broke out on the first floor of a showroom at Sector 41 here this evening. A fire official said the fire broke out at a flex-making unit due to a short-circuit in electricity panels.

Firemen douse flames on the second floor of a showroom at Sector 41 in Chandigarh on Wednesday. Tribune Photo: Parvesh Chauhan
Mohali MC recovers Rs 15 lakh from pvt co.
Mohali, February 1
The Mohali Municipal Council has recovered Rs 15 lakh from a private company that had failed to remove overhead signages put up on road berms even when the contract period had expired about a year ago.
GMADA to make info available on website
Mohali, february 1
Following complaints from the public regarding difficulties in obtaining details of property, including financial aspects, the Greater Mohali Area Development Authority
Auto-rickshaws hindering traffic flow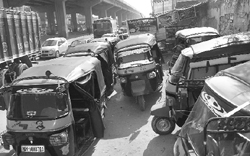 Zirakpur, February 1
More than 1,000 auto-rickshaws, plying on the roads of Zirakpur, are fast becoming a menace. Considered one of the cheapest modes of transport, the auto-rickshaws openly flout norms by overloading, and causing noise and air pollution.


Three-wheelers parked on the pavement under the Zirakpur flyover. tribune photo: nitin mittal
Bougainvillea Garden being spruced up
Mohali, February 1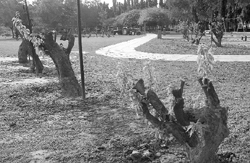 Work on sprucing up the Bougainvillea Garden in Phase IV here is in progress. The pruning of plants, mostly bougainvillea, is being done, which had been neglected for a few years. Even some of the metal structures used for the support of plants had started losing shape due to the weight of the unkept plants.

Shrubs cleared after more than 10 years at Bougainvillea Garden in Phase IV, Mohali, on Wednesday. tribune photo: vicky gharu
CBI opposes bail to kidney scam accused
Panchkula, February 1
In the infamous kidney scam, the CBI yesterday opposed the bail application filed by the three accused - Dr Upender Aggarwal and middlemen Giyasuddin and Jagdish.
Good news for Oriya, Kannada people in tricity soon
Chandigarh, February 1
Residents' demand for a new train to Bhubaneswar via Benglaluru is likely to be met in the next Railway Budget as senior officials with the Ambala Division have sent a proposal in this regard to the Railway Ministry.
Ugly picture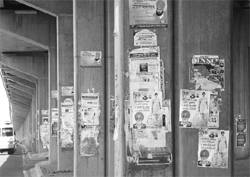 Posters pasted on the pillars of Zirakpur flyover make for an ugly sight. tribune photo: nitin mittal
At last, light in sight
Chandigarh, February 1
It seems that the long wait of UT employees to get their houses under the UT employees housing scheme will end soon as the Chandigarh Housing Board (CHB) has decided to initiate groundwork after completing all formalities in two months.
Reconciliation of accounts improper
Chandigarh, February 1
With the latest local audit and inspection report pointing out that the UT sub-registrar's department has not reconciled its collection of about Rs 97.45 crore in a couple of years, it appears that the UT Administration is least bothered about finances.
Metro in proposed Five-Year Plan budget
Chandigarh, February 1
In an important development, the UT Administration has included the Metro project in the proposed budget of its Five-Year Plan.
Repaired in December, road starts sinking
Chandigarh, February 1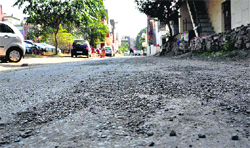 Dissatisfied over the carpeting and widening of V-6 roads in Sector 40-C the Residents Welfare Association (RWA) has demanded an independent inquiry, claiming that the work has been executed haphazardly, ignoring the quality and quantity of work.


A stretch of the newly laid road where cracks have appeared at Sector 40 in Chandigarh. Tribune Photo: Parvesh Chauhan
Day after raids, notices issued
Panchkula, February 1
A day after the team of the Haryana State Drug Controller Department raided two hospitals, Alchemist at Sector 21 and the National Skin Hospital at Sector 5 of Mansa Devi Complex, for violations in the sale and storage of medicines, the department today issued show-cause notices to both hospitals.
Thalassaemia patients enact comedy play
Chandigarh, February 1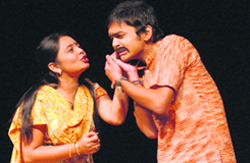 'Zindagi apni kashmakash hi mein ghir ker ubhri/ Honge voh aur jo hallat se ghabraate hein ..' Armed with such courage and conviction, young artistes, suffering from the deadly disease of thalassaemia, staged a comedy play titled 'Parda Uthne Se Pahele' under the aegis of Creators


Artistes perform during the play 'Parda uthane se pehle' at the Tagore Theatre in Chandigarh on Wednesday. Tribune Photo: Vicky Gharu
Examination blues affecting parents more than students
Chandigarh, February 1
The Central Board of Secondary Education (CBSE) helpline number didn't stop ringing on the first day of pre-examination counselling, but rather than it being class X students, it was their mothers who called.
PEC teams bag top positions in IIT-K tech fest
Chandigarh, February 1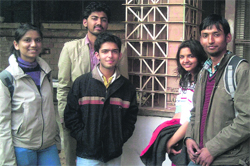 Two teams from Punjab Engineering College (PEC) bagged the top two positions in a technical fest held at IIT Kanpur. The teams, participating in the event 'Tremors', were supposed to design earthquake resistant structure, which they successfully did. Their structures were tested on earthquake testing machines and the models could withstand the earthquake tremors common in seismic Zone IV.
PEC students who bagged the top honours at IIT-Kanpur tech fest 'Tr emors'. Tribune photo
VC misused powers, alleges Chatrath
Chandigarh, February 1
The controversy surrounding the constitution of various academic committees refuses to die down. A day after heated exchanges in the syndicate and Vice-Chancellor RC Sobti registering his reservations on the way the Chatrath group made these committees, GK Chatrath today lashed back at the VC, saying that the House had acted according to the calendar and Sobti himself was responsible for being stripped of the powers to make committees.