New norms for welfare scheme beneficiaries
Medical test, names in voters' list must for old age pension
Chandigarh, February 1
A medical test and name in the voters' list are mandatory for the new beneficiaries of old age pension in Haryana. "In case there is no documentary age proof, the applicant would be required to get his age assessed by a two-member team of doctors at the respective community health centre (CHC)," according to a recent order issued by the Financial Commissioner and Principal Secretary, Social Justice and Empowerment Department to the Deputy Commissioners and district social welfare officers.
State fined for wasting HC's time in land compensation case
Chandigarh, February 1
Admonishing the state of Haryana for wasting the court's time by filing a "frivolous appeal" in a land compensation matter, the Punjab and Haryana High Court has slapped a fine of Rs 1 lakh. The state has also been asked to pay Rs 90,000 to the landowners.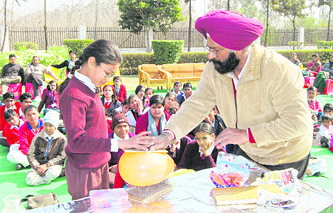 Remembering Kalpana Chawla: Dr Manhohan Singh Marwaha, Associate Professor, Department of Physics, Sri Guru Gobind Singh Khalsa College, Chandigarh, demonstrates an experiment in physics during a programme "A tribute to Kalpana Chawla" organised on her ninth death anniversary at the Kalpana Chawla planetarium in Kurukshetra on Wednesday. A Tribune photograph

Youth's murder
Enraged villagers block traffic in Karnal
Karnal, February 1
Enraged residents of Kohand village, protesting against failure of the police to arrest culprits involved in the murder of a village youth on December 7, today blocked the hospital chowk in Karnal city for more than two hours and shouted anti-police slogans.
Death anniversary of
Ch Ranbir Singh
My father a source of inspiration, says CM
Rohtak, February 1
Haryana Chief Minister Bhupinder Singh Hooda said today that he has been trying to carry on the legacy of his father Late Chaudhary Ranbir Singh to work for the benefit of society through political career and has no intentions to serve personal or family interests.
BC panel to submit report by March-end
Gurgaon, February 1
The Haryana Backward Classes Commission (HBCC) today heard the claims and objections of various organisations and groups for inclusion or exclusion of certain castes into the OBC category here . Justice (retd) KC Gupta, chairman of the commission, said apart from hearings, a random survey was also being carried out through the Statistical Department of Haryana. Besides, the findings of the socioeconomic-cum-caste survey conducted by the Census Directorate would also be considered.
Local bodies demand sanctuary for black bucks
Fatehabad, February 1
Expressing concern over the recent poaching of black bucks in the area, several local organisations have demanded the setting up a sanctuary for the animals in the area.
She had 'liking' for aerospace, says classmate
Chandigarh, February 1
Nine years have passed. Still Puneet Kaur's eyes brim with tears on the mention of Kalpana Chawla, who died this day in 2003, in the worst space-related accident in which seven crew members lost their lives when space shuttle Columbia disintegrated while re-entering the earth's atmosphere.
Yadav defends power discoms
Says transmission losses not high
Chandigarh, February 1
Stung by objections filed by ruling party MLA and former Finance Minister Sampat Singh before the Haryana Electricity Regulatory Commission over the pleas of the power utilities for an increase in the power tariff, Power Minister Ajay Singh Yadav today sought to dispel the impression that the technical and commercial losses of the state power distribution companies were higher than those in other states.
Obscene CD
Ex-sarpanch accuses 3 of extortion
Sirsa, February 1
In a bizarre case, a former sarpanch of Nepalpur Khuian village has alleged extortion after two women and their companions made his obscene CD. The police has registered a case and arrested two women.
Tohana farmers get Rs 82.11 lakh claims
Tohana, February 1
Over 2,905 farmers from Tohana block of this district today received claims worth Rs 82.11 lakh for shortfall of rains for their paddy crops in 2011.
Guv releases two books
Chandigarh, February 1
Governor Jagannath Pahadia released two books here today, one based on the concept of power of thought and its impact on a person's life and the other, a collection of short poems.