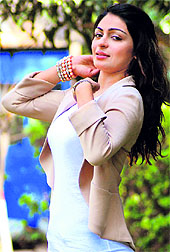 Being different
It's different…if the words movies and actors interest you, then you know what is the one line that runs through the lanes of the movie industry — It's different. Beautiful and confident actor Neeru Bajwa takes the mike and the lead on the promotion of her upcoming movie, Pata Nahi Rabb Kehdeyan Rangan Ch Raazi, and we hear something o-so-familiar- "I play a different character in this movie," she smiles. We delve deeper. In fact coming from Neeru, who is the leading lady in all Punjabi films, we know the probability of difference is high.
When drama meets fashion
Celebrated theatre-person Neelam Mansingh Chowdhry can't stop smiling. No she is not ready with her new play; nor has the acclaimed theatre director won another award. She has other reasons to beam, as she is being lauded for her collaborative effort with none other than ace fashion designer Ritu Kumar. Recovering from the overwhelming response to the show Panchvastra at Delhi's luxury hotel Aman, she shares what made her say yes to a fashion show, what made it work and how oodles of creativity went into what was advertised as drama, music and fashion.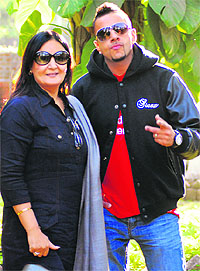 Truly musical
They are two diversely different people on the same platform — different backgrounds as well as continents. His jewellery sparkles more than hers and it's when they both declare in unison 'we are learning still' that we take our eyes off the huge studs in his ears as well the tattoo half visible on the neck and pay more attention! Zee brings Jaspinder Narula and Juggy D together to judge a brand new show Sa Ra Ga Ma Pa Punjabi. In Chandigarh on Wednesday to announce as well as for the audition for the show, the two get talking. Although in Punjabi, this show tests the contestants in as many as ten genres.


Photo: S Chandan
Re-run to re-ignite
Many people tend to re-read books, watch movies several times or visit places again and again, as they find that repeating experiences "reignites" their emotions, according to a new study. Through in-depth interviews with participants in the United States and New Zealand, the authors found an array of underlying reasons for re-consumption.
All is well with Sumona
Sumona Chakravarti aka Natasha Kapoor of Bade Achhe Laggte Hai is all smiles as has got a meaty role and lot of recognition.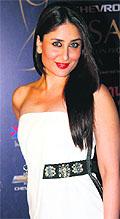 Director's hat for Bebo?
Kareena Kapoor has impressed Karan Johar with her skills behind the scenes. He might give her a movie to direct. As a wedding gift to her, Karan will give her a movie to direct after she gets married to Saif Ali Khan. Kareena's involvement with behind-the-scenes work began with Agent Vinod, produced by beau Saif. She showed interest in the script, mixing, sound, dialogues, music, camera work, and many other departments. By the time she started working on Ek Main Aur Ekk Tu, she was quite a professional behind-the-scenes. Producer Karan Johar was impressed with her aptitude for cinema and has agreed to give her a movie to direct next year or whenever she has the time.

Growing up: Kareena Kapoor

Fast and furious
Many incidents happen during fight sequences. Sometimes, they even leave the actors hurt. The latest incident took place on the sets of David Dhawan's film Chashme Baddor where co-star Ayaz Khan happened to hurt Ali Zafar during a fighting sequence.

Get well soon: Ali Zafar
Aamir kicks off the butt!
Shah Rukh Khan cannot quit smoking, Hrithik Roshan has given it up successfully, Ranbir and Shahid light up from time-to-time, Salman does it too. Aamir Khan has quit smoking since a year and he talks about staying off the habit.

Mark of respect
Pop diva Mariah Carey pulled out of a US TV interview on Valentine's Day to grieve the loss of her friend Whitney Houston. The Hero hit maker was due to appear to discuss her role as a spokesperson for diet firm Jenny Craig and chat about losing weight after giving birth to twins, a website reported.
remembering whitney: Mariah Carey

Being famous
Actress Angelina Jolie says she still struggles with the glitzy side of being a movie star. The Lara Croft: Tomb Raider beauty, who will be walking the red carpet again at this month's Oscars, says she's no more comfortable with the big night than she was the first time she attended, a publication online reported.

Celebrated woe: Angelina Jolie
Forty-fied
Friends star Jennifer Aniston did not enjoy her thirties. The 43-year-old actress, who divorced ex-husband Brad Pitt in 2005 when she was 31, said reaching her forties is a "great" experience but her thirties blew, an online publication reported.

Once upon a time
Actor Ryan Reynolds says he was once kicked out of school after unintentionally breaking the law with an April Fool's Day prank. The Green Lantern star didn't realise the silly revenge stunt he pulled on a teacher and would get him suspended from high school, a publication reported. "I was a bit of a pariah at school.

Suspension order: Ryan Reynolds
I drank myself to death: Gerard Butler
300 star Gerard Butler says how he drank heavily and had "a death wish". The 42-year-old Scottish actor, who came close to being killed by alcohol, said he is now a teetotaller, a publication reported.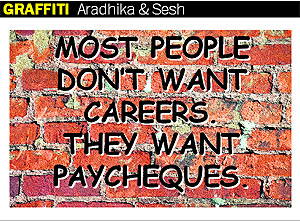 the 'in' side
Kitchen dressing
Kitchens are one of the most common home remodelling projects. So which window treatment is best for kitchens? This depends a lot on—
TROUBLE SHOOTER
Find joy in small things
I am going through mood swings. At times I see a poor woman on the road and I feel like crying. I am divorced and live alone. I have a good job. Sometimes I wonder if I have a mood disorder or is it just being alone? I have good friends but none I can talk to about things. I am 39 years old.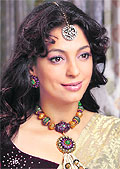 Eternal happiness
There are only a few things that take a woman's mind off for a while, jewellery is one such thing. Art Karat, a jewellery label known for silver jewellery and exceptional kundan craftsmanship, brings its latest collection Eternal by Asha to Chandigarh. So for a while now all you ladies can take your mind of other things and concentrate on latest designs and patterns.


Brand ambassador Juhi Chawla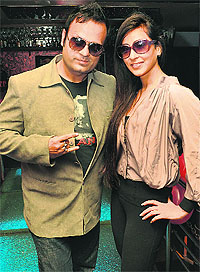 At-TUNED to reality
There are probably only a handful of people who have to think twice before telling their name. "No one really calls me by my official name—Ashish. I have always been DJ Sheizwood," he says. Coming from a humble family in Haridwar, for DJ Sheizwood, the journey to cutting his seventy-eighth album has rather been an interesting one. In Chandigarh to release Vodka Shot, along with item girl Kashish Khan, the DJ spills the beans about his kind of music. Starting from remixing Mere piya gaye Rangoon, there was really no stopping the DJ once he had Rakhi Sawant swaying to his tunes. "My life has been more of a musical journey," the DJ shares with us. It was after building a name that Sheizwood came in contact with Anupam Kher for his movie Nakshatra.
Shot to fame: DJ Sheizwood and Kashish Khan
Solo affair
Already riding high on the success of Punjabi hit songs like Teri Bewafai, Left me Broken, Syaahi, Sohniye, Dhiyan and more on YouTube, singer Yajur Brar has come out with his latest solo song video Kitney Duniyan Ton Duur.