M A I N N E W S
Kingfisher mess jacks up air fares
Vibha Sharma\Shiv Kumar
Tribune News Service
New Delhi/Mumbai, Feb 20
A day after it blamed bird hits for the sudden cancellation of flights, the operations of Kingfisher Airlines continued to be disrupted for the third consecutive day on Monday, resulting in hundreds of passengers stranded at various airports. This also led to other carriers jacking up air fares despite a warning from the Directorate General of Civial Aviation.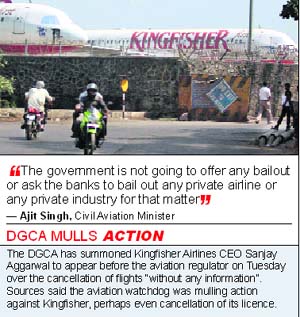 The troubled airlines today cancelled 30 flights and combined several more throwing passengers' schedules out of gear. At the Mumbai airport, there were angry exchanges between passengers and the airline staff.
Travellers returning home after an extended weekend had to scurry around for alternative flights as most airlines said they were flying full to a number of destinations from Mumbai. Airlines have already jacked up fares. A no-frills flight from Goa to Mumbai costs as much as Rs 9,800 — double the normal rate, according to travel agents.
In Delhi, Civil Aviation Minister Ajit Singh reiterated that the government was not interested in offering a bailout to any private airline.
"The government is not going to give any bailout or ask the banks to bail out any private airline or any private industry for that matter," he said, making it clear that private airlines would have to find ways to fend for themselves "Everyone knew about Kingfisher's financial problems. Our first concern is passengers' safety, which should not be compromised. The DGCA is looking into it," Singh said as Kingfisher further reduced its operations, resulting in the DGCA summoning its CEO for an enquiry into flight cancellations — a clear violation of rules.
The DGCA has summoned Kingfisher Airlines CEO Sanjay Aggarwal to appear before the aviation regulator on Tuesday over the cancellation of flights "without any information". Sources said the aviation watchdog was mulling action against Kingfisher, perhaps even cancellation of the licence. Under Rule 140(A) of the Aircraft Rules, 1937, operators require airline to have prior approval of the DGCA to curtail their flight schedules. Aviation experts are worried that cash crunch could lead to larger issues like air safety and maintenance. Calling the cancellations unprecedented, they say the event should be thoroughly examined by civil aviation regulator. Experts say that the number of grounded aircraft indicate large-scale cannibalising and also that operations may not become normal soon despite the arline claiming otherwise. The airline, however, hoped that situation would soon be under control.
"We are not going to pull out operations from any base and about 10 aircraft will be back in service soon. We are in talks with investors and the airline will soon get recapitalised," Aggarwal said. The carrier is already crippled after tax authorities attached its bank accounts over non-payment of dues last week and unpaid employees are protesting. It posted a Rs 444 crore loss for the third quarter, suffered a loss of Rs 1,027 crore in 2010-11 and has a debt of Rs 7,057.08 crore, latest figures show. Kingfisher has blamed the situation on the attachment of its bank accounts by the Income Tax Department. "The prime reason for the current disruption in our flight schedules is the sudden attachment of our bank accounts by the IT Department. We are in dialogue with the tax authorities to agree to a payment plan and get the bank accounts unfrozen at the earliest. We are appealing to them to see reason that inconvenience to the travelling public is not in anybody's interests. Employee salaries can be paid and the grounded aircraft can be recovered quicker once the bank accounts are unfrozen and the schedule restored on priority," the statement said.
Travel agents say, passengers are not keen on booking aboard Kingfisher Airlines due to the uncertainty surrounding its operations.
With employees complaining of not being paid for the past three months, the airline said it would pay salaries in a week's time. It added that an advance of Rs 5,000 against pending salaries was being paid to employees posted at the airport. However, some of the employees at Mumbai airport told local newspapers that they have had to run to various departments to collect this amount.
I-T Dept urged to unfreeze accounts
In a letter issued in June 2006, the Finance Ministry clearly states that a performance audit is totally within the scope of the CAG's audit and that he should have unfettered access to records.
z Edit: Flight disruptions