pulse polio drive concludes
Bathinda dist betters its target
Exceeds its aim of administering anti-polio drops to kids
Health teams to re-visit 11,893 houses to ensure no child is left out
Sushil Goyal
Tribune News Service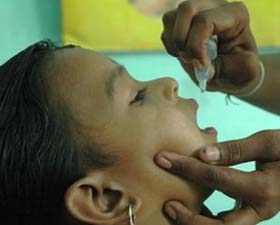 Bathinda, February 21
During the three-day Pulse Polio campaign, held from February 19 to February 21, the Bathinda district exceeded its target of covering 1,75,212 children from 0 to 5 years of age, fixed for administering 'anti-polio' drops.
According to official information, during these three days, 'anti-polio' drops were administered to 1,76,775 children, registering 100.89 per cent achievement of the target.
On the first day of the campaign, 1,00,487 children were administered 'anti-polio' drops at the booths set up across the district while on the second day, the health department's teams visited 1,48,628 houses and administered drops to as many as 42,840 children.
However, on the third and final day of the campaign, the health teams administered drops to 33,448 children by visiting 1,18,875 houses in the district.
The break-up of 33,448 children who were administered drops today in 10 health blocks of the district by the health teams is: Raman (660 children), Maur (887), Rampura Phul (578), Bathinda (8,619), Goniana (5,103), Sangat (4,130), Talwandi Sabo (3,893), Ballianwali (2,734), Nathana (2,834) and Bhagta (4,010).
When contacted, a senior health official said this evening there were still 11,893 'X' houses left from covering the children at the end of the three-day pulse polio drive. He said these were the houses which had either been found locked by the visiting teams during the campaign or the children were not available when they visited their houses.
The official further said as per the government's 'anti-polio' programme, no child should be left without administration of 'anti-polio' drops, so their teams would visit these houses for three to four days daily to administer the drops to the children so as to ensure that the country gets the polio-free status after two years.
The official also appreciated the role that NGOs played in the three-day campaign.
He said the NGOs not only provided them with volunteers but also inspired the people to visit the booths along with their children for receiving drops.