PUNJAB

HARYANA

JAMMU & KASHMIR

HIMACHAL

REGIONAL BRIEFS

NATION

OPINIONS

LETTERS

BUSINESS

SPORTS

WORLD



EDUCATION

JOBS & CAREERS

HEALTH & FITNESS

SCIENCE & TECHNOLOGY

REAL ESTATE
Saturday, March 10, 2012, Chandigarh, India
Edition update time 2:30 am (IST)


Latest news, updated at 11:45 am
Badal to be Chief Minister, swearing-in on March 14
This will be Badal Sr's 5th term in office
Chandigarh, March 9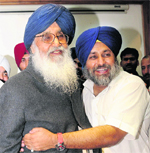 Shiromani Akali Dal (SAD) supremo Parkash Singh Badal is all set to be sworn in as Punjab CM for a historic fifth term on March 14 with the SAD-BJP alliance today unanimously electing him as its legislature party leader. The swearing-in would take place at the Banda Bahadur Memorial at Chhapar Chiri and several top BJP leaders are expected to attend.
Sukhbir hugs his father Parkash Singh Badal after the latter was elected leader of the SAD-BJP alliance.
Chunni Lal BJP leader in House
Chandigarh, March 9
The BJP today "unanimously" elected 80-year-old former Deputy Speaker Bhagat Chunni Lal leader of its legislature group. The decision to appoint him the legislature party chief took many by surprise.

Congress set to form govt in Uttarakhand
Dehradun, March 9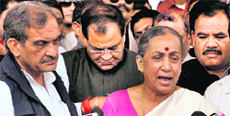 The Congress today presented 36 newly elected legislators at the Raj Bhavan here in support of its claim that the party has majority support in the 70-member Assembly.
Governor Margaret Alva speaks after Congress leaders along with four Independent MLAs met her. — PTI
Jats harden stand, say no to talks
Hisar, March 9
The deadlock between the pro-quota Jat protesters and state government continued today, with both sides sticking to their guns.In further embarrassment to the Hooda Government, protesters hardened their stand, refusing to cremate the body of the youth who had died in a clash with the police on Monday, and demanding release of their arrested leaders.