Cops thrash man, residents retaliate
PK Jaiswar
Tribune News Service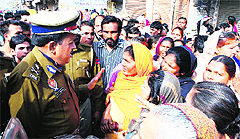 Police Commissioner tries to pacify residents
Amritsar, March 16
Residents of Faizpura and Navi Abadi areas today staged a protest at Rattan Singh Chowk area over the alleged beating up of Amrik Singh, a native of the area by the Faizpura police last night.
They had also held a demonstration at the chowk. The protesters alleged that the chowki in-charge had allegedly fired in air to intimidate the residents trying to save Amrik. They also went on a rampage and allegedly engaged in stone pelting.
Senior police officials reached the spot and tried to pacify the protesters. They also assured them of taking action against the accused police official.
However, the residents gathered at the chowk once again and blocked the road early in the morning today. Alleging inaction against the police, they also raised slogans in protest. The protest began at 8 AM continued till noon.
Police Commissioner, RP Mittal, reached the spot and called a police-public meeting in the evening following which the residents of the area lifted the dharna. Baljit Singh, a resident of the area said the residents of the area were holding 'thikri pehra' (night patrolling) as theft, snatching and looting cases have seen a rise in the area. He alleged the police had failed to control crime and tired of the hollow claims of the police, the residents had started holding night patrolling.
He said the residents had caught several persons who were allegedly involved in incidents of loot and snatchings and had handed them over to the Faizpura police. However, instead of taking any action, the accused were left off by the police department.
"Instead of the taking action against those persons which were handed over to police by the people, the police department started harassing innocent residents of the area which had resulted in the outrage," alleged Kartar Kaur, another resident of the area.
The residents sought immediate transfer of the police official who had allegedly opened fire and beat up innocent residents of the area.
During a police-public meeting, Mittal said from now 10 police personnel will be deputed in the area, who along with the residents of the area will hold night patrolling.
"I have listened to the grievances of the people and I have also called up the accused police official tomorrow for further investigations and then further action will be taken," he said.
He said some 'misunderstanding' had occurred last night following which a large number of residents of the area had gathered and attacked the police party. As the residents had outnumbered the police party, the ASI had fired around four rounds of shots in the air. He said necessary action will be taken after investigations.