Railway Budget
Information via SMSes welcome, fare hike a no-no
Amritsar, March 14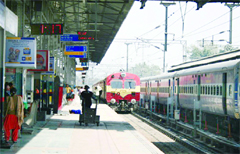 Despite a marginal increase in the passenger fares, the general public sees the railway budget as a landmark in improving the services and security for the passengers. Steps such as accepting SMS from passenger's mobile as a proof of valid reservation, introduction of satellite-based real time train information system to provide information about the trains to passengers through SMS and internet, on board passenger displays are seen as passenger friendly.
Duronto, Shatabdi rides to cost more
Amritsar, March 14
With the announcement of a hike in railway fares, passengers of the Amritsar-Chandigarh Duronto and Amritsar-Delhi Shatabdi will now have to shell out more to travel in these trains.
No March-end rebate for bacchus lovers in holy city
Amritsar, March 14
The liquor mafia continues to take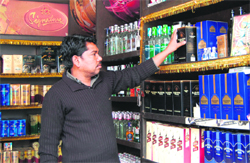 advantage of the half-hearted efforts on part of the Punjab Excise and Taxation department, if the sale of liquor at above the prescribed maximum retail prices in Amritsar is any indication. The liquor prices should have been curtailed during this period as the vendors clear their old stocks at discounted rates in view of expiry of the liquor policy, remain effective only till March 31 every year, but here the price of IMFL (Indian Made Foreign Liquor) and beer has, to the contrary, shot up by over three per cent.

A liquor vend in Amritsar. Photo: Vishal Kumar
thirst quotient
Time to give summers a shak(e)y start
Amritsar, March 14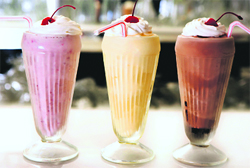 With the sun shining bright , the city is picking up on its chill factor by offering interesting summers drinks. The most tempting option as these are, it is time to forget the calorie count and grab that silky smooth drink. Keeping up the health option are options of natural fruit and vegetable drinks as against bottled beverages. The traditional drinks have also got interesting flavours with a creamy glass of sweet lassi, generously topped with dry fruits or buttermilk picked up at the best of dhabas in the city.
Schools avoid recognition under RTE act
Amritsar, March 14
Out of a total of 872 schools in Amritsar only 163 have approached for recognition under the Right to Education (RTE) Act.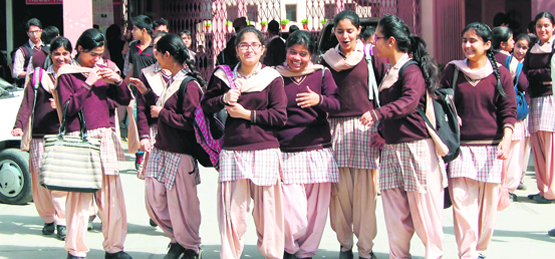 Recognition of schools will help students from both general and underprivileged section. Photo: Vishal Kumar

Student associations to protest tomorrow
Amritsar, March 14
Leftist student associations, who are demanding conversion of martyr Madan Lal Dhingra's ancestral house into a memorial, have decided to hold a protest outside deputy commissioner's office on March 16.
Seminar on social science held
Amritsar, March 14
A two-day international conference on "Relevance of Social Sciences in Higher Education" started here today by the Department of Social Sciences of BBK DAV College for Women. Dr Sukhdev Singh Sohal, head of School of Social Sciences and Department of History, Guru Nanak Dev University, said market forces and globalisation were posing a threat to the existence of social sciences in the higher education.
GND varsity's UGC-NET coaching to start from April 2
Amritsar, March 14
Guru Nanak Dev University has invited applications for 10-week coaching classes for UGC-NET to be held on June under the aegis of All India Services Pre-Examination Training Centre.
Artists pay tribute to Sardar Avtar Singh
Amritsar, March 14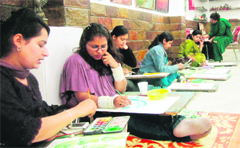 Seventy artists from across the country participated in a workshop held in the memory of late Sardar Avtar Singh, a national award winning sculptor, here today.





Artists attend workshop organised in memory of late Sardar Avtar Singh in Amritsar on Wednesday. A Tribune Photograph

Snatchers target tourist couple
Amritsar, March 14
A couple from Patiala, who had come to pay obeisance at the Golden Temple, fell victim to snatchers on their way to Pingalwara where they were staying. After paying obeisance, residents of Dashmesh Nagar, Patiala, Subaj Singh and his wife Balbir Kaur, were on their way back to Pingalwara branch opposite the ISBT on a rickshaw at the time of the incident.
Four of robbers' gang held
Amritsar, March 14
The Cantonment police today claimed to have busted a gang of robbers with the arrest of four of its members while one of their accomplices escaped from the spot. Those accused include Kuldip Sharma of Mahal Nangal village in Dera Baba Nanak, Sukhwinder Singh of Vikas Nagar, Khandwala, Prince Sharma of Khoti Mohalla and Gurpreet Singh of Milap Avenue, Kale Road Chheharta.
Phone snatched
Amritsar, March 14
Captain Ashish Chobe, a resident of cantonment area, has lodged a complaint with the police that three unknown persons snatched his mobile phone while he was going on foot near Khalsa College.