Fazilka Rattan award bestowed on Dr Dhawan
Our Correspondent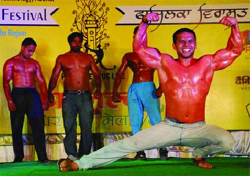 A participant flexes his muscles during a body-building fashion show organised during the Fazilka heritage festival. Photo: Praful Chander Nagpal
Fazilka, April 9
On the concluding night of the four-day Fazilka Heritage Festival on Sunday, thousands of residents took pledge to fight against female foeticide, other social evils and global warming.
A Noel Deerr Award-recipient and agricultural scientist Dr Ashok Dhawan of Fazilka was conferred the "Fazilka Rattan" award. Dr Dhawan, a former director of the Regional Research Station, Agriculture University, Hisar, was conferred the award for his research on Sugarcane. Former President of India Dr APJ Abdul Kalam had presented the Noel Deerr Award to Dr Dhawan during the inaugural ceremony of the annual convention of the Sugar Technologists Association of India (STAI) held in Udaipur on August 26, 2009.
The last night of the heritage festival was dedicated to the youth empowerment and nine youngsters from the district were honoured on the occasion. The festival was organised by the Graduates Welfare Association, Fazilka (GWAF), in association with the Punjab Heritage and Tourism Board.
A Fazilka resident Pankaj Verma, who is posted as judicial magistrate at Barnala, was presented the Fazilka Youth Icon Award. A road safety expert and GWAF general secretary Navdeep Asija was conferred the "Son of Fazilka" award.
Awaz-e-Punjab Gurnam Bullar, a renowned musician Pardeep Sran and all-rounder musical performer and in-charge of the Ibadat Musical Group Harsh Dimpu, radiologist and singer Dr Vivek Kareer and engineer Nitin Setia were among those honoured.
The chief guest of the programme, Fazilka MLA and Forest Minister Surjit Kumar Jyani, Fazilka ADC Charandev Singh Maan, District Education Officer Sandeep Dhuria, GWAF patron Dr Bhupinder Singh and president of the association Umesh Chander Kukkar gave away the awards.
"Aam Aadmi", a drama presented by the members of the Creative Art Group of Abohar highlighted the problem of inflation. The drama, a satire on politicians who use the common man for their vested interests, won applause from the audience in a jam-packed Partap Bagh, the venue of the festival.
Members of the Shan-e-Khalsa Gatka Academy, Fazilka, demonstrated their martial skills on the concluding night.
The Crime Prevention Group, Fazilka, organised a body-building show.