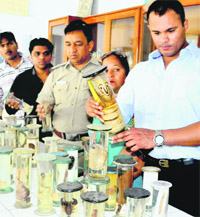 High drama at Sacred Heart
Chandigarh, April 17
High drama prevailed at Sacred Heart School, Sector 26, here today when a Delhi-based team of the People for Animals (PFA), accompanied by the UT police, raided the school's biology laboratory and reportedly seized specimens of species "forbidden" under the Wildlife Act 1972. The team barged into the school premises at around 11:30 am and claimed to have recovered specimens of 12 dissected cobras, four turtles, two bats, frogs, guinea pigs and monitor lizards.
PFA activists and policemen at Sacred Heart School, Sector 26, Chandigarh on Tuesday. Tribune photo: Pardeep Tewari
Invigilator brutally assaulted by engineering students
Mohali, April 17
Telling two students to "behave" during an examination by an

invigilator cost him dear today. Vinod Kumar, who works as a mechanical workshop instructor at the Chandigarh Group of Colleges at Landran, was brutally bashed up by about eight students of the college following his raising objection to using unfair means during the examination here today. While Vinod landed at the local Civil Hospital in Phase 6 with injuries on his head, legs, abdomen and face, the police registered an attempt to murder case against eight persons, including the main accused Kamalpreet Singh at Sohana Police Station.

Prof Vinod Kumar at a hospital in Mohali on Tuesday.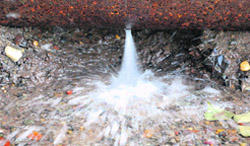 What a Waste Water leaks from a pipe near the railway overbridge in Industrial Area, Phase 1, in Chandigarh on Tuesday.
Tribune photo: Parvesh Chauhan
UT should be ashamed: Maneka Gandhi
Chandigarh, April 17
"I am ashamed and embarrassed at UT bureaucracy which, not caring about the norms, shielded the school on an alleged call of sitting MP Pawan Bansal," said an irate Maneka Gandhi, MP and director, PFA.
After 5 months, acid attack accused arrested
Chandigarh, April 17
More than five months after an acid attack on a teenager working with a mall in Industrial Area left her critically injured, the UT police finally arrested the 21-year-old accused Amandeep today. The accused was absconding all these months and was running from the police's eye. The Punjab and Haryana Court had rejected his anticipatory bail plea and he was evading arrest.


MC seeks Rs 395 cr from govt
Mohali, April 17
The Mohali Municipal Council has sought nearly Rs 395 crore from the government for widening of roads, augmentation of water supply system, maintenance of old streetlight network, replacement of sewer pipelines, as the fund-starved civic body finds itself helpless to carry out major maintenance works in the town.
'Shift meat market to slaughterhouse'
Panchkula, April 17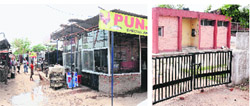 The meat market in the Industrial Area, Phase I, which has been shifted from Abheypur village a few years ago, has been giving sleepless nights to residents passing though the area, as some of the shopkeepers were allegedly slaughtering animals in the open behind their shops.
A view of the meat market at the Industrial Area, Phase I; and (right) a slaughterhouse, which is still to be opened, at Panchkula. tribune photos: s chandan
Implementation of development works assessed
Mohali, April 17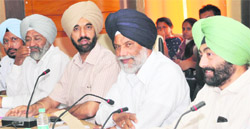 Punjab rural and panchayat development minister Surjit Singh Rakhra directed officials to take an action against those who were involved in illegal possession of "shamlat" land in various villages in the state.
(Right) Surjit Singh Rakhra, rural development and panchayat minister, addresses a meeting in Mohali on Tuesday. tribune photo: vicky gharu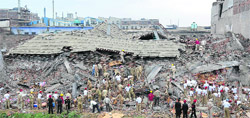 Safety issues on the back burner
Chandigarh, April 17
The factory building collapse in Jalandhar on Sunday night has raised safety issues in the tricity.

Rescue operations in full swing at the site of the building collapse in Jalandhar's Focal Point Extension area on Monday. A file photo
Disaster management cell comes up in Mohali
Mohali, April 17
Keeping in view of the building collapse incident in Jalandhar, the Mohali district administration has set up a disaster management cell to deal with emergency situations in an effective manner here.
Identity proof must for cyber cafe visitors: DC
Chandigarh, April 17
Deputy Commissioner Brijendra Singh today issued directions prohibiting the use of cyber cafes by persons who could not furnish documents regarding their identity.
CTU workers oppose withdrawal of long-route buses; write to Sonia, PM
Chandigarh, April 17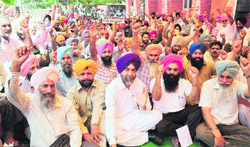 With the standoff between the Chandigarh Administration and the CTU Workers Union over the issue of running CTU buses on long routes continuing, the issue has reached the office of UPA president Sonia Gandhi, Prime Minister Dr Manmohan Singh and the Home Ministry.
Members of the CTU Workers Union during a protest against UT Administration outside the office of the CTU Director in Industrial Area, Phase 1, in Chandigarh on Tuesday. A Tribune Photo
Rare books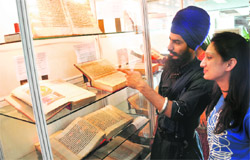 How long will they last?
Chandigarh, April 17
Although Panjab University (PU) has a rich collection of over 1,400 rare manuscripts and about 20,000 books, however, how long they will last is a big question, as the university seems to be least interested in preserving the collection in the absence of an archival lab, which is a must for prolonging the life of books.
Students take a look at some rare books being exhibited at Panjab University on Tuesday. Tribune photo: Pradeep Tewari
2 students held for selling question paper
Chandigarh, April 17
Blowing the lid of a racket of selling question papers in Panjab University (PU), the UT police in a special operation last night caught two students red-handed who were selling question papers in the campus.
UGC grants Rs 49.3 lakh to Dev Samaj college
Chandigarh, April 17
The Dev Samaj College for Women, Sector 45, has received a grant of Rs 49.30 lakh from the University Grants Commission (UGC) for laboratory equipment and teaching aids. From the next session, the college plans to create smart classrooms equipped with all ultra modern facilities to make the process of teaching/learning more interactive, effective and learner oriented.
Naitik, Anamika hog limelight
Panchkula, April 17
Students of Manav Mangal added yet another feather in their cap by their commendable performance in the first level of International Olympiad of English language organised by the Educational Society of English language held on November 3 last year.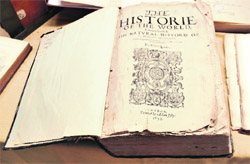 Exhibition a crowd-puller
Chandigarh, April 17
"Historie of the World", a book published in 1634 AD during the regime of Charles-I was the main attraction for visitors in the exhibition of rare books organised by Panjab University (PU). Various manuscripts in seven different languages are also exhibited by PU.


'Historie of the World' at display during an exhibition at Panjab University on Tuesday. a tribune photograph