'Referendum against Dikshit'
Himani Chandel
Tribune News Service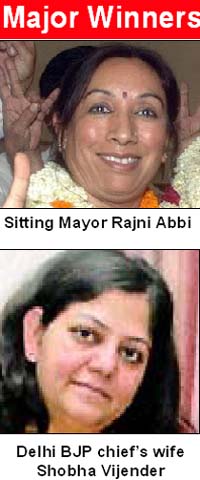 New Delhi, April 17
As the results of the elections to all the three Municipal Corporation of Delhi (MCD) poured in, indicating a landslide victory for the BJP, the party was quick to announce it as a referendum against the Sheila Dikshit-led Congress government in Delhi. The BJP made a clean sweep in all the three corporations with 138 seats against Congress's 77.
In North Delhi Municipal Corporation, BJP bagged 59, Congress 29, BSP 7 and others 4 out of total of 104 seats. In South Delhi Corporation having 104 wards, BJP managed 44, Congress 29, BSP 5 and others 14. Whereas in East Delhi, which was a stronghold of Congress consisting 64 wards, the party won only 19 seats, BJP 35, BSP 3 and others 6.
The main players of BJP who have made a comeback include present Mayor Rajni Abbi, Standing Committee chairman Yogender Chandolia, the Leader of the House Subhash Arya, Deputy Mayor Anil Sharma, Education Committee chairman Mahender Nagpal, wife of Delhi BJP chief Shobha Vijender, Appointment Committee chairperson Meera Aggrawal and member Standing Committee Rekha Gupta, former chairman Standing Committee Ram Kishan Singhal. However, former Mayor Kanwar Sen lost his seat.
In Congress, the beneficiaries are former Mayor Farhad Suri and former Standing Committee chairman Mukesh Goel, and Nutun Kochhar, wife of Congress party leader Jitender Kochhar.

In the 2007 polls to the undivided Municipal Corporation of Delhi (MCD), BJP had bagged 36.17 per cent (164) of the around 42.35 lakh votes polled while Congress got 29.17 (67) per cent. BSP's vote share was 9.87 per cent.
While Congress sought to downplay the results with party leader saying that MCD polls should be seen only as civic polls, BJP's M Venkaiah Naidu said party's good governance at municipal level resulted in the good show of his party.
Other BJP leaders said that the party will focus on transparent and people-friendly organization.
"It's a referendum against Sheila Dikshit. She should accept responsibility. She should resign," said Delhi BJP chief Vijender Gupta. He said that that the Congress government refused to listen to the problems of the people. "People are fed up with the Congress whether it's at MCD, Delhi government or at the Centre. Inflation is the biggest worry at this hour. Water and power, too, are genuine concerns," he said.
However, in attempt to neutralize their defeat, Congress senior leaders said that "It is not a reflection of the public mood towards the Delhi government.
Last time, BJP had won the MCD polls but Congress came to power in Assembly. Congress even went on to win all the seven Parliament seats. MCD polls should be seen only as MCD polls," said Congress spokesperson Rashid Alvi.