Lavasa project comes under CAG fire
Shiv Kumar
Tribune News Service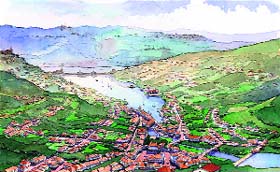 Mumbai, April 17
The Maharashtra government has come in for criticism from the Comptroller & Auditor General (CAG) for the way it allowed the setting up of the Lavasa hill station project near Pune. The hill station is being built by the Hindustan Construction Company (HCC).
In its report, tabled in the Maharashtra assembly today and parts of which were available to the media, the Comptroller & Auditor General said the government had brought in entire regulations and amendments to the existing laws with the sole intention of allowing only private player to construct the Lavasa hill station. According to the report, the HCC was given a free hand to serve its own commercial interests at the cost of public interest.
The government also came in for criticism for granting the status of special planning authority (SPA) to Lavasa Corporation. As a result, the private company was allowed to function even in conflict of public interest and even violate environmental laws without any control by the government.
The Comptroller & Auditor General also hit out at the Maharashtra Krishna Valley Development Corporation (MKVDC) for irregularly leasing 141.15 hectares of land acquired for irrigation projects to the promoters of Lavasa at a nominal rent of Rs 2.75 lakh per annum. The government was also criticised for handing over possession of water from two embankments to the Lavasa corporation without any deterrent clause.
The report also noted that the land reserved for tribal communities was handed over to the Lavasa corporation in violation of several laws.
The Comptroller & Auditor General felt that the government should have set up regulations so that private players could have been invited to partner with the government to set up the new hill station.
It went on to add that approvals for the project were given without environment and cabinet approvals.