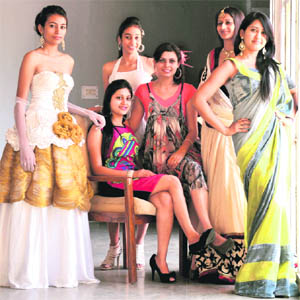 Young hands at work
If fashion grows on the ramps of fashion weeks, it germinates on the ramps of fashion institutes. It's here that the aspiring fashion designers give shape to their initial ideas. It's here that they learn what it takes to be fashion designers; what it takes to be different from tailors.








fresh look : Models flaunt the creations by the young designers Photo: Pradeep Tewari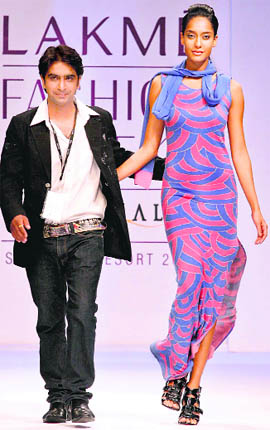 The apprentice
Not getting the difference between two similar-looking belts almost cost Andy Sachs her job in the Devil Wears Prada. A blue is not just blue, but it could be, as the movie says, turquoise, lapis, cerulean. And that's exactly the kind of meticulous research the snobbish fashion labels put behind their collections. "A lot of big fashion labels worth their name are very particular about what they want. If they want thirty-two stitches in a particular garment, it has to be only thirty-two stitches. The count of thirty-four will have the garment rejected," Bengaluru-based, Vipin Batra, a pass-out from NIIFT, Mohali, working for an export house in Delhi, shares some of the experiences and observations with us. He adds, "We would supply motifs and designs and such things to some of the major American brands; another thing that they are very particular about is fitting."



Right CUT: Designer Vipin Batra on the ramp with a model

Threads of creativity
An artist's work is a fine representation of how the mind works with paints and brushes. Showcasing the works of four very diverse artists, Active Threads, has exhibited their works at the Department of Fine Arts, Panjab University. From ceramics to installation to canvas, the exhibition is mix of mediums and ideologies.

Artistic trio: (L-R) Preeti Brar, Ashish Mohan and Anju Paliwal

Celeb Point
Miss you daddy
In my childhood, I used to dread this day, because it took away something very precious from my life, my daddy.
Trust your feelings
A higher trust in feelings may result in more accurate predictions about a variety of future events, according to researchers. They say individuals who trust their feelings are consistently able to predict future events more accurately than people who do not trust their feelings—a finding called the emotional oracle effect.
Loud & clear
Imagine the idea of expressing your feelings towards your loved one with the help of 250 perfectly coordinated dancers in front of the entire world!
Doc Talk


Food & mood
As Virginia Woolf once said, "One cannot think well, love well, sleep well, if one has not dined well." Indeed, what we eat (and drink) affects more than just our waistline and cholesterol numbers. Even small choices could influence our disposition.
star track
Best way to say No
Imran Khan was very choosy when he entered Bollywood. Post the success of Jaane Tu Yaa Jaane Na, he had directors and producers lining up outside his door and he refused films left, right, and centre. A few films such as Luck and Kidnap flopped but he has redeemed himself with the success of Delhi Belly, Mere Brother Ki Dulhan, and Ek Main Aur Ekk Tu.  He gives us funny tips on how to handle the matter of refusing films.

n Man of the moment
n The new Ms Khiladi
n Greener pastures
n All work, no play
n One is enough for Hilary
n Decision to marry Olivier was shocking: Halle Berry
n What a filler
n Ifs and butts
n On an upswing
chatter box
Food in style
Foodfood, India's most gastronomically loaded food and food lifestyle channel will launch its second season of Health Maange More. The show will be called Health Maange More with Anjali Mukerjee . The show is hosted by popular Chef Shantanu Gupte and renowned nutritionist Anjali Mukerjee. It will be aired every Monday and Thursday at 1 pm only on Foodfood Channel.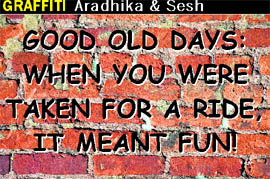 n Workaholic
n A happy family
n Shake a leg
n FAN FOLLOWING
n Love struck
n All praise for Ekta
n Sweet addiction
n Birthday bash