As a child, he would take a stroll along the seashore every morning for two hours at a stretch with his father. Today, internationally acclaimed installation artist Subodh Kerkar, who calls himself a sea artist, not only considers sea as his muse, friend and subject but also his biggest teacher. Actually, the first lesson on creativity he learnt from father dearest, also an artist, was on the beaches of Goa.
Flow-ing along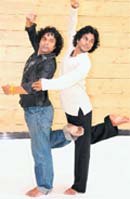 Two young boys from rural Kerala, one from Chirayinkil and the other Vakkom, thought of doing something ground-breaking. Efforts have paid off and their creative dance theatre group Samudra has not only performed nationally and internationally (they choreographed for the closing ceremony of the Commonwealth Games, New Delhi, and performed at the Royal Opera House, London) but also had the rare distinction of working with MF Husain. "This was our good fortune that we had the opportunity to work with the legendary MF Husain. We choreographed for his film Meenaxi," says Vakkom Sajeev, in Chandigarh for the Art and Heritage Festival with Madhu Gopinath.
IN STEP: (L-R) Madhu Gopinath& Vakkom Sajeev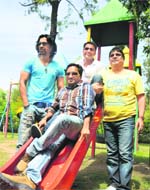 One for the youth
Youth-centric, with a rich tadka of action, comedy, music and romance is what upcoming Punjabi movie Taur Mittran Di, directed by Navaniat Singh and starring Rannvijay Singh, Amrinder Gill, Surveen Chawla and Amita Pathak, is all about. The lead actors (Rannvijay Singh and Amrinder Gill) along with Rana Ranbir and music director Jaidev Kumar were in Chandigarh on Tuesday to release the album.




Teamed up: (L-R) Rannvijay Singh, Rana Ranbir, Amrinder Gill and Jaidev Kumar
it's happening
Quiet passion, eloquent expression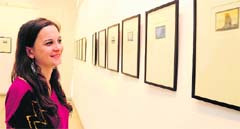 There is no doubt that all good things come in small packages. Reinforcing this age-old thought, as a part of the ongoing Chandigarh Arts and Heritage Festival 2012, Chandigarh Lalit Kala Akademi, Chandigarh Admistration in collaboration with Alliance Francaise and the Bireswar Sen Family Trust have brought a collection of his finest works to Chandigarh.
In town


Voice with a difference
Give people anything different and they are sure to lap it up. It holds true for Bollywood as well. Different as in regular faces, different dialogues (read Delhi Belly), different dances (read Dirty Picture), everything different finds a place here. Did we miss out on a different voice? Punjabi singer Lember Hussainpuri talks about singing for five to six upcoming Hindi movies and as many Punjabi movies.
CELEB POINT


Off screen chemistry
I wonder how sometimes without dialogues, actors create a great chemistry on screen! A big hand here to the rapport they share on the sets! On that account, and many others, Special Chabees has been a truly fun experience! Shooting with Akshay Kumar and Anupam Kher was a total fun experience. And guess that makes the atmosphere on the set full of energy and work goes smoothly!
The legacy of notes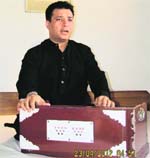 "In the best of times or the worst, people of India and Pakistan have turned to music to build bridges," says Lahore-based classical singer Rustom Fateh Ali Khan, the great grandson of Ustad Ali Baksh, who was the founder of Patiala gharana of gayaki. In Chandigarh on his way to Patiala, where he will be given the Nagar Samman by the Punjab Art and Cultural Foundation and Gurmat Sangeet Chair, Punjabi University, we catch up with him.
What according to you is the relevance of gharanas and ustad-shagird tradition today?
INDULGE
Cool it!
What do you understand when we talk of Italian food? Is it only pizzas, spaghettis and pastas! Well, revise your Italian lingo as Squisita Cafe; an exclusive gelato café, comes to Sector 10, Chandigarh. A first in India, it promises to bring the typical Italian taste with the gourmet flavours in gelatos. Opening its shutters on April 26, the cafe brings a new meaning to red, white and green.
Star track
chatter box