The business of comedy

Jaaved Jaaferi is 48 years old and has been in Bollywood since 1979, landing his first major role in Meri Jung in 1985. He is a prolific actor, a superb dancer, and a mimic par excellence. Unlike others who make a big deal of their "talent" and "fitness" (whether they have it or not), Jaaved has maintained a low profile for himself.  His Boogie Woogie is the longest and the oldest running reality show on Indian TV. He shares some tips with us.
1. As far as fitness is concerned, dancing is a great way to keep fit and I eat in moderation. I do not believe in six and eight pack abs; I prefer sixteen packs (Laughs).
2. As an actor, you have to be fit, as in lean. One cannot be overweight or with a belly. You should be open to moulding your body according to your roles. That is what Aamir Khan does. He needed abs for Ghajini and he got them and then he lost weight for 3 Idiots.
3. Comedy is the flavour of the season because it sells in the serious world we live in. I do not think my talent has been used to the fullest but I do not dwell on what I lack. I keep myself busy, try to do different roles, and go with the flow.
4. I have learnt a lot from my father, Jagdeep. He wanted to make the common peasant laugh. India is a loud country and subtlety does not work here but slapstick does. The farmer laughs because of slapstick. My father taught me that it was better to make farmers laugh than win the appreciation of a few scribes. 
5. Boogie Woogie has been such a big and consistent hit because the focus is on the contestants and not on the judges. We treat them with respect and we do not create or cash in on drama. We do not care about TRPs because 6000 homes cannot dictate what 1 billion people are watching. —HRM
Mutual admiration club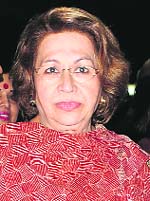 Legendary actress Helen who was last seen in Jodi Breakers is now all set to play an important role in Madhur Bhandarkar's upcoming film Heroine.
"Helen plays a very appealing role and is shown as a leading actress of her times. The actress will be seen playing a legend who shares her knowledge with Kareena in the film. She has five scenes which are a vital part of the story," a source informed. In fact, Helen has been a lover of Madhur's films. "She has watched films made by Madhur Bhandarkar and appreciated the female oriented themes that he has made over the years. Apparently, she liked Chandni Bar, Corporate, Fashion to name a few. She is glad to be a part of Heroine and is looking forward to be directed by a gifted director like him," said the source. 
When contacted, Madhur confirmed the development and said, "I was amazed when she said that she loved my films. I am thankful that she has agreed to be a part of my ambitious project."
High fuve: Helen
Girl for Drew Barrymore?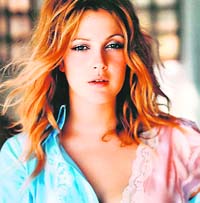 Hollywood actress Drew Barrymore, who is pregnant with her first child with fiance Will Kopelman, is reportedly expecting a baby girl. According to sources Barrymore is excited to have a girl and has been busy shopping for the child. The 37-year-old actress has previously said that she would love to have a daughter. "I feel I'm sort of surrounded by children and I do feel I'm going to have a child at some point. Maybe a little girl. I feel it, but I don't know if it's going to happen. We'll just have to wait and see," Barrymore had said. The news came just days after Barrymore and Kopelman had a get-together with close friends and family to reportedly celebrate their wedding and baby shower. The gathering took place at the Los Angeles home of Leonard Goldberg, the co-producer of the Charlie's Angels movies. "Everyone was doting on pregnant Drew and asking her how she is feeling. She is so thrilled to be expecting, and also really excited about the wedding," a source said. Barrymore became engaged to Kopelman in 2011. She sparked pregnancy rumors in February after she was spotted holding what seems to be a sonogram picture as she left a doctor's office in Beverly Hills. — PTI
Mum to be: Drew Barrymore
Bieber believes in the truth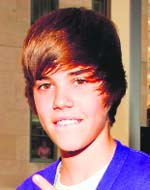 Singer Justin Bieber isn't worried about revealing his feelings in his new album Believe and says as long as he's honest, he won't hurt anybody.
The teenage star has played a large part in writing his latest songs and has expressed how he feels about different aspects of his life, including girlfriend Selena Gomez. "I don't really worry about putting too much of myself out there in my songs," said Bieber. "As long as you are doing it innocently and not trying to harm anybody then it can only turn out well." — IANS
True feelings: Justin Bieber
Kiss and make up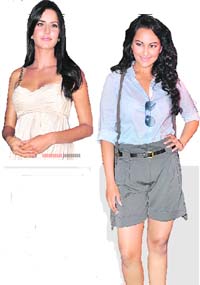 It is very rare to see two female Bollywood stars have a cordial relationship, let alone be BFF's. At a recent event, Sonakshi Sinha and Katrina Kaif were seen happily chatting away and exchanging notes.
This comes as a surprise amidst rumours that the two try and avoid contact as much as possible. Of course, though there never has been an open fight between the two actresses, Sonakshi bagging a role in the Salman starrer - Dabangg and the chemistry she shares with Salman on and off screen didn't go down too well with Katrina. Though Salman and Katrina have never really admitted to their romance, they were together. None of their films together except Maine Pyaar Kyun Kiya have worked. Yuvvraaj was a big flop. Dabangg on the other hand, was a big hit. There were stories of something brewing between Sonakshi and Salman and Sona had also become a favourite with his family. Katrina didn't like that too much. Moreover, Sonakshi was replacing Katrina in a few brands and the media hailed her as the next big thing. She seemed like a threat to existing actresses. Was the presence of their mentor Salman at the same venue, the reason the two were all smiles for one another? Stay tuned for more on this new friendship!
Sure & secure: Sonakshi Sinha

Foodie's delight
Nargis Fakhri has become quite a foodie after moving to India. She has gained nine kilos staying here and she eats everything from butter chicken to chocolates to rice. She likes being plump or healthy for movies. She had to stay thin as a model.
So far, so good
John Abraham is happy with the acclaim that Vicky Donor has received a decent opening too. He says he does not interfere with the director's work and trusts his team completely. He wants to make meaningful cinema.
Out in the open
The photos and footage of Aamir Khan's son Azan have been included in the videos of his new television show Satyamev Jayate. This footage is strictly for family viewing.
Three bags full
Shahid Kapoor might do Prabhudeva's next film which is sure to have South Indian style action. He is also doing the remake of a Korean film produced by Imtiaz Ali's wife Preeti. There is yet another movie in the pipeline.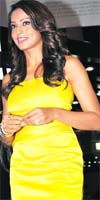 Shoot at sight
Bipasha Basu wanted to shoot for Raaz 3 at a hill station because the heat was getting too much for her. She asked Vikram Bhatt for the favour but he refused as the shooting schedule of the movie was
nearly complete and he was not
interested in changing the location at the last minute.
Piping hot: Bipasha Basu
Work load

Parineeti Chopra got a bad viral attack while shooting in Lucknow. The doctors advised her not to shoot for at least three days due to severe weakness but she insisted and shot as she knew there were location availability issues. She's like a true professional who finished all her shots for the day and only then went back to her hotel.
Full swing: Parineeti Chopra
On the hunt
Imtiaz Ali might make a biopic if the story and the concept interest him. He could make a romantic biopic and that would be totally epic! There has been no announcement of his next directorial venture post Rockstar.