star track

Busy with friends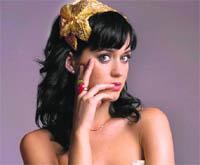 Love struck:

Katy Perry
I Kissed a Girl hitmaker Katy Perry's new man Rob Ackroyd has been busy meeting her friends.
The 27-year-old singer was introduced to the Florence and the Machine guitarist through mutual friends Robert Pattinson and Kristen Stewart, reported a website.
The couple was first spotted together at California festival Coachella earlier this month, and was recently seen enjoying dinner at Hollywood's exclusive Chateau Marmont hotel with Perry's friends. "Rob had his arm around Katy while the group were chatting. He looked at ease. It's early days but she's confident it may be going somewhere," a source said. — PTI
Making a mark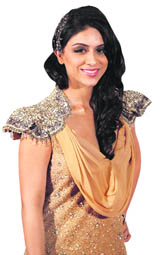 New role: Zoa Morani
Newbie actress Zoa Morani is all set to star opposite actor Imran Zahid in upcoming film Marksheet, based on the education racket and scams in the country.
Zoa, who made her Bollywood debut with Shah Rukh Khan's production Always Kabhi Kabhi, will play a fashion student in the film to be directed by Rakesh Ranjan Kumar of Gandhi to Hitler fame.
The makers of the film had earlier decided to cast a fresh face opposite Zahid for Marksheet, which is not just an issue based film but would also be a love story.
However, under the creative guidance of film-maker Mahesh Bhatt, who is also a mentor to Zahid, the makers zeroed in on 23-year-old Zoa who had earlier portrayed a school student in Always Kabhi Kabhi and would fit in the character of a college student, said a source close to the film.
Marksheet, inspired by the story of Ranjit Don who ran a racket leaking question papers for nation-wide exams, will mostly be shot around Delhi University while parts of it would be filmed in Bangalore, Mumbai and Kolkata.
Zoa, daughter of producer Karim Morani, started out as an assistant director to Farah Khan for Om Shanti Om (2007) and Rajkumar Santoshi for Halla Bol (2008). — PTI
Justin Biber's take on marriage



teen power: Justin Bieber
Justin Bieber wouldn't tie the knot with girlfriend Selena Gomez anytime soon because he thinks he is too young. The teen popstar claims that he is not yet old enough to marry his actress and singer girlfriend, but hopes she is not offended by his decision. He was asked by a publication if he has plans to propose Gomez.
"No, I'm too young. One day, I will get engaged, when I have found the right person in five or 10 years. It doesn't mean Selena is not the right person though! She's going to kill me if I say that!" he said.
The Baby hitmaker admits that being in a public relationship can be hard, but knows it is something that coms with he becoming famous. "It is not easy to be so young and to have a relationship with someone that doesn't stay private. But, it is what I wanted, so I have to deal with it," he said. — ANI
Upset by the laws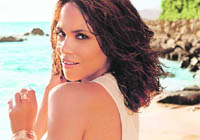 In shock: Halle Berry
Hollywood actress Halle Berry has hit out at the paparazzi for hounding her and daughter Nahla and says she wants to move to France where privacy laws will protect the youngster.
The 45-year-old star was recently denied permission to move to France with fiance Oliver Martinez and her daughter by a judge, as it would mean taking Nahla, four, away from her father and Berry's ex Gabriel Aubry, reported a website.
One photographer hiding in the bushes, it's 20, 30 very close to us, causing commotion. I'm not complaining about me. I'm an adult; I can handle it. But children should not be subject to that. It's just wrong.
"There are laws like that in France, which is the reason I want go there. Laws that protect children, protect right to privacy. All I want is for my family and me to have a normal life. When I'm not at work, that's very important to me," Berry said. — PTI
Back in action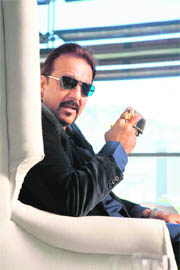 Straight talk: Sanjay Dutt
Actor Sanjay Dutt, who gave knock out performances in several high-octane movies including hits like Khalnayak, Vaastav and Dus, was startled when action films faded in the mid-90s and comedy took centre stage.
"There was a time when Ajay, Akshay, Jackie, Sunny and me all were called action heroes and we lived in that era for a long time. And suddenly for us there was a period of no action...only comedy films were working. I was taken aback. It was surprising at that time," said Sanjay, who explored action with Vijeta Taaqatwar, Kabzaa and Hathyar, among others.
Also, there was a period (late 80s-early 90s) when actors like Akshay Kumar, Sunny Deol, Ajay Devgn, Jackie Shroff took the audience by surprise.
Akshay was termed the Khiladi of Bollywood with films like Mohra, Sangharsh, Aankhen and the Khiladi series.
While Sunny gave powerful performances in movies such as Arjun, Betaab, Ghayal, Ziddi and Damini among others.
But then, there was a lull and comedy ruled the marquee. However, the 52-year-old actor is now happy that action is making a comeback in Hindi films.
"That time I used to talk to Jackie, Sunny or Ajay and we all used to wonder where action has gone. I am happy that it has come back and that is what we are. The best part is that South cinema never forgot that (action). That is the reason South films are larger than life...people have fans," Dutt said.— PTI
Best from the west
They make or star in movies and Bollywood has always loved Hollywood movies. Find out your favourite star's favourite Hollywood movie.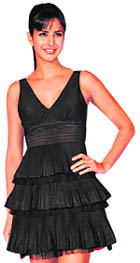 Bookish choice
Sonam Kapoor: I grew up watching The Godfather so I am fascinated by it. What a gripping book and an equally gripping movie with fine, nuanced characters. Sheer power!

get hooked: Sonam Kapoor

For one and all
Katrina Kaif: I like The Sound of Music, I saw it when I was little and loved the songs, the children, the romance and I enjoy it even today. It's a movie for all ages.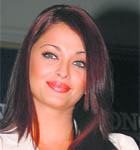 little romance: Katrina Kaif
Catch if you can
Aishwarya Rai: My all-time favourite movie is Casablanca. I need not tell you why I love it, you have to discover it for yourself!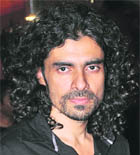 Find out: Aishwarya Rai

Round the clock
Imtiaz Ali: I would count Before Sunrise and Before Sunset among my favourite . They are so romantic, sweet with brilliant writing.


before & after: Imtiaz Ali

One for the future
After his last release Players drew a blank at the box office, actor Neil Nitin Mukesh is now gearing up for Bejoy Nambiar's David and a psychological thriller called 3G, where his character has various layers.
"I am doing David and preparations are on for it. But before that, I am doing a film with Sonal Chauhan, it is called 3G. Its a horror film. It is on the lines of What Lies Beneath and Sixth Sense. It is a psychological horror. I have always gone for character oriented roles," he said.
"My character in 3G is completely layered. It is about a guy who gets possessed and like I said it is a psychological horror
so to portray a character like that is rather difficult, it is not about one of those gory faces horror...it is a mind game. So anything with mind is interesting," he added.
Neil, 30, feels our industry is way behind Hollywood and that there is a need for futuristic films to be made here as well. "I want a special change in our industry and that is of futuristic cinema.I wish audience accept futuristic films. We behind Hollywood. There are films like Jurassic Park, The Avengers that do good business here," said Neil. "But when we make futuristic films here they do not do well. I feel cinema is fictitious and larger than life so should make these kind of films he said. — PTI
Will the real Sunny Leone please stand up?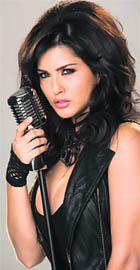 Buzzing about: Sunny Leone
A new controversy has erupted over adult film sensation Sunny Leone! And once again it's over her name!
Until now, it was said that the Canadian adult film star's real name was Karen Malhotra. But latest findings have revealed that it is Karenjit Kaur Vohra. This has been ascertained on various websites which have carried a picture of her passport sporting her actual name from childhood.
It is also said that her surname 'Leone' was coined from 'lioness' because she is a Punjabi Kaur. Taking off on this fact, Bollywood PR guru Dale Bhagwagar remarked, "A lioness is a lioness, whether you call her a Kaur Vohra, Malhotra or Leone. After all, what's in a name? It's the mindset, intelligence, intellect and personality that make a gritty lady what she is. And Brand Sunny Leone has that grit in abundance."
That's some praise coming from a publicist who has mastered the art of controversy, having handled some of the biggest controversial names in Bollywood, including Shilpa Shetty, Priyanka Chopra, Sherlyn Chopra, Rakhi Sawant as well as highly discussed films like Don and Rock On!
For the record, Sunny who participated in Bigg Boss Season 5, will now be seen in Pooja Bhatt's Jism 2 and is also speculated to star in Ekta Kapoor's sequel to Ragini MMS.
Meanwhile, It hasn't even been a while since Sunny Leone declined an item number for Ram Gopal Varma's upcoming film Department. Now, there have been reports of the Indian-origin porn star accepting an item song in Apoorva Lakhia's Zanjeer remake. However, Leone denied the reports and said, "I am not doing any item song at the moment!"
One step ahead
Shilpa Shetty to store her baby's stem cells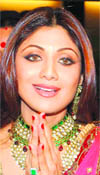 Smart mommy: Shilpa Shetty
Bollywood actress Shilpa Shetty, who is expecting a baby, will store her child's stem cells.
"Stem cell banking gives me the peace of mind for my baby's health. By banking stem cells, my child will have more medical options in the future," Shetty said in a statement.
The Baazigar actress said this is the most precious and personal gift, she and her husband Raj Kundra could think of, for their little one.
Gearing up for the most exciting phase of her life, motherhood, the 36-year-old said, "Motherhood is the best thing that can happen to a woman, it brings a sense of responsibility".
Shilpa would now also be actively involved in creating awareness among would-be parents on the importance of stem cell banking .
With tremendous potential in curing critical diseases, stem cell therapy is regarded as the future of medical science.
Stem cells extracted from the cord blood have positively treated conditions like leukemia, lymphoma, cerebral palsy and thalassemia major, though questions have always been raised if this tehrapy has ever been used so far.
As someone who is looked upon as a role model and as a very successful woman in her own right, her decision to bank her baby's stem cells would have the right influence and impact on the would-be parents.
The actress who is now one of the co-owners of the IPL franchise cricket team Rajasthan Royals, had shot to global fame after winning the British Celebrity Big Brother TV show in 2007. — PTI