Presidential poll
Antony rushes to Chennai, meets Karunanidhi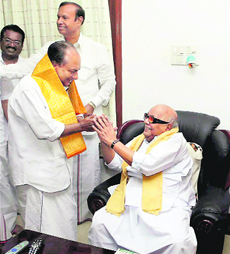 Chennai, April 29
Congress leader and Defence Minister A K Antony today met DMK chief M Karunanidhi as part of consultation process among UPA allies on the Presidential election to arrive at a consensus leader to succeed incumbent Pratibha Patil, who is retiring on July 25.
Defence Minister A K Antony greets DMK chief M Karunanidhi in Chennai on Sunday. — PTI

Sukma Collector's release will take time


Raipur, April 29
The release of Sukma District Collector Alex Paul Menon from Maoist custody appears to be headed for a long haul. The third round of talks between two representatives each of the 'Red rebels' and the Chhattisgarh Government ended at the Circuit House here late in the night after five hours.
Cong, Sena trade barbs over Sachin
Mumbai, April 29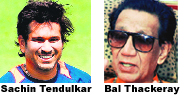 The Shiv Sena and the Congress today traded insults over the nomination of cricketer Sachin Tendulkar to the Rajya Sabha. At a function to felicitate him here, Shiv Sena supremo Bal Thackeray called the nomination of Tendulkar as "the real Dirty Picture".