M A I N N E W S
Over 100 feared killed as boat capsizes in Assam
Storm-hit ferry was packed with 300 persons
Bijay Sankar Bora
Tribune News Service
Guwahati, April 30
At least 100 persons were feared killed when a motor boat laden with about 300 passengers on board capsized and sank in the Brahmaputra amid a severe cyclonic storm around sunset in Dhubri district in western Assam, over 300 km from here.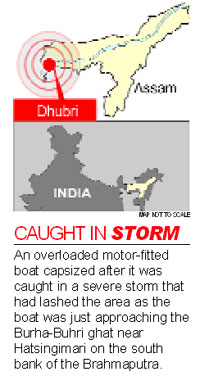 Unofficial sources said that over 50 bodies have been recovered while Dhubri Superintendent of Police P K Saoi said 15 bodies have been recovered so far.
However, a spokesman for the National Disaster Response force (NDRF) said that 35 passengers could be rescued alive. The boat was travelling from Porabhita Ghat in Dhubri on North Bank to Jaleswar Ghat on the South bank when the tragedy struck in the middle of the river. Two NDRF teams have been deployed, besides Army, the BSF and police personnel in the rescue operation. Rescue operations have been hampered due to bad weather and darkness.
Superintendent of Police Saloi said the accident occurred around 5 pm.
"We do not have the exact number of passengers on board. But eye-witnesses and some survivors claimed that there were about 300 persons on board the boat, which included some women and children. The boat had left one of the several ghats in Dhubri town on the north bank of the Brahmaputra and was on its way to Jaleswar on the south bank," said Saloi.