Compromise formula on NCTC ready: PC
New Delhi, April 30
Union Home Minister P Chidambaram on Monday made it clear that a compromise formula has been worked out to settle the raging dispute between the Centre and states over setting up of National Counter Terrorism Centre (NCTC).
Defence reality: Ageing aircraft, low firepower & scarce ammo
New Delhi, April 30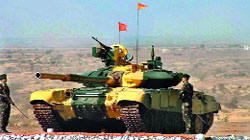 The dismaying details of the country's lack of defence preparedness are out. Ageing aircraft fleet, scarcity of choppers, not enough tank ammunition and shortage of artillery guns, the picture is far from perfect on the defence front. The Parliamentary Standing Committee on Defence, has in a forthright report tabled in the Parliament today revealed these stark realities.
Clean chit to Omar in party worker's death case
NC's Yousuf died due to heart attack and not because of assault, says probe report
Srinagar, April 30
Exonerating Chief Minister Omar Abdullah, the magisterial probe into the death of National Conference worker Syed Mohammad Yousuf has revealed that the latter had died a natural death and not because of any assault by personnel in the Chief Minister's camp office or by the police. Yousuf had died on September 30 last year in police custody a day after meeting the Chief Minister.