Sukma Collector to be released tomorrow
Man Mohan
Our Roving Editor
Raipur, April 30
The possibility of an early release of abducted Sukma district Collector Alex Paul Menon appeared strong late on Monday night following a breakthrough in the talks between the Chhattisgarh Government and the Maoists.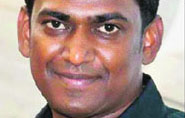 The mediators of the Maoists announced tonight that the IAS officer would be released within 48 hours. The 32-year-old Collector was abducted on April 21. The state government agreed to set up a high-powered committee to look into all the cases of convicted as well as undertrial persons in various jails.
The Maoists had demanded the release of eight Maoists serving jail sentence before releasing Menon.
The breakthrough came after the end of the fifth round of talks between the two sides. Maoist representatives issued a one-page appeal to the Naxalite high command urging them to release Menon immediately as the state government had agreed to review all cases of alleged Maoist prisoners in the state.
The three-member high-powered committee will be chaired by Nirmala Buch, former Chief Secretary of undivided Madhya Pradesh. Buch was part of the two-member team of the state government holding talks with the two representatives of the Maoists.
"I hope Menon will be released within 48 hours," Chief Minister Raman Singh told reporters here tonight after the two-page agreement was initialled by the mediators in the presence of Principal Secretary (Home) NK Aswal. Under the agreement, the mediators nominated by Maoists have agreed as a "gesture of goodwill" to ensure the safe return of Menon within 48 hours i.e. on or before May 2.
The agreement did not concede to the demand by the Maoists for the release of their eight jailed associates in exchange for the freedom of Menon, an asthmatic for whom medicines had to be rushed to deep jungles.
The committee, which will have Chief Secretary and state DGP as members, shall become operational "within an hour" of the release of Menon, according to the agreement.
The other government mediator was SK Misra. The Maoists were represented by Dr BD Sharma and Prof G Hargopal. There was no immediate word directly from the Maoists on the agreement which is expected to pave the way for ending the tense hostage crisis.
The agreement, quickly approved by a Cabinet sub-committee headed by the Chief Minister, said the matter of utmost concern to the mediators is Menonís wellbeing.