A perfect picture of MC apathy
Kusum Arora
Tribune News Service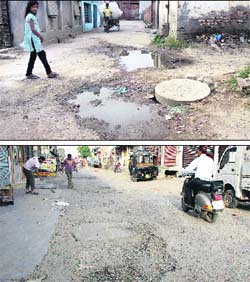 The unmetalled roads at Upkar Nagar in Ward 8 of Jalandhar. Photos: Sarabjit Singh
Jalandhar, May 11
Switching loyalties from the ruling SAD-BJP combine to the rival Congress by the sitting councillor took a toll on the development works in Ward Number 8.
The little work that could see the light of the day was due to agitations against the Municipal Corporation. So much so that the councillor once stepped on the table of Mayor Rakesh Rathour during a House meeting to protest against the MC's failure in releasing grants.
Not only the councillor, the residents maintain the ward had to face problems in starting major development works like constructing new roads, streets, installing streetlights, laying sewerage lines and drinking water.
Nirmal Singh had contested as an independent candidate and soon after his victory joined the SAD-BJP. Things remained fine until he joined the Congress in 2009.
"The moment I joined the Congress, the MC authorities stopped grants for my ward. I resorted to pressure tactics and managed to get a majority of the works done during this period," said the councillor.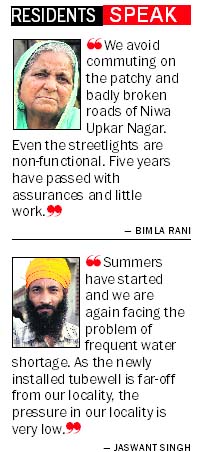 The councillor said around Rs 1.5 crore was spent on development works in the ward. Still, many roads in the area in a deplorable state and streetlights are non-functional. There is acute shortage of drinking water in the ward, added the councillor.
Residents of Niwa Upkar Nagar said it had been years since the road in the colony was constructed. "It is difficult to commute on this stretch, especially during night. Though we approached the area councillor, but he too expressed his helplessness in dealing with the issue," said a resident of Niwa Upkar Nagar.
The councillor maintained that the work orders for the construction of roads in Niwa Upkar Nagar and Jaimal Nagar were passed recently. "The work will start soon," he added.
The councillor said following his protest against the MC authorities, he was able to get four tubewells installed in his ward. "The tubewells were installed at Lamma Pind Government School, near Christian graveyard, Arjun Nagar, Baba Ji mandir in Lamma Pind and at Niwa Upkar Nagar," he added.
Prospective candidates
As the ward has been declared reserved for women, Nirmal is planning to field his wife, Balwinder Kaur, this time. On the other hand, the SAD is yet to officially announce its candidate.
Amount spent
The councillor claimed that Rs 1.5 crore were spent on development works in the ward. Around Rs 15 lakh was used for the sewerage system and Rs 11 lakh for installing streetlights. A project of Rs 1.2 crore for the construction of roads is still pending with the MC, he said. The work orders of another Rs 60 lakh have been passed while Rs 18 lakh has been given from the MPLAD fund by MP Mohinder Singh Kaypee.
Areas of the ward
Lamma Pind, Jaimal Nagar, Gandhi Nagar, Arjun Nagar, Ajit Nagar, Muslim Colony, Baldev Nagar, Christian Colony, Vivek Nagar, Upkar Nagar, Uchha Upkar Nagar, Niwa Upkar Nagar and Chandigarh colony.