Collector's delight
Montblanc, now stepping as a diversified luxury brand, brings forth its Grace Kelly collection
Vasudha Gupta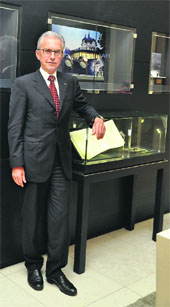 The luxury segment in India is growing with each passing day. Upping the benchmark, Montblanc, now stepping as a diversified luxury brand, brings forth its Grace Kelly collection. Karl Handke, president of the Western Hemisphere, Montblanc, on his recent visit to India, shares his ideology of the latest collection with us.
What is the purpose of your visit?
I am visiting India to launch the Grace Kelly collection. This will be the official launch for India and henceforth the products will be available at our boutiques nationwide.
What is the Grace Kelly collection all about?
The Grace Kelly collection is a tribute to one of the most remarkable individuals of all time — Grace Kelly, Her Serene Highness Princess Grace of Monaco. It gives support to her artistic legacy, the Princess Grace Foundation — USA. The Collection, consisting of fine jewellery, timepieces and writing instruments, is true to Princess Grace of Monaco's much admired style and sophistication.
What do you think about Chandigarh as a market for luxury brands?
Chandigarh is a city of wealthy and cultured people, which is our target audience. It is a great market for luxury brands and has grown consistently.
What is your vision for the brand?
Our vision is to be the luxury mason, which helps cultured people to express their lifestyle through beautiful products. Today majority of our sales is from writing instruments and we are leading players in this market.
Where do you see the demand for luxury writing instruments in the future?
Montblanc writing instruments' business is constantly growing every year. We are sure that despite high technology gadgets and other products, a lot of people will continue to write important letters and sign with a Montblanc fountain pen.
There are several high-end brands for jewellery and leather. What makes Montblanc different from them?
Montblanc is a brand that has a history that goes back to a hundred years. It stands for craftsmanship and creating products with a soul. All our products are timeless and not following trends and therefore will never be out of fashion.
What are your areas of focus in India?
We want to become stronger players in the watches segment. We still see a great opportunity in jewellery for women. We wish to expand the retail network at airports and cities like Kolkata where we don't have a presence yet.
vasudha@tribunemail.com

The rhythm divine...
Award-winning singer Shilpa Rao has many hit songs to her credit such as Khuda Jaane, I Feel Good, and many others. She talks about singing wonderfully. Tip 1: You must practice sincerely. This way you know the range, strength and weaknesses of your voice.
Tip 2: You must also rest your voice. Don't go overboard practicing.
Tip 3: You must always be open to learning about different types of music whether it is Indian classical or Western Classical. Listen to world music and singers from different parts of the world
Tip 4: Experience life as much as you can. Go out with your friends. Watch movies, hang out, do whatever you like. The wider the range of emotions you have felt, the better you will express emotions in your songs.
Tip 5: Be yourself and don't lose your identity or your roots. Embrace your uniqueness. Only then will you stand out and get noticed.

Handling success
"Success should not go to your head and failure to your heart" says Randeep Hooda, who has got  a tremendous  response for  his performance in movies like Sahib Biwi Aur Gangster, Once Upon A Time In Mumbai and now of course, Jannat 2. 
The actor, who has been on a signing spree with back to back big banner films like Jism 2, Heroine, Cocktail and Mayanagari, believes that one should know how to sustain success. "People should be composed and not let success reach their head," says Randeep. The actor, who has been through his share of ups and downs, believes that the life of an actor is never steady, success and failure are a part of life and hence one should not let failure enter one's heart. "Just be sporting and take it as a challenge," says Randeep.   Randeep's next release is Cocktail with Saif, Deepika, and Diana Penty in July. —HRM
Up swing: Randeep Hooda

Blame it on the boyfriend!
Singer Kelly Clarkson, who is known for break-up songs, says she is so happy in her relationship that she is unable to write tough songs. The 30-year-old has been dating talent manager Brandon Blackstock since last year, reported a magazine.
"It is killing me. I'm trying to write a tough song and it is coming out like butterflies and rainbows. It is ruining my creativity. I'm writing all this happy stuff," she said. Clarkson said her next single will be Darkside but her happy love life is making it difficult to tap in to her own darkness. "People are going to be, like, 'What the hell happened to you,'. It has been really difficult. I love it. It's an awesome problem to have." —PTI

Jam packed...
Anurag Kashyap's Gangs of Wasseypur is certainly making the right noises at the 65th Cannes Film Festival where the world premiere of the film received a full house. Crowd lined up the streets to lend their support for Bollywood film, being screened at Director's Fortnight section, an independently-curated, non-competitive event that runs concurrently with the festival.
Actresses Huma Quereshi, Richa Chadda and Reema Sen, and music director Sneha Khanwalkar joined Kashyap and the male leads Manoj Bajpayee and Nawazuddin Siddiqui on the red carpet. Gangs Of Wasseypur, based on the coal mafia of Dhanbad, has been divided into two parts. The first part is set to hit the Indian theatres on June 22. Vasan Bala directed Peddlers, another film from Kashyap's production house, also premiered at Cannes last evening.
—PTI

Why RGV won't work with Sanjay Dutt again
It has been a while since director Ram Gopal Varma and actor Sanjay Dutt were reported of having creative differences over some scene in Department.  Now that the film has flunked at the box-office, the difference of opinions has led to quite a rift between the two.
RGV says that he is "supremely happy" that he won't have to see Sanjay's and producer Dharam Oberoi's face for the rest of his life. "Whatever else happening to Department, I am supremely happy that I don't need to see the faces of Sanjay Dutt and Dharam Oberoi for the rest of my life," he said.
He added that Sanjay Dutt even forced him to take Kangana Ranaut out of the film: "From forcing me to take Kangana out of the film to constantly cornering me to change screenplay, I had the most horrible time working with Dutt." —HRM

Single-minded focus works
Vasudha Gupta
To grow up listening to discussions on history at dinner table sure tends to rub off and mould a child towards raising his or her own benchmark. A pass-out from Carmel Convent School, Surbhi Malik, 25-year-old, a post-graduate in economics from the London School of Economics has secured the 51st rank in the IAS exams and is all set to walk the extra mile and do something for her country.
An IAS father and a mother who is an associate professor in English for a support system, the young lady did not put in more than eight hours of labour each day and did a few things she enjoyed the most, including reading and catching up with friends.
Sure of taking the IAS exam while she was still in college, Surbhi had to battle her low points when she did not make it through in her first attempt. But she overcame it and proved herself by coming out with flying colours in her second attempt. Into reading, writing and playing badminton, the lady hopes to come out with an anthology of her poems one day.
She gives us an insight into everything her academics have revolved around.
Motivational factor
It's never been just one thing that has acted as a motivational factor but utmost certainty about what one wants in life and single-minded dedication to achieve that, helps you pull through. My parents have also played an integral role in my success. Achieving anything today is impossible without guidance and support from the family.
Feathers in the cap
Initially, getting thorough Lady Sriram College in Delhi for economics honours was a very big thing for me. Not only because the institute is great but because it brought me in contact with some great people, learned faculty and raised my thirst for knowledge. Then making it to the London School of Economics on a Commonwealth scholarship was an achievement that made me feel great and pushed me to learn more. Now, I have finally come to terms that I have cleared the IAS exams and don't have to go through the preparation again.
Strengths and weakness
My biggest strength turned out to be my thirst for knowledge. At LSR, our motto is 'that alone is knowledge, which leads to liberation'. Throughout my career, I knew clearing IAS will be possible. I just knew I had to further my knowledge in economics.
Flipside of being an achiever
The one flipside I have faced is a sense of insecurity. As an achiever you constantly need to put yourself on a higher pedestal. My main concern is to be able to relate to the problems at the grass-roots level.
Words of wisdom
Make as many mistakes as possible before you enter your career. Once you are in your job, no one will forgive you if you make any mistake. However, learn from your mistakes. Another thing that the youngsters should do today is read. Books have taught me so much. Sacrifice one hour of television time each day to read a book.
vasudha@tribunemail.com

Flair enough
Ashima Batish
Do we need to ask what brings fashion designer, Amit Kashyap to Chandigarh over and over again? "It's business. There are ample buyers here. Also the NRI market can be tapped from here," Amit still answers the question.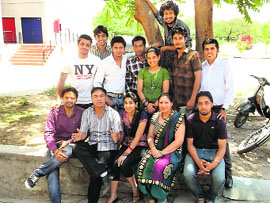 A more important factor that pulls him to Chandigarh is the fashion-conscious people. "People in this city are open to experimenting with their dressing sense."
This summer, he has got a collection that has influences of anarkali elements. "Not only the shirts have typical anarkali flairs, also the lowers are volume rich and have flairs." To suit the need of the season, he has used light, sheer fabric. "I had to be very careful while picking the fabric, since designs demanded a lot of volume. Heavy fabric wouldn't have sufficed the purpose in high temperatures." The use of embellishments are minimal. Colours picked up are hues of yellow, blue and orange. One interesting ensemble is an anarkali lehanga in blue and purple.
Amit is planning to make a debut at the Lakme Fashion Week. And designing for Bollywood, as he claims is part of his job profile again. "I am designing for Kashmera Shah and for the actors of Chalo Driver," he says.

Skirting around
Add shorts and skirts to your wardrobe to up your style quotient this summer
Jigyasa Kapoor Chimra

If you thought shorts were only beach wear, think again! They have smoothly entered the category of daily wear and so far are the hottest casual wear, but raising the bar this season, we also have the sheer skirts and layered maxi skirts. "Sheer skirts are working their way up," says Geet Sethi, training consultant head from Espirit. She adds, "Sheer and layered maxi skirt trend was showcased at the Spring 2011 collection also, but it is gaining ground now with Hollywood actors like Katy Perry and Olivia Palermo taking it to the mainstream." Well, though this trend is worth a try but it's entirely up to you to push the risqué quotient. If you want to play safe, team it up with leggings, mini skirt or pants.
Maxi dresses have been in vogue but now we have the finer version of flowing maxi skirts. It is a cool and relaxed summer fashion trend. All you have to remember is to keep the hem an inch off the ground and pair it with a tank top. "When we are talking about skirts the length has gone a bit up and we see knee length skirts this season. Lace is one hot trimming that will be seen on many skirts. Other than that we would also witness knee-length dresses in vogue this season," says an employee of Madame.  
Coming to shorts, denim high-waist shorts are in fashion. Short shorts, sailor shorts, biker shorts, camo shorts, boyfriend shorts all are to be flaunted with aplomb!
And if by chance, you are not the shorts person than try the newest fit of women's cropped pants. Available with a tabbed waistband, they have deep front pockets and cuffed hems with a buckle closure. As per your convenience, you can roll the cuffs down for a full pant or keep them hooked for a military look. Anyway you are going to look hot in this new look.
Hot shots
n Sheer skirt is the latest and hottest trend to look out for.
n Maxi dresses have been in vogue but now we have the finer version of flowing maxi skirts.
n Looking for shorts; short shorts, sailor shorts, biker shorts, camo shorts, boyfriend shorts all are in vogue.
n If you are not the shorts person, then cropped pant is the next best option.

Mum's the world
Renee Singh
Children bring joy, love and countless other gifts in our lives, and there is no deeper bond than that of a mother and child. However, the joy of motherhood also brings along with them an additional load of stress.
A high percentage of women are stressed in the following area
Time demands
Most mom's feel short of time with all the care and nurturing a child requires as there are additional demands by other members in the family. Chores like laundry, cooking, working  need time, which never seems to be enough.
Finances
Whether you use day care,a maid or decide to stay at home, taking care of children is a task. As a kid grows, new clothes and other things can be very straining on the family budget.
Relationship demands
Many times a mother invests so much time in her kids that her other relationships take a backseat. More so when kids are young they need more attention. It becomes difficult to balance time between husband and family while giving proper attention to the kids.
Self-doubt
A lot many mothers feel inadequate in the role that they are playing. Some mothers are constantly reevaluating what they are doing and meeting parenting experts for advice.
Protective instinct
Many mothers are over protective of their kid's and carry imaginary fears They worry about their kids social behavior and make each stage of development of their kid a personal challenge.
Self care resources
n Body care
Keep your bodies in prime condition otherwise you will suffer from serious consequences. Help yourself avoid illness, eat right, get enough sleep, take good care of your body, experience greater energy, and raise levels of self esteem.
n Home spa
Mothers deserve pampering but they don't have time for it. Turn your bathroom into a spa and enjoy.
n Time alone
Giving yourself 15 minutes everyday, it can be extremely rejuvenating. Meditating or just being alone with your thoughts is very important.
n Learning to say no
There are many people advising mothers on how to deal with little one's can be taxing, stick to your own opinions. Do not get over committed on playing a mom.
(Renee is a psychotherapist)

Stage craft
Adakar Manch in collaboration with NZCC presents its annual theatre festival Adakarian 2012. The festival will stage five acclaimed plays by the Manch. All the plays have been written and directed by Sahib Singh.
May 25: Baat Suhe Fulan Di
Based on two stories Victory and Once There Was a King by Rabindranath Tagore, the play is a beautiful amalgamation of music, dance, stage craft, costumes, tension, suspense, poetry and drama.
May 26: Jungle Bolda Hai
This play highlights the plight of tribesmen living in the central part of India. How the multinational companies are destroying their natural way of life for their own profit. It's a hard-hitting revolutionary play.
May 27: AadKuari
Based on Rashpinder Rashim's story, the play talks about our double standards as how we worship the virgin and at same time molest young kids. This is a story of a girl who gets raped by her uncle and then becomes a goddess.
May 28: Ikko Raah Sawalarah
This play is based on the story of farmers who are poor due to social injustice.
May 29: Rang Tamasha
This play narrates the life of a theatre person, how he draws inspiration and how he reacts to situations. — TNS
(At PG Government College-46 from 6:45pm onwards)

A treat fit for a nawab
The Awadhi food festival brings the culinary delights of Gulam Rasool to Chandigarh
Vasudha Gupta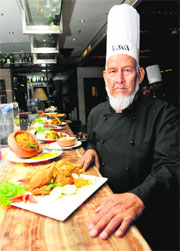 If you follow this chef's recipe, any food made with love will never be tasteless. Irked by the lack of hard work put in cooking today, Chef Gulam Rasool, misses the time when one took time and care to make authentic Awadhi food.
In Chandigarh for a food festival organised by Kava, the chef speaks at length about his experiences and adding the right quantities of masalas for lip-smacking cuisine.
Cooking since the age of 15, Rasool got into his life-long passion when he was amazed at how the city food tasted. "I had never seen it before and the taste of it just floored me. That was the point I knew I wanted to cook," he says, with the right dash of tehzeeb in his voice.
Used to cooking in copper utensils of different sizes, the chef has also accustomed himself to using blenders. "Of course, the taste has changed. Earlier, there was one designated person who used to look after the grinding aspect of masalas," he says. Being held in high esteem by several exotic hotels, Chef Rasool does not let go of his humility. "One of the prime reasons why I am still working in different locations and teaching students is because I never landed myself in an argument of any kind," he shares.
He narrates one incident with a doctor, when his dish had a cockroach. "Since I was responsible, I was called in. I told them that the metthi had broken off and looked like a cockroach and put it in my mouth. Izzat bachane ke liye kabhi kabhi jhoot bolna partha hai," he says.
Aware of the fact that the real essence of Awadhi food is somewhere lost, Chef Rasool is certain if made today with the exact proportions, it will solve many digestive problems. "It used to be very heavy. Once eaten, there is no need for the next meal," he says. For him, the mark of respect comes from the feedback. People praising his food and he is charged with energy to give extra colours in his biryani.
(On at Kava, Sector 26 till June 12)
vasudha@tribunemail.com

Actor's delight

Known for playing negative roles in films like Department, Gulal, Rakht Charitra, Abhimanyu Singh is opposite to what he portrays on screen. He hasn't been much on the small screen of late but will return to TV with his serial Upanishad Ganga, produced by Chinmaya Mission and directed by Dr Chandraprakash Dwivedi, currently on air on DD. Abhimanyu talks about his ventures.
Tell us something about your serial Upanishad Ganga?
The serial is based on the teachings of Upanishads. This serial will bring the audience closer to the Indian philosophy and explain them the Vedas and Upanishads in the form of stories. The serial is a treasure trove of rare stories. The stories are old yet presented in a new format.
What is your character in this serial?
I am playing 33 different characters in this serial. So you will see me in the avatar of Lord Krishna, Lord Indra, Emperor Ashoka and many more.
Thirty three characters in one serial is quiet a score, so which one of these is your favourite character?
All the characters that I played were quite exciting but for some reason I liked playing Lord Indra. May be, because I could relate to him. His is more human than a God can be, with his own share of virtues and vices.
How was the experience of working in it?
It was the most enriching experience of my career. I have grown as an actor with this serial. And working with director like Dr Dwivedi was yet another pleasurable experience for me.
Did you prepare a lot for the kind of characters you portrayed?
Preparations weren't much except what I usually do for every character that I play. Since I believe in method acting, I research before portraying any character. For me creative satisfaction is very important. I get into the skin of the character so as to make it more alive and realistic.
Tell us about your forthcoming projects.
I worked with RGV in Department. I am also working in the Telugu remake of Dabbang and in a movie called Alaap directed by a debutant director Manish Manikpuri.

All drama, no action
In the upcoming episodes of Star Plus' Sajda, Mahendra Pratap takes Aaliya to the graveyard and shows her the grave of his dead wife, Julia. He says that he loved her very much and she is not there with her anymore now. Later he enters Julia's room and thanks her for sending Mehreen in her life.

Mahadev on DVDs now
The latest buzz on Nikhil Sinha's Devon Ke Dev Mahadev is that makers are planning to take out DVDs of the show and launch it in the market. It's the first time ever that DVDs of a show are being made, which is even less than six months old.
going far: A still from Mahadev
Waheeda ticks on Tabu


In the final leg of NDTV's popular chat show Issi Ka Naam Zindagi, Raveena asked Waheeda whom does she think is close to the her in terms of acting. Without thinking, Waheeda responded giving out Tabu's name. However, this is not the only thing that they spoke about on the show. Anupam Kher also shared his opinion on the way Bollywood industry has grown over the years in various ways. Ranjeet, Kader Khan and Asha Parekh also were glad to share their stories.
Not guilty!
Apurva Agnihotri and Shilpa Agnohotri who were present at the rave party that was raided in Juhu on Sunday, held a press conference to explain their story. They said they were there but were shocked when the police raided at 7pm in bright daylight. They were let off after 12 hours of hospital and verification rounds.

coming clean: Apurva Agnihotri and Shilpa Agnihotri
Back on the track
Yuvraj Malhotra who returned to TV in a small role in Shubh Vivaah now has bagged an important character in Sapno Ke Bhanwar Mein. He will play a CBI officer Dev Singh Tripathi in the Life OK show who investigates Pooja's case.

The year ahead
Madan Gupta Spatu
If your birthday is May 24...
Bad decisions of the past will lead to frustration and mental turmoil. You may be stranded and unable to decide what to do next seek help from others. Losses are likely if you invest without seeking advice. Friends will be supportive but minor problems due to difference of opinion with your spouse may spoil peace at home. Personal relationships are sensitive and vulnerable.
Your innate trust and goodwill might begin to cross the line into gullibility as year begins. This is a time to ask more questions, get more information and generally think twice (or more).
This kind of critical thinking keeps you in good stead.
You will be able to count on rich pickings and excellent occasions for new contacts and collaborations. Students will do well in their studies and their hard work will bring them good results. Those appearing for competitions will see their names in the merit list. They will subsequently get admissions to the college or university of their choice.
A fun gathering scheduled may end up being more work or expense than you planned on and the only way to fix it will be to throw money at it. The employed will have a successful run in their jobs and career. Youngsters working in the field of media, hospitality industry and marketing will excel in their jobs and can look forward to promotion with salary hike. Friends can be most helpful in solving problems and avoiding hassle. Call upon the best of your buddies, especially in errands, domestic challenges and for loaned items to save having to buy. Those who may have put on weight and wish to lose extra pounds will begin their workout in earnest and get good results.
Love and friendship deepens, even if your social circle grows smaller and richer. Married will be loved more wisely by their spouse.
Avoid high calorie diet to keep yourself fit and fine. Watch your tendency to live and to spend too much on entertainment. People close to you will create problems at personal level. Love pangs will not make you sleep, you will have a hidden adversary who will love to prove you wrong.
Mood: Vulnerable. Compatible signs: Cancer, Scorpio. Lucky colours: Beige, Maroon. Lucky days: Monday and Wednesday. Lucky numbers: 5, 19, 20 25, 50. Lucky gem: Diamond – Gemstone of Venus. Lucky flower: Lavender.
Rajesh Roshan (originally Rajesh Roshan Lal Nagrath born May 24,1955) the son of music composer Roshan and brother of film director and actor Rakesh Roshan. He is also uncle to actor Hrithik Roshan, will join you in birthday celebrations. Kaho Naa Pyaar Hai, Koi... Mil Gaya and Krrish, are some memorable films in which he composed. Rajesh Roshan delivered several hit music scores pairing with his brother Rakesh, who had emerged as a director of great stature.
2012-13 may not prove a very lucky year due to his unfavorable period but 2013 does belong to him owing to number 6.

Astro Turf
P Khurrana
ARIES: Go steady. Do not try to hurry jobs that require meticulous handling. Arguments may arise with your partner. Consult experts when cash questions come up. Your mood is likely to turn to romance and fantasy. Tarot message: Use your instinct to get into the top circle of power. Lucky colour: Red. Magic number: 64
TAURUS: You draw The Emperor, so the day brings all comforts. Spare time for family and children. Women patients; do not neglect any gynecological problem. It should be much easier for you to meet challenges today. Tarot message: Set the pleasant set of events into motion. Lucky colour: Turquoise. Magic number: 53
GEMINI: An irritating co-worker can push you to your limits. Practice deep breathing and you can maintain your composure and avoid a confrontation. Leave the rigorous pace and expectations of others . Tarot message: You must learn to accept responsibility for self and others. Lucky colour: Crimson. Magic number: 40
CANCER: Your card The Moon indicates an emotional setback. Stick to what you know and understand. Children, enjoy with your friends. Disagreement with a female family member will cause you trouble. Tarot message: Your determination to succeed will pay dividends. Lucky colour: Orange.
Magic number: 61
LEO: At work colleague steers you to a new direction. Love stars are behind the clouds. A small celebration at home is likely. Cheer up a patient and stay long enough for him or her to relax.
Tarot message: Yet work could pose certain minor difficulties but don't worry. Lucky colour: Peach.
Magic number: 26
VIRGO: Get cracking early. What you need now is energy. You must push yourself harder. This is not the right day for writing official letters. An irresistible attraction can override your common sense. Tarot message: Plan your life to avoid the in-built delays that come your way. Lucky colour: Mauve. Magic number: 47
LIBRA: Your card The Nine of Cups reveals inner strength and enthusiasm. Guys; do not take the risk on road. Drive carefully. Arguments may arise with your spouse or partner over money. Tarot message: Don't forsake a new learning opportunity because of pride. Lucky colour: Rainbow pastels. Magic number: 65
SCORPIO: Your card Page of Pentacles promises a progressive day. Health problems will be taken care of. Personal plans are likely to progress without too much opposition. Issue over finances can upset one of your close relationships. Tarot message: Put emphasis on spiritual needs. Lucky colour: Saffron. Magic number: 50
SAGITTARIUS: Business will flourish between you and your associate. Attempt to improve your health will be successful. You need time to understand the changes that are taking place in your psyche. Your mind can wander on the job. Tarot message: Balance in all aspects is recommended. Lucky colour: Ebony. Magic number: 62
CAPRICORN: Entrepreneurs will go through a difficult period. The married ones or those in love will find the day exciting. Success in competitive sports is assured. A lot of energy will be expended on communication today. Tarot message: Do not transact in uncertain matters. Lucky colour: Aqua blue. Magic number: 45
AQUARIUS: A sexual relationship might have reached its climax. Talk about this honestly and you may be surprised at the positive outcome. Today you can become conscious of your fears. Tarot message: Be articulate to prevent people from making their own conclusions. Lucky colour: Yellow. Magic number: 32
PISCES: Your boss/partner supports you. Do not allow yourself to be talked into an erratic move. Avoid eating out. Working toward your goals may seem a little harder than usual. Don't panic. Tarot message: Don't be dismissive of advice from youngsters.
Lucky colour: Sea green.
Magic number: 52