J-K interlocutors report to be out today
More bunkers to be removed from Kashmir
Jammu, May 23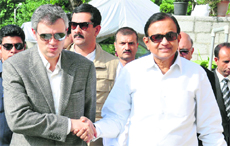 Union Home Minister P Chidambaram today wanted removal of more bunkers from Kashmir and also disclosed that the interlocutors' report would be presented to the Parliament House library tomorrow.
Jammu and Kashmir CM Omar Abdullah with Union Home Minister P Chidambaram in Srinagar on Wednesday. — PTI

Army Chief issues show cause notice to Lt Gen
New Delhi, May 23
Barely a week before his retirement, Army Chief Gen V K Singh has issued show cause notice to a Lt Gen, who could head the force in two years, for censure on account of lapses on his part in handling a case of a failed intelligence operation in Assam's Jorhat district last year.
Home Secy-level talks begin today
India, Pak set to sign liberal visa agreement
New Delhi, May 23
Even as New Delhi pushes for punishing the Pakistan-based perpetrators of the November 2008 Mumbai attacks, the two nations are set to sign a path-breaking visa agreement that will in many ways increase much-needed people-to-people contact. Union Home Secretary RK Singh today left for Islamabad for a two-day meeting (May 24-25) with his Pakistani counterpart Interior Secretary Khawaja Siddique Akbar.