The world is our stage…
The Indian entourage, better still the Indian gangs and solo dons of Bollywood are ruling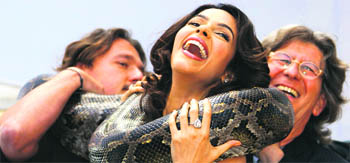 the roost at Cannes. Whether it is about creating ripples in the fashion scene, walking the red carpet with a snake or just being all over, Bollywood news from Cannes is much awaited by the scribes, critics (the best time of the year when they can put their chopper board to use) and people who can only think about walking red carpets at marriages!

Mallika Sherawat poses with a python in 2010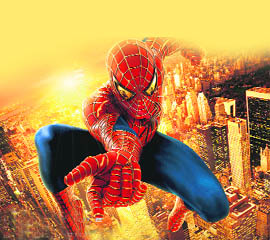 In the WEB again
Peter Parker is coming (rather climbing) to India first. The New York City, hometown of Spiderman's fictional universe, waits to watch the fourth franchise for exactly four days. And for those who felt a little left out of The Avengers Party, The Amazing Spiderman awaits! Is it because the film features Irrfan Khan as one of the baddies or is releasing in four languages or there is the Friday at play?
"Never mind, all I know is I'm excited about catching it first. Each of the Spiderman sequels has broken records before and the best part is that this movie has an India connection; catching it before people in the US makes it even more exciting," exclaims Mrigya Samyal, final-year B.Com student, DAV-10.
Changing face of Punjabi cinema

Nineteen-to-dozen has been written about the rising and shining Punjabi cinema —better scripts, good actors, sound technicians, easy-to-digest dialogues, yes Punjabi cinema is certainly stepping up. But in the whole fanfare, we lost out on people who are playing the backbone of this industry — the producers and financers. Bigger and better budgets have also redefined Punjabi cinema!
The team of kinna karde haan pyar


The 'in' side
Hold your head high
If you want an instant change to your bedroom without spending too much, add a stylish headboard to the bed. A headboard is a segment of the bed that is mostly attached to the frame at the head of the bed.
Pet passion
And Auscar goes to…
A sneaky visit to a veterinary, a chance meeting with a pet supposed to leave for a dog show and "there it was a tiny baby in a basket with a pom alongside." And Mishika Chaudhry, B Com student, got her Oscar home. "It's not the Academy Oscar, it's the Auscar," she corrects before starting the conversation on her pet. With the basics of the seven-year-old golden brown labrador right, we move onto the other properties. She adds, "We were sitting and thinking of a name for him when my cousin suggested that we name him Auscar, not the one everybody usually associates with, but with a slight twist."

HEART talk
Adjustment issues
This is my first job and I am finding it very difficult to adjust. My colleagues are more interested in my personal life, details of which I don't like to share. How should I adjust?
Green thumb


New look, old species
There is a wide range of flora available to choose from. Visit any nursery now and you will find many new species. Even in old species, a variety of new introductions have been made. To enjoy your garden to the best, you should keep changing. In some of the plant species, there is no end to introduction of new kinds. Begonia is one such wonder.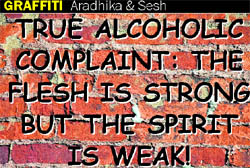 So you wanna dance?
Born and brought up in Mumbai, Gagan Preet's affinity towards dance began over the family's regular dinner parties. A dancing course at YMCA-Mississippi fuelled her commitment further and today, in her attempt to introduce different kinds of feminine English style of dancing, she has come out with a latest dance form called Happy Feet.
Burger time!
The minute we think of fast food our taste buds crave for preparations like burgers, pizzas and much more. So there is yet another fast food franchise Burger Girl, which has had a huge success in the USA. It is a full service, sit down and fast food family restaurant, bringing a new concept of "casual fast food" dining to the forefront of India's fast food craze.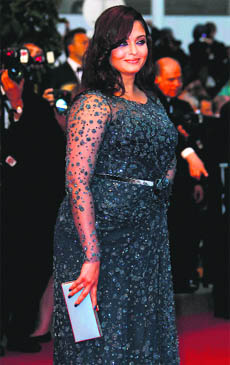 Grand arrival:

Actress Aishwarya Rai arrives for the screening of Cosmopolis at the 65th international film festival, in Cannes, France on Friday. — AP
Star track
My kids are fame-savvy: Will Smith
Actor Will Smith admits his two kids understand the fame game better than him.

n Anthony Hopkins to star in Red 2
n Ayushmann wants to go with the audiences' choice
n Charity begins at Cannes
n I would love to do a Marathi film: Vidya Balan
n Jon Favreau returning to Iron Man 3
n Bradley Cooper to produce, star in American Sniper
n Female vocals to Batman's Robin
n Smartest of all
n PC pampers herself
n The 'gangs' steal the show at Cannes
n Clubbing and dropping
n From music world to Bollywood
n Ghostly experience
n Under control
n Host and dost
n Gain and lose
n Desi girl videsi fun
n Serious physical training
n Cold war
Pun'jab'

Sandeep Joshi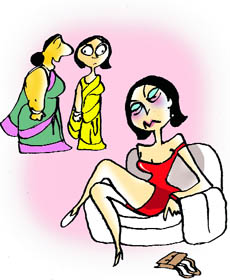 on a high:

No, it's not the exams, she says she's joined a new dance form—RAVE
chatter box
I have fun playing jungli billi: Shabnam
She is evil, she is nasty, she can kill with one look and she is Jhumpa, a cunning and vicious character in Hitler Didi. However, this role is very slyly crafted by Shabnam Sayed aka Surabhi Vanzara (now). Shabnam screams and abuses in an amazing Bong accent in the daily soap. It is interesting to see, how beautifully she maintains her craftiness in a sugar-coated bangla accent.

n Donning a new role
n Twisted story
n Making a comeback
n Mobbed!
n Missing Anandi
n Ready to tie the knot
n Making the wrong move