In Punjab, three farmers kill selves every two days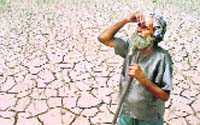 Chandigarh, May 26
Forced by financial crunch, an estimated 5,000 farmers and farm labourers committed suicide in the agrarian state of Punjab, popularly known as grain bowl of India, in the last decade - 2000 to 2010. This works out to 500 suicides a year or three suicides every two days.
Army cautions against concessions on Siachen
Rules out any demilitarisation of the world's highest battlefield
Jammu, May 26
The Indian Army has cautioned the Central Government against falling into any trap of Pakistan on the Siachen glacier. It has re-asserted its stand it would not move any of its men or machines from Siachen glacier, ruling out any demilitarisation from the highest battle ground of the world.

TIWARI paternity row
Rohit, Ujjawala give blood samples
New Delhi, May 26
Rohit Shekhar, who claims to be the biological son of former Uttarakhand Chief Minister ND Tiwari, and his mother, Ujjawala Sharma, today gave their blood samples at the Delhi High Court in connection with the paternity row.