Dera chief files plea for passport
Archit Watts/TNS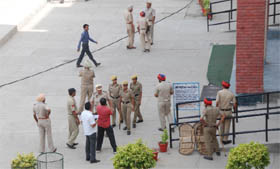 In view of he hearing of the case related to Dera Sacha Sauda chief Gurmeet Ram Rahim Singh, security was beefed up in the district court complex in Bathinda on Saturday. Tribune photo: Pawan Sharma
Bathinda, May 26
Dera Sacha Sauda chief Gurmeet Ram Rahim Singh, through his counsel, today put up an application before the Chief Judicial Magistrate Harjeet Singh for releasing his passport, which was impounded by the court after the Dera-Sikh controversy erupted in the state in 2007.
In the plea, Dera chief's counsel, a senior advocate from Chandigarh, SK Garg stated that he had fixed an appointment with a doctor in Nepal for some treatment, from June 18-21.
Considering the application, the CJM fixed the date for next hearing on June 1. He also asked the advocate of the Sikhs, who had been contesting the case for getting the Dera chief penalised for hurting the religious sentiments, to come up with their submission on the issue on the same day.
Meanwhile, in the second case, the proceedings of which were initiated on the Dera chief's application for revision filed against the CJM court's previous decision to summon him for appearing in person before the court, the additional sessions judge DS Johal, after finding the complainants, namely, Rajinder Singh Sidhu, Jaspal Singh Manjpur and Hardeep Singh, present in the court, adjourned the case till August 4, fixing it for arguments.
Earlier, rejecting the cancellation report filed by the Bathinda police, the Chief Judicial Magistrate (CJM) Harjeet Singh, on April 2 had summoned Gurmeet Ram Rahim Singh to appear in person before the court on May 10 to apply for his regular bail. Reacting swiftly, the Dera chief, through his counsel, had filed a revision in the sessions court, which had put a stay on further proceedings by giving a fresh date in the case for May 26.
Speaking to the media persons, Jatinder Roy Khattar, who is pleading the case for the Sikhs, said, "The court should not release Ram Rahim's passport as passport is not required for visiting Nepal."
As per the case history, the Dera chief is accused of dressing up like the tenth guru of the Sikhs, Guru Gobind Singh, and offering "Jaam-e-Insaan" during a congregation held at Dera Salabatpura in Bathinda district in May 2007.