Some trees as old as 60 years would be felled

23,000 trees to be axed to widen highway to Chandigarh
Megha Mann/TNS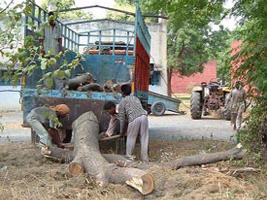 The felling of trees would add to the pollution in the area. A Tribune file photo
Bathinda, June 16
Around 23,000 trees of neem, sheesham, kikar, eucalyptus, Sukhchain, Amaltas and other varieties doting the over 200 km long Bathinda-Chandigarh highway would be axed to pave the way for the four-laning of this busy stretch.
Already struggling against ailments like cancer, the district would lose its green canopy in the name of development.
Added to this, the increased number of vehicles running on this stretch would only add to higher levels of pollution thus aggravating the problem.
"Development always comes at a cost. People die due to road mishaps on this stretch and at many places, the railway overbridges, underpasses, wider bridges over canals such as the Bhakra Main Line (BML) in Patiala, need urgent widening and this project will address all such issues," said the officials of the National Highway Authority of India (NHAI).
The trees, some as old as 60 years, would be axed down. As per the Divisional Forest Officer (DFO) S. Kannan, a few trees of sheesham have a girth of 200 cm (diameter of the tree trunk).
The trees of Brahma Dek with 200 cm girth are around 15 to 20 years old.
The entire stretch falls under the Bathinda, Sangrur and Patiala forest divisions. No objection certificate (NOC) from the forest department lies pending with the Government of India, the DFO informed.
At some places in Punjab, like Ropar, the forest department had taken over the transplantation of mature trees from the place of their origin to the place they were to be planted.
This not only helped in preserving mature plants but also helped in maintaining greenery. However, the desired success rate was not achieved.
"In the Bathinda region, transplantation of trees is impossible.
"Transplanted trees cannot bear extreme temperatures and humidity that our area witnesses.
"Moreover, the cost involved in transplanting trees is so high that the money spent on transplantation could be used to plant three to four times more new saplings," the officials informed.
The project would have three four-lane railway overbridges.
The first overbridge would be located at Rampura railway crossing, the second one at the Rajpura bypass in Patiala and the third near the Sangrur bypass.
Besides, there would be 12 flyovers to ease traffic bottlenecks at places where the road enters into the cities.
The letter of allotment for the project had been allotted to IVRCL, Hyderabad, which would complete the project by April 2015.
The Rs 2007 crore project is being given on DBFOT (design, build, finance, operate and transfer) basis.