Basic problems remain unaddressed: Teachers
Aparna Banerji
Tribune News Service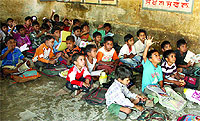 Jalandhar, June 21
The Punjab Budget has made lofty promises for those in the education sector.
Ideally, teachers and school staff should have been beaming, but given the government record and the city's peculiar problems, many are sceptical about the final outcome.
Teachers say even as dramatic promises like tablets to all Class XII students heighten hopes, no mention of aided schools, NABARD scheme, vacant posts and upgrade of decaying infrastructure makes them doubt the seriousness of the government's approach.
Manish Aggarwal, a teacher at a Jalandhar-based aided school, says, "Barring the budget allocated to the Mid Day Meal (Rs 253 crore), there is nothing in the Budget that will help aided schools address their financial concerns. The Finance Department has constantly been ignoring us resulting in lack of pay parity between us and government employees and the budget does nothing to address any of these recurring problems."
Parminder Nath, principal, Government Girls Senior Secondary School, Sarih, says, "The building which houses the NABARD school on our premises has been lying vacant for the past two to three years, because there are no teachers to teach students and hence no students. The building's infrastructure is also poor as the wood of doors and windows is ridden with termites. It's the same story for schools in our neighbourhood (Littran, Heran, Jandiala Samrala) NABARD schools too. There is an acute shortage of staff and students are few. Constant abandonment is turning buildings to ruins. But NABARD doesn't even feature on the government's budget priority list."
Out of the total 24 NABARD schools in the district, only four are doing well while the rest are said to be in a bad shape.
Notably, even to this date, students at many government schools manage without furniture in the district. About 100 Rashtriya Madhyamik Shiksha Abhiyan (RMSA) schools alone lack furniture, the number goes much higher if primary and senior secondary schools are also included.
Sanjiwan Dadwal, headmaster, Government High School, Patara, says, "Tablets might give temporary kick to students, but the basic problems at schools need to have been addressed. Majority of the schools in the district do not have proper science labs and only about one per cent of city government schools have proper libraries. There are no grants for better labs or libraries in schools, two of the basic needs of a school. Some students still languish in unsafe buildings (case in point being the Government Senior Secondary School, Nurmahal). The government's prime thrust should have been on infrastructural soundness and filling of vacant posts."
District Education Officer Neelam Kumari, however, says things look positive.
"Indeed there is an acute shortage of staff. About 15 to 20 per cent of the posts in schools in Jalandhar are lying vacant and that problem needs to be addressed. Infrastructural problems also exist at some places. But there is a positive side to things too. There is a 10,000 increase in the student strength (government schools) in the district as compared to the last year. Things are looking up and we only hope the allocations of the budget will come in handy for further progress."
Infrastructure blues
Students at many government schools manage without furniture in the district. About 100 Rashtriya Madhyamik Shiksha Abhiyan schools lack furniture. The number goes much higher if primary and senior secondary schools are also included