e-Governance boon for border villages
255 mini suvidha centres opened in Gurdaspur
Ravi Dhaliwal
Tribune News Service
Gurdaspur, June 27
Residents of this border district have a reason to cheer as e-governance has made the cumbersome task of availing government services easy.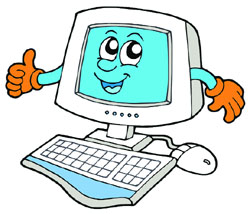 The All-India Society for Electronics and Computer Technology (AISECT), a venture of the Union government's Ministry of Communication and Information Technology, has ensured that residents are not forced to wait for hours for a five-minute job at the counter.
The society has set up 255 mini suvidha centres with each one manned by villagers known as the village-level entrepreneurs (VLEs) across the length and breadth of this district where locals can avail more than 400 services. These include preparation of driving licence, birth and death certificate, payment of electricity and mobile bills, phone recharges, police clearance certificates and permission to use load speakers. Besides, educational benefits like having access to computer courses of IGNOU and the AISECT and services like deposit and withdrawal from SBI Bank accounts.
The VLE charges a particular amount from users depending upon the service they want to access.
Instead of travelling long distances, villagers will now get information related to their work at the click of a mouse at any of these centres which have also earned the sobriquet of common service centres (CSC).
Sanjeev Sarpal, state co-ordinator, AISECT, said all 1,674 villages of this district have been interconnected for better facilitation of services and all 255 CSCs have become operational. Each CSC is computerised and has a direct link to Chandigarh-based state wide area network (SWAN) which monitors all the CSCs.
"The effective use of IT services in government and administration enhances existing efficiencies and increases transparency in the functioning of departments. It also gives citizens easy access to tangible benefits, be it through simple applications such as online form filling, bill sourcing and payments, or complex applications like distance education and tele-medicine," said Sarpal.
"Almost every state has an IT policy with an aim of evolving itself from being an IT-aware to an IT-enabled government. The Punjab government is fast recognising the benefits of an IT-enabled working environment," he added.
Anurag Gupta, national head of the project, said: "e-governance has brought to the fore five Es in governance - ease, economy, efficiency, effectiveness and ethics. Today, villagers in remote areas of Gurdaspur are accessing government services efficiently, economically and with ease. This system also appears to have introduced some transparency into government administration, instilling a rare sense of confidence among users. Lives for these villagers have clearly changed for better."