A young love story
Tera Mera Vaada, a Haryanvi movie, is set to rock the youngsters in the region
Sabia Talwar
Even while we were agreeing that Punjabi cinema has started making a mark and setting a standard, Haryanvi cinema follows suit. Tera Mera Vaada, a Haryanvi movie set for release on June 29, promises hi-tech entertainment.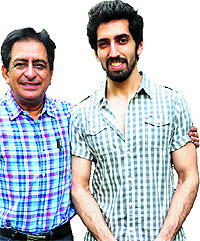 BACK STAGE: Bhal Singh Balhara and Sanchit Singh

Director's angle
Bhal Singh Balhara, who hails from Panchkula, debuted in Haryanvi movies in 1980 with Bahurani'. He has also sung for many Haryanvi movies as well. Says Bhal Singh, "After being a part of the Haryanvi movie industry for so many years, I joined the Haryana Public Relations Department as the additional director. As everybody knew my work, I got the offer to direct Tera Mera Vaada; I agreed immediately." We wonder what kind of audience he is expecting. "It is a love story and very youth-oriented. It is a mixture of Haryanvi, Punjabi as well as Hindi," adds Bhal Singh.
Regional act
Bhal Singh's eldest son Ankit, who is just twenty-six, has undergone training in acting at the Stella Adler Studio of Acting in Mumbai and is the lead actor of the movie. Says Ankit, "I'm very excited as it is my debut act and this being a Haryanvi movie, it is a different experience altogether." How did he think of acting in a Haryanvi movie? "I have been living in Mumbai since a year-and-a-half and I have learnt that I just want to act be it Bollywood, television or Haryanvi cinema," adds Ankit.
Screen tale
The lead actress Neetu Singh, who was earlier seen in Star One's serial Yeh Ishq Haye and has also modelled in various advertisements, comes from Bihar. Generally, the trend is that telly artists try for Bollywood, what about her? "I wanted to do something different, so as soon as my serial went off air I was offered this movie. I agreed to do it because of its unusual treatment," says Neetu. We wonder whether she faced any language problems. "The best part about my role is that I portray the character of a girl who comes from a city, so I didn't have to speak much of Haryanvi. Although in future, I would love to speak fluent Haryanvi," adds Neetu.
Melody man
Sanchit Singh, Bhal Singh's younger son, 23, is the music director of the film. Says Sanchit, "I have learnt music at Delhi from Performers Collective, which is affiliated to the Trinity College, London. I later went for a year-long training in music to London." Talking about the movie, he says, "It has six songs and one Haryanvi Ragni. I have tried to keep the tracks as folk as possible, which has a connect with the audience," says Sanchit. All the recording has been done in the UK using the latest techniques. "I'm a composer as well and have written songs for some short British movies, including Spicy Money. The surprise element in Tera Mera Vaada is a Hip-Hop track in Haryanvi," adds Sanchit.
Punjabi Touch
Bawa Verma plays the role of a Punjabi Sikh and adds a comic element to the movie. "I belong to Ludhiana and was titled as Mr Patiala in 2009. In the past I have worked as a journalist, an anchor and have participated in a reality show as well." We wonder how he feels about his first movie. Says Bawa, "I'm super-excited to see myself on the silver screen."
sabiatalwar@tribunemail.com