Ward left neglected, councillor takes a potshot at MC
Kusum Arora
Tribune News Service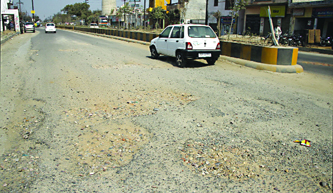 A road in poor condition in ward 58 in Jalandhar. Tribune Photo: Sarabjit Singh

Jalandhar, June 30
Accusing the Jalandhar Municipal Corporation (MC) of bias, the councillor from Ward 58 said the ward has been neglected over the past many years as residents have voted the Congress to power.
Shortage of potable water and the poor condition of roads have been the major problems in the ward since many years.
The Congress has the seat for the past four consecutive terms.
Recently, residents of this ward had a tough time in getting their voice heard for availing clean drinking water. The potholed Kala Sanghian road has also created problems for the residents.
Congress councillor Surinder Kaur said the re-construction of the Kala Sanghian road has been hanging fire for the past some time for want of funds. "The contractor claimed that he cannot start the work as around Rs 2-crore fund for the construction was not released by the MC authorities. Though, we took up the matter with the MC, but to no avail", she said.
"Even area MLA Bhagat Chunni Lal has adopted a pick and choose policy for the development works of this ward. My repeated requests to the MC officials have fallen on deaf ears. Every time, we have to resort to protests for getting various works done," she added.
She said the work was started in February, but it was held up for want of funds. "Not only this, last week various colonies including Green Avenue, New Geeta Colony, Ishwar Nagar, Geeta Colony and New Model House, faced acute water shortage. And the MC ended up as a mute spectator. We had to hold a protest to draw the attention of the MC authorities. Only then the residents were able to get clean drinking water," she said.
Even the supply of water tankers was minimal during the crisis, she maintained. "Once we held a protest, there was no shortage of water supply", she quipped.
Councillor speak
Even area MLA Bhagat Chunni Lal has adopted a pick and choose policy for the development works of this ward. My repeated requests to the MC officials have fallen on deaf ears. Every time, we have to resort to protests for getting various works done. — Surinder Kaur
Official speak
The MC has a liability of around Rs 60 crore towards various contractors involved in development works in the wards. The pending amount will be released only after the MC is able to generate some funds. The MC is already short of funds and until this crisis is over, the payments would remain withheld. As far as the allocation of funds is concerned, the MC has never discriminated against any councillor. — Gurcharan Singh, XEN B&R