Punjabi script, success story
Punjabi movies have found favour with the audiences in the recent past. The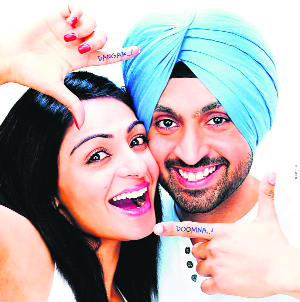 success of Jatt & Juliet underlines the factÖ
The man at the booking counter announced to the crowd queued up for movie tickets ó Jatt & Juliet, housefull; no tickets. You can see Maximum if you want." In all probability, he was mistaken. Maybe it was the other way around! Television channels, print media and word of mouth publicity; this Punjabi movie is sure doing well across Punjab and other territories. Yes, it is not a hitting-on-your-face phenomenon but Punjabi movies in the past two years are doing phenomenally well. Starting with Mel Kara Dey Rabba, Yaar Anmulle to Jiney Mera Dil Luteya, the success story continues.
Neeru Bajwa and Diljit Dosanjh in Jatt & Juliet

Where words flow...

Literary gatherings are gaining momentum in Chandigarh. We assess what makes them a happening affair
The idea of sitting and reading out your book to curious ears in a cozy ambience is becoming a popular concept in Chandigarh. The reading community is warming up to the idea of interacting with their favourite authors and finding out what goes on in their mind. We check out.

A recent gathering at Books and Brew

Guess who's making a comeback!


After Madhuri Dixit and Karisma Kapoor, it's yummy-mummies Sushmita Sen and Sonali Bendre, who are all set to re-join the silver screen
Sonali Bendre, who was last seen in Telugu film Shankar Dada MBBS, is doing the sequel of Once Upon A Time In Mumbaai. The actress will be seen playing the role of a sensitive yet complex woman named Mumtaz and apparently, she's quiet ecstatic about the project. She says, "I can now confirm that I am indeed doing Ekta Kapoor's sequel to Once Upon A Time In Mumbaai. Twin treat: Sushmita Sen
Astro turf
ARIES: Charm, diplomacy, respect and cooperation are far better attributes to employ in dealing with people if you want positive results. Tendencies for revenge should be controlled. Job applications yield results. Tarot message: Do what is right and watch your best interests. Lucky colour: Pink. Magic number: 65 TAURUS: Be prepared for multiple invitations to social events and gatherings. Your magnanimity can get the better of you when you offer to host. Turn your attention to jobs that makes the best use of your intellect.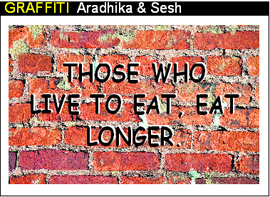 The year ahead
If your birthday is July 6...
Your activity levels will be low this year. This trend might be seen in finances, personal relationships and work. You may try to implement certain policies that may fail to bring in the desired results. Satisfaction is very less for the 2012-13. However, you may not have control over desires. You'll be excited by an opportunity for professional growth, which encourages you to do as much as possible. You'll feel like casting aside your worries and you'll find excuses to criticise your partner. This will make you feel better.
Chatter box
Secrets and dramas
After all the drama of divorce and re-marriages, it seems Balajiís Kya Huaa Tera Vaada on Sony TV will have a twist no one can think of. Mona (Mona Singh) has announced sheís pregnant but soon the truth will be revealed later. Mona and Pradeep will get closer and he will admit that things are working out with Anushka (Mauli Ganguly). Ultimately Mona will decide to stay alone and not accept him.†
New releases
Bol Bachchan
Rohit Shetty is back with comedy Bol Bachchan. The idea of this film is based on Utpal Dutt and Amol Palekar starrer Golmaal. It is presented by Fox Star Studios. Bol Bachchan marks the return of super hit duo, Rohit Shetty and Ajay Devgn. This duo has been ruling over the Rs 100 crore club with movies like Golmaal 3 and Singham. Junior Bachchan also stars in this action-comic extravaganza along with Asin, Prachi Desai, Krushna Abhishek, Archana Puran Singh, Asrani and Neeraj Vora. The promos, already on air, promise hilarious jaw-dropping action sequences directed by Jai Singh Nijar. Thos who have gone through the rushes of this comedy say it is a typical Rohit Shetty style mainstream commercial film which is year 2012 keenly awaited film.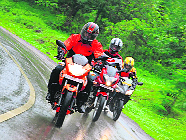 Road Rage
Riding in the rain
It looks like finally the monsoon has arrived. So, itís time to scout for your bike keys, dust off the seat and grab your biking jacket. Hit the mountains with rain drops falling from the visor of your helmet. While you enjoy the ride and the cool wind, make sure you follow some tips to ensure an enjoyable ride. Before the ride: Before you get on the bike, check the bike totally, including the engine, tyre pressure and the brakes. Talking about check-ups, brake of the bike is something you canít take chances with. Never apply brakes hard on wet roads, this will lead to skidding. In addition to this, get the disc and complete inside of drum brakes cleaned before the ride. Lastly, check for brake oil. You donít want to take a chance in the rain.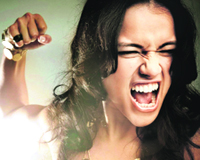 TROUBLESHOOTER
Do what you feel is right
My wife gets very angry and remains angry for a long time. At times she gets so annoyed she tries to hit herself or leave the house at night. We have a two year old son. She says she wants to break off with me. I feel the problem is not so much but she feels that I side with my parents and do not take her opinion seriously. She is a homemaker. Can medication or counselling help her?
Italian treat
Ravioli, a food festival at Oregano, offers a variety of traditional pastas
The festival offers an assorted selection of traditional Italian pasta.† The delectable raviolis are paired with wines, spirits and cocktails, perfect to make a memorable meal. The restaurant presents its guests with variety of choices of vegetarian, non-vegetarian and sea food ravioli, antipasti, marinated olives, mixed herbs, parmesan cheese wheel, parmesan cheese grated and many more options from the buffet.
Days of the young
Love is a given in young days; couple it with some challenges and comes along a story that everyone can connect to! Yet another Punjabi film Yaraan Naal Baharaan II hits the screens on July 13. Is it a sequel? "Well, the title is apt for the film," comes a vague reply from producer Preetpal Shergill. The lead hero Rajwinder Sumal (Goldy) says, "It's a surprise. There is a connection to Yaraan Naal Baharaan, but 'what it is' we don't want to reveal right now!"
The 'chopper' act
The Jannat 2 girl Esha Gupta, who is all set to play a cop in Prakash Jha's upcoming Chakravyuh, recently shot a scene mid air dangling from a chopper. Big deal? Well, that was indeed a big deal for the starlet as Esha suffers from vertigo. Initially, when the actress was asked to shoot the scene, Esha was petrified hearing it. She at once requested a body double or find a way out of doing the scene. However, later she agreed to do the stunt as soon as Esha saw Jha with a camera, in another helicopter.
Farhan most stylish celebrity: Adhuna Akhtar
Hair stylist Adhuna Akhtar, who has a long list of Bollywood clientele, says her husband Farhan Akhtar is the most stylish celebrity in tinsel town. Adhuna, who has given many actors an image makeover onscreen, be it the urban youth look of Aamir Khan in Dil Chahta Hai or the spunky Preity Zinta in Lakshya, said Farhan is always experimental.
High Spirits
Royal fun


The Lord Nelson Cinderella style royal cocktail.
Ingredients: 1/2 oz Havana Club White Rum
1/3 oz apple juice
1/4 oz lemonade
Top with 7up/Sprite



House warming
Mugdha Godse has bought a plush new apartment in a high-rise building in suburban Mumbai. She is doing up the house herself with the help of an interior designer friend and has not hired any professional. She is very happy making the house her home.
Home along: Mughda Godse

Right move!
Neetu Chandra has completed shooting for her Greek film. She is now dancing her way to glory with her next film in which she plays a Kathak dancer. She has trained in the dance form since childhood.
Dancing shoes: Neetu Chandra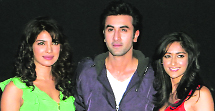 Grinning away to glory
Ileana D'cruz just kept grinning through the launch of Barfi! Ranbir, Priyanka and Anurag answered most of the questions because they were directed at them. Both PC and Ileana wore short dresses.
Sweet talk: Priyanka , Ranbir Kapoor & Ileana D'Cruz

Saif gets going
Saif Ali Khan has finally given dates for Go Goa Gone, his home production with Kunal Khemu and Vir Das. It is a film about zombies and he has a special appearance in it. The film is back on track after six months. It is directed by Krishna DK and Raj Nidimoru.
Busy body: Saif Ali Khan