Punjabi script, success story
Jasmine Singh
Punjabi movies have found favour with the audiences in the recent past. The success of Jatt & Juliet underlines the fact…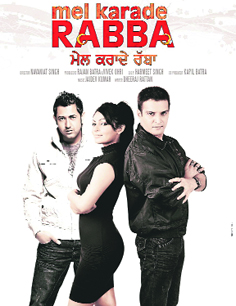 A still from Mel kara de rabba
The man at the booking counter announced to the crowd queued up for movie tickets — Jatt & Juliet, housefull; no tickets. You can see Maximum if you want." In all probability, he was mistaken. Maybe it was the other way around! Television channels, print media and word of mouth publicity; this Punjabi movie is sure doing well across Punjab and other territories.
Yes, it is not a hitting-on-your-face phenomenon but Punjabi movies in the past two years are doing phenomenally well. Starting with Mel Kara Dey Rabba, Yaar Anmulle to Jiney Mera Dil Luteya, the success story continues. As a movie buff standing in the queue said to his friend, "Yeh Punjabi movies kamaal kar rahi hain!"
So it started
Actor Harbhjan Mann and director Manmohan Singh brought in a 'chic' element with their movies Asa Nu Maan Watan Da and Yaaran Naal Baharan; then came along a fresh crop of directors and actors who brought in a 'youngish' touch to Punjabi movies. Director Navaniat Singh of Mel Kara De Rabba fame introduced a Bollywood kind of feel to cinema. "Mel Kara De Rabba got a 100 per cent opening opposite Sanjay Dutt starrer Lamha. It was a deliberate effort to bring in fresh cinema and in this process we also introduced new actors like Gippy Grewal." The story continues with more films that are now giving Bollywood movies a run for their money. The success of Jatt & Juliet is an example.


Top grossing films
Jihne Mera Dil Luteya — Rs 12.50 crore
Dharti — Rs 8.70 crore
Yaar Anmulle — Rs 6.20 crore
Mel Kara De Rabba — Rs 10.50 crore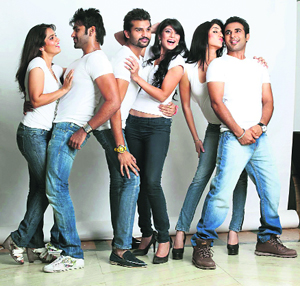 A scene from Yaar Anmulle
Jat is hit
Jatt & Juliet has received tremendous response from the audiences. As the lead actor of the film, Neeru Bajwa says, "In fact, the success of Jatt & Juliet makes me wonder what the audiences like. The entire credit of the success goes to the cameraman and the director of the movie Anurag, and also to the 'different script'." Neeru, who will be seen in Pinkey Mogey Wali, has signed another project opposite Diljit Dosanjh to be directed by Darmesh Darshan of Raja Hindustani fame. "Punjabi cinema has really improved. We have stopped taking up the NRI topics and are moving into a zone that is fresh."
Punjabi vs Bollywood
Rajan Batra, leading producer in Punjab, has an interesting take regarding the changing scenario. Jiney Mere Dil Luteya opened opposite Ajay Devgn starrer Singham, and it did as good as the Hindi movie. Yaar Anmulle got an 80 per cent opening opposite Rascals, which got a 30 per cent opening. Likewise, Jatt and Juliet is giving even Spiderman a run for its money," says Rajan Batra, who is not hesitant in sharing what profit Mel Kara De Rabba made with us. "The movie earned a gross profit of Rs 12.5 crore. In the coming times we are going to increase the budget of Punjabi movies and take it up to Rs 5 crore."
In new territory
Instead of restricting to Punjab region, distributors are now taking films to new territories. Pinkey Mogey Wali, releasing on September 28, is going to touch new locations. Says Batra, "Other than Punjab we will be taking the movie to Delhi, Muzaffarnagar, Saharanpur, Lucknow, Ganganagar, Alwar in Rajasthan, Raipur, Bilaspur in MP, Kolkata, Pune and Mumbai in Maharshtra, which means covering a fat chunk of India," he ends with a confident laugh.
Fan mail
It is not just figures; here are 'real' people who have made these statistics possible. Manek Sandhu, a practicing dentist from Mohali, is a regular moviegoer. "My cousins staying in Mumbai watched Jiney Mera Dil Luteya and Yaar Anmulle much before than I did. Last Sunday I tried watching Jatt and Juliet but it was housefull. Off late, I have seen many people giving Punjabi movies a preference over regular Hindi cinema." The reason for the success of Jatt and Juliet can be picked up from fans. "I liked the first-day-first-show of the movie; it is looks quiet like Hum Tum, but it's still good. The movie has some amazing dialogues and the treatment is very upbeat," says Navneet Kathuria, science teacher from Ludhiana.
jasmine@tribunemail.com