Focus on Eco-friendly Technology
Course on sustainable development lays stress on protecting the environment
Tribune News Service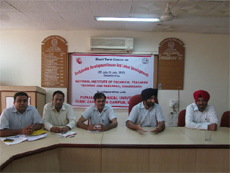 Experts on the concluding day of the course on sustainable development in Bathinda on Sunday. A Tribune photograph
Bathinda, July 15
The two-week short-term course on "Sustainable development: Issues and latest developments", held by the Punjab Technical University Giani Zail Singh campus, in collaboration with the National Institute of Technical Teachers Training and Research (NITTTR), Chandigarh, concluded today.
Local coordinator of the course, Dr Manjeet Bansal said 64 candidates from different institutions participated in the course. During the course, 11 experts from different institutions delivered lecture on various topics. Field visits to Guru Hargobind Thermal Power Plant Lehra Mohabbat, Gujarat Ambuja Cement Factory, Bathinda, and one MW solar power plant at Phulokhari were organised to give exposure to the participants on the latest environmental friendly techniques.
Dr Amit Goyal from the NITTTR, Chandigarh, delivered a lecture on new technologies in rural India and informed about the ways to use them to help save environment.
Dr Manjeet Bansal stressed upon need for rainwater harvesting technologies in the cities in view of the declining groundwater level. Dr Adersh Pal Vig and Dr Amarjit Soodan, both from Guru Nanak Dev University, Amritsar, delivered a talk on waste management through vermicompost and biodiversity conservation, respectively.
Further, Dr Harminder Singh, an environmentalist from Lovely Professional University, Jalandhar, was invited to impart knowledge to the participants on carbon dioxide sequestration techniques and current research in the field.
On the penultimate day of the course work, Dr Sunil Mittal and Dr J Nagender Babu from the Central University of Punjab discussed the way pesticides and the presence of heavy metals, including uranium, in the groundwater of Bathinda and its adjoining areas, are causing health problems. They introduced the participants to safe drinking water techniques.
On the last day, a valedictory function was held in the afternoon.
In the morning session, Dr V K Garg from GJU, Hisar, motivated the participants to practice sustainable development in order to preserve our natural resources. Dr Sanjay Sharma from the NITTTR, Chandigarh, deliberated on various waste minimisation techniques.
Campus director, PTU GZS campus, Dr Jasbir Singh Hundal, while speaking on the occasion, thanked all the participants and the experts. He stressed upon the need for taking positive steps towards environmental protection. He agreed that short-term courses on the subject make the participants aware of environmental issues and urged the participants to disseminate knowledge to their students and society so that a collective effort could be made to protect environment and go ahead with development in all fields like infrastructure, industrial and agricultural development without which no country can survive in the era of globalization. Dr Hundal also appreciated the efforts of Dr Manjeet Bansal and his team and pledged to practice sustainable development in their campus.
GS Bath, Registrar, DS Sidhu, principal, polytechnic wing and Karanvir Singh, Dean Academics, PTUGZS campus, were the other dignitaries present at the valedictory session.