Prior to the release of Ragini MMS, it was the back of Mumbai's auto-rickshaws that were branded with provocative messages about Ragini. Following this activity, a number of producers aped the idea for their films!
Days before the release of the keenly awaited adult comedy Kyaa Super Kool Hain Hum, the producers have gone for Mumbai's taxis. The exteriors of a number of yellow-and-black cabs have been branded with the film's creatives.
The image used is the naughty one of Riteish and Tusshar holding beer bottles near their thighs. One of the film's sexy lead actresses and former Miss India, Sarah-Jane Dias unveiled the cabs, and posed for shutterbugs and the fans.
The item code
Gamya Wijayadasa, Sri Lankan beauty talks of her Bollywood plans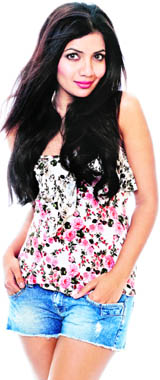 Healthy living: Gamya Wijayadasa
Sri Lankan beauty Gamya Wijayadasa who is making her Bolly debut with Aalaap talks about her item number and more….
After Jacqueline Fernandez, it's Miss Sri Lanka 2009 Gamya Wijayadasa who is all set to foray in Bollywood. She shares about dance, her Bollywood plans, and more…
You've a unique name. What does it mean?
It has a very interesting meaning. It means birth of something. My middle name is Prasadini so my entire name means birth of fame.
Tell us something about your first Bollywood film.
The item song happened by chance. Since my childhood, I've been interested in the craft of acting. But my family background is very academic so my parents didn't encourage me. But they appreciate dancing so I learnt classical Sri Lankan dance form, jazz and contemporary dance forms during my childhood. So I thought that what could be better than starting with something you love to do.
Are you open to doing more item numbers?
Yes, I am. I love doing anything related to dance. Dance is very sacred to me.
Who do you admire the most in Bollywood and why?
There are many things. But I particularly admire Aishwarya Rai. I saw her on TV when she was crowned Miss World. Then later she arrived in Colombo. Watching her in person made me think that I should do it. It was a 360 degree moment for me. It was surreal.
According to you, who's the most famous Bollywood celebrity in Sri Lanka?
Easily, it's Shah Rukh Khan. Bollywood movies are quite popular in Sri Lanka and they love the kind of masala films he does. People have their own liking and everybody is fond of him in Sri Lanka.
Whose footsteps are you likely to follow?
It has to be Aishwarya Rai. She inspired me for Miss World and interestingly after a few years, I was on the same arena as hers in South Africa. There are so many qualities that we share apart from those in which all beauty queens are trained. We both are classically trained dancers.
Which actor/actress would you never go out with and why?
It has to be Jude Law. He's handsome, intelligent, successful and everything. But he's too much of a Casanova for me.
If I came to your home and looked inside the refrigerator, what would I find?
Well, you will find nothing unhealthy. (Laughs) You will only find fresh and healthy food. I don't even have soft drinks.
How many pairs of shoes you own?
They are too many. I've three wardrobes; one in India, one in Sri Lanka, and one in Melbourne.
What's next?
I'm in talks about a Bollywood film. But it's too early to make any announcement and I will wait for the producers to do so.
What upsets Tusshar…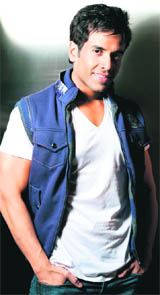 Shock value: Tusshar Kapoor
When a bad film doesn't work, it doesn't upset Tusshar Kapoor. But when a genuinely good film fails to get the right response at the box office the actor feels bad.
"If the film is genuinely bad, then I don't feel so bad. But if the film is good and a lot of issues were involved while making it or it is not been released well, then I feel bad. That leaves me depressed," said Tusshar in an interview.
One such project is his last film Chaar Din Ki Chandni, directed by Samir Karnik. It didn't get the expected response from the audiences, leaving Tusshar disappointed.
"I felt it was a good film, but didn't get its due share. Something happened between Samir and me because of the finances. I feel that also came in the way of success. However, everything is sorted out now," he added.
In a decade-old career, Tusshar, son of veteran actor Jeetendra, has seen many highs and lows, but he has no one to blame. He takes the onus himself.
"Sometimes we need to look into ourselves. That is very important. We always like to blame others, but we don't realise when we choose something wrong. Sometimes we end up signing the wrong films," he said.
Tusshar started his Bollywood career with 2001 film Mujhe Kucch Kehna Hai and went on to do films like Kyaa Dil Ne Kaha, Jeena Sirf Mere Liye, the Golmaal series and Shor In The City.
Critics have also not been in favour of the 35-year-old actor on most occasions, but Tusshar is unfazed.
"Word of mouth is more important. If the film gets respect and if the critics give it good ratings, then it's even better. Sometimes they (critics) are also wrong.
"Out and out commercial films get good ratings and some interesting films don't get good ratings. At the end of the day, it's all just a view point," he said.
Tusshar is now gearing up for the release of Kyaa Super Kool Hain Hum, which hits the theatres July 27. It is the sequel to 2005 film Kyaa Kool Hain Hum.
The actor, younger brother of film producer Ekta Kapoor, calls the new film an "alternate comedy". It is replete with double innuendos which could catch the fancy of audiences that appreciate adult humour.
"You can call it an alternate film. It is a comedy but with a different kind of humour. So this shock value is probably working to the advantage of the film. Some people tried to copy this formula, but they flopped," he said.
Directed by Sachin Yardi, Kyaa Super... also features Riteish Deshmukh, Neha Sharma and Sara Jane-Dias. — IANS
Maan on the move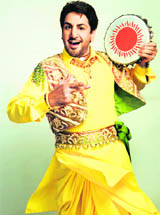 Tour time: Gurdas Maan
Amongst many aspirations that the legendary singer Gurdas Maan has had as a child, one was to become a singer. Four decades into the industry, the singer is going to US for a tour towards the end of this month where he will perform on some of his old and some of his new compositions.
"I can never sing my old songs. They come as a special demand from my fans. In fact, a lot of time I don't get a chance to sing anything new because my listeners love all my old tracks a lot. But I have prepared a new album titled Roti and I will sing some of the new tracks of the album. It is very important that I give my listeners something new. It is my duty to do so, as soon those songs will also become old and they will make me sing them again and again," smiles Maan.
Aiysha's trilingual stint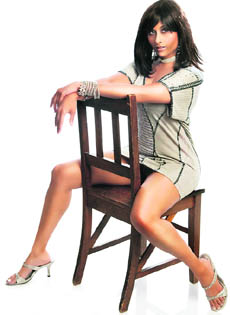 Truly indian: Aiysha Saagar
In India, a nation teeming with 1.2 billion people, it's easier to be absorbed and invisible than to emerge and stand out. What makes this singer tick is her passion for music.
Music is Aiysha's driving force. She started singing as a six-year-old, through all her years at school and while she was earning her qualifications as an accountant and financial planner.
She has released music albums in India and Australia and has performed in over 300 concerts around the world.
Aiysha is set to release her new album Indian Girl along with five music videos of which four have been filmed on the Gold Coast in Australia.  This tri-lingual pop album features Hindi, Punjabi and English songs that have been created out of Aiysha's collaboration with some of India's most sought after music directors and DJs.  The album is due to be released in August 2012.
Bonding better
Rajesh Khanna's iconic bungalow Aashirwad will not be sold. Akshay Kumar is already working hard on making it a Rajesh Khanna museum because that was the superstar's wish. Kumar played a key role in bringing the estranged family together before his demise.

Time for action
Aishwarya Rai Bachchan might take on a Hollywood film. The thriller has already signed on TV actress Sarah Khan and singer Lucky Ali. Billy Zane of Titanic fame is part of the movie and Ash might join them when shooting begins in September. She is working hard to get fit for the movie.

Hollywood bound: Aishwarya Rai Bachchan
Lull in Bolly releases
There is no major Hindi release this week: Picture Abhi Baki Hai and Gattu. The biggest release in the last couple of months is the Dark Knight Rises and it will rule the box office for a couple of weeks as it is the conclusion of Christopher Nolan's Dark Knight trilogy and there are no major Hindi films releasing in the next couple of weeks.
Ekta spares none
Ekta Kapoor's Kya Super Kool Hai Hum is the most crude film you will see in a long time! They have spared no one and nothing. Director Sanjay Leela Bhansali is not happy with way they have spoofed his Devdas.

Spoof saga: Ekta Kapoor


The bigger picture
An 80-feet-tall cutout of Hrithik Roshan has been placed outside Ramoji Rao Film Studios in Hyderabad and will be used in a colourful and lively item song in a movie with 200 dancers.
standing Tall : Hrithik Roshan

New hangout
Katrina Kaif's home in Bandra is under renovation so she is practically living at Yash Raj Studios where she is dubbing for Ek Tha Tiger and rehearsing action scenes for Dhoom 3.


Work time: Katrina Kaif