Two gangs busted, granthi among seven held
PK Jaiswar
Tribune News Service
Amritsar, July 22
The police busted two gangs of thieves and arrested seven persons in this regard.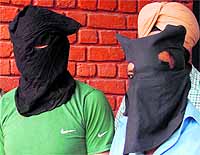 In the first incident, the city police today busted a gang of thieves involved in stealing batteries from cell phone mobile towers and arrested five gang members, including a 'granthi'.
This is for the first time that such a gang has been busted in Punjab. Such gangs are active in metro cities of the country.
The perpetrators used to steal batteries and sell them to a scrap metal dealer in Tarn Taran. The gang was active in Amritsar, Tarn Taran, Batala and Gurdaspur.
Among those arrested include Gurdeep Singh, alias Deepa (28), a granthi who used to recite path at Gurdwara Shaheed Baba Deep Singh here, and Davinder Singh, alias Daya (25), who is a technician with a mobile company. Others were identified as Satnam Singh (30), Sukhwinder Singh (28) and Harkanwaljit Singh (28). Their three accomplices Nishan Singh, Jatinder Singh and Sahib Singh managed to escape. All the accused are school dropouts. Except Gurdeep, who is from Amritsar, all the thieves belonged to Tarn Taran.
Preliminary investigations revealed that Devinder Singh was the mastermind of the gang, who is a technician with a telecom company. The gang admitted to have committed as many as 38 such incidents in Tarn Taran, said HS Brar, ADCP (Crime).
The police has recovered three pistols with 10 live cartridges, over 600 grams of narcotic powder, two vehicles used for ferrying the stolen material and 30 batteries which were stolen from cell phone towers.
"Davinder used to cut off the alarm system before stealing the batteries. Harkanwal and Sukhwinder were also employees of the telecom companies and used to fill diesel in the generators," said HS Brar.
It was Gurdeep Singh who used to bring the illegal arms from Uttar Pradesh, he added. He used to work in a mobile company about three years ago before he started working in the holy shrine as granthi.
The gang used to strike the cell phone towers in the dead of night. They used to load the stolen material in a Scorpio and Mahindra make vehicles and sell it to one Jasbir Singh, a metal scrap dealer at Sarhali in Tarn Taran between Rs 20,000 to Rs 30,000.
The accused were produced before the duty magistrate and taken on three-day police remand. More recoveries are likely to be made, said the ADCP.
In the second incident, the CIA staff arrested two members of an inter-state gang of tractor lifters and recovered two stolen tractors from their possession.
The police also seized two pistols along with three live cartridges and 365 grams of narcotics powder from the two, identified as Baldeep Singh (30) of Sohal village, Tarn Taran, and Manveer Singh (40) of Rehmapur village in Bulandshahr, Uttar Pradesh. Manveer is a proclaimed offender who was wanted in a similar case in Ferozabad in UP. However, their mastermind Amrik Singh, who originally hailed from Sohal village, and at present living at Lakhimpur, UP, was yet to be arrested. A case under relevant sections of the IPC, NDPS Act and Arms Act has been registered against the duo.
Preliminary investigations revealed that the accused used to steal tractors from different states and sell them in Punjab after forging documents. HS Brar, ADCP (Crime), said the duo was intercepted near the Jahajgarh area where they had come to sell the stolen tractors. During interrogation, the accused confessed to have stolen eight tractors since January. These tractors were sold in Punjab.
The duo was sent to two-day police remand.
Battery thieves
The first gang, active in Amritsar, Tarn Taran, Batala and Gurdaspur, was involved in stealing batteries from mobile phone towers
5 members of the gang, including a granthi, was nabbed by the police
The gang was headed by Devinder Singh, who was a technician with a telecom company
Tractor lifters
The CIA staff arrest two members of an inter-state gang of tractor-lifters and recover two stolen tractors from their possession
The accused used to steal tractors from different states and sell them in Punjab after forging documents