M A I N N E W S
Assam struggles to control deadly riots; 11 more killed


1 lakh flee homes, toll 32

Centre rushes more paramilitary men

PM asks Gogoi
Bijay Sankar Bora/TNS
Guwahati, July 24
Ethnic violence today escalated in more areas of western Assam, with the death toll in the ongoing violence in Kokrajhar and Chirang districts rising to 32 after 11 more persons were killed in police firing.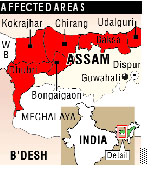 The Centre has rushed 1,500 more paramilitary personnel to control the unrest while Prime Minister Manmohan Singh and Union Home Minister P Chidambaram called up Chief Minister Tarun Gogoi to take stock of the situation and directed him to do everything possible to check the violence.
The police had to open fire at Rampur and Chaparkata villages in Kokrajhar district to control a frenzied mob.
As new areas came under the grip of the ongoing clashes that began last week between illegal immigrants and Bodos, the state government sounded an alert in Sonitpur, Baska, Kamrup (rural) and Darrang districts, official sources said.
The violence has rendered nearly one lakh people homeless in Kokrajhar, Chirang, Dhubri, Bongaigaon, Udalguri and Sonitpur and most them are sheltered in relief camps. A total of 75 relief camps have been set up in Kokrajhar district alone.
Train services between Assam and the rest of the country have been disrupted. Indefinite night curfew remains clamped in Kokrajhar and Chirang districts and parts of Dhubri.
Tarun Gogoi has rushed the Director General of Police J N Choudhury to Kokrajhar while an all-party team of the Assam Assembly will be visiting affected areas tomorrow to talk to leaders of both groups. Five Cabinet ministers have been deputed to Kokrajhar to monitor the situation.
The DGP said the situation was very tense. The Army is yet to respond to a request for deployment.
Sources said the Army has far not responded to Assam's request because of its existing policy. The force does not want to get involved in a communal-riot situation. At present, the situation does not warrant an Army intervention, said sources while confirming that a request had come from the state government but no decision has been made so far. The situation is being closely monitored.
Union Home Secretary RK Singh said: "We have sent 29 companies of paramilitary forces to Assam. Fourteen were sent Monday and 15 more have been sent today." Each Company has 90-110 men.
He has also tasked the Joint Secretary, (Northeast affairs), Shambhu Singh to visit Assam to take stock of the situation. RK Singh said he has been in regular touch with the Assam Chief Secretary and the state police chief.
"We will do everything possible to bring the situation under control. People should remain calm, refrain from spreading rumours and coordinate with the police to tide over the crisis," the Assam DGP said. Chief executive member of Bodoland Territorial Council Hagrama Mohilary said some violence-affected people have alleged involvement of the outlawed Bodo militant group, National Democratic Front of Bodoland, in fanning the trouble.
Meanwhile, Assam Pradesh Congress Committee president Bhubaneswar Kalita has accused the administration in Kokrajhar for failing to act in time to arrest the spread of violence.
The current spell of violence was triggered on Thursday evening after unidentified miscreants opened fired on two minority leaders at Magurmari under the Kokrajhar police station. Founder president of All Bodoland Minority Students' Union (ABMSU) Mohibul Islam and former leader of All Assam Minority Students' Union (AAMSU), Abdul Siddique Sheikh were seriously injured in the attack.
In a retaliatory assault, four former ultras of now disbanded Bodoland Liberation Tiger (BLT) were lynched by an angry mob the next night. The two incidents were followed by a series of clashes.
(With inputs from Ajay Banerjee in New Delhi)
Rajdhani attacked, services hit

Miscreants hurled stones at the Guwahati-bound Rajdhani Express at Gossaigaon in Kokrajhar district, damaging four coaches. There were no reports of injury to any passenger

Train services between Assam and the rest of the country have been disrupted. Ten trains have been cancelled and 31 rescheduled. Over 20,000 passengers are stranded