NRIs' grievances heard at sangat darshan
Deepkamal Kaur
Tribune News Service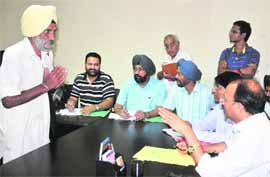 NRIs put up their complaints before Divisional Commissioner-cum-Chairman of the NRI Sabha SR Ladhar during a sangat darshan in Jalandhar on Friday. Tribune photos: Malkiat Singh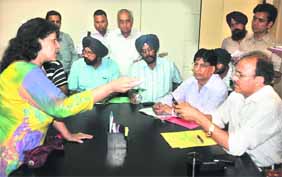 Jalandhar, August 3
Complaints of land grabbing by their kin and police indifference towards their cases dominated the sangat darshan for NRIs, convened by Divisional Commissioner-cum-NRI Sabha Chairman SR Ladhar, here today.
Most NRIs had the grudge that since they do not have any voting rights, they do not get political backing and are being made to shuttle from one office to another to get their work done. They also had a common grouse of not being given any acknowledgement or receipts for complaints lodged by them in various offices, which could come as proofs for further pursuing their cases.
Ranjit Singh Gakhal, who is a machine operator in the UK, alleged that when he returned to India two weeks ago, he found the AC, refrigerator, sanitation fittings and other household stuff in his house missing. "I suspected my brothers, who had taken control of my one acre agricultural land, of doing this. Before I was to lodge a complaint against them, they got false cases registered against me. I have another week's leave left. I even do not know if I would be able to go back to the UK after all this," he made a complaint.
Dubai-based Gurmail Singh Mander also lodged a similar complaint against his brother. "When I returned two months back to my native Mander village, near Kathar, I found my power connection snapped and toilets broken. All this was done to make conditions difficult for me and push me back out of here," he claimed.
Eightyseven-year-old NRI settled in the UK Hardeep Singh Chauhan complained of his house in Model Town not being evicted by his tenant. He said his matter pertaining to eviction was sub-judice, but he had now lodged a complaint of harassment by his tenant, which was not being properly redressed.
Vancouver-based NRI Mahinder Kaur said she, too, had to return to her native village Sohal Jagir in May this year as her neighbourer had broken the boundary wall at the back of her abandoned haveli and tried to trespass. "My nephews staying in the same village had even lodged a complaint regarding the matter twice on February 12 and March 8, but to no avail. So, I finally decided to plead the case myself. For the past more than two months, I have been after the Mehatpur police, but with no result. I feel insecure and have been putting up with my nephews," she seemed distraught.
Dubai-based Onkar Singh complained that there had been no police action on his complaint regarding theft of Rs 12 lakh from his car while he was returning from tehsil complex after having sold off his property. "My passport and Dubai visa also got lost. I lodged a complaint with the Division No 3 police station, but to no avail. Waiting for two months, I applied for another passport, which I got after two months. With no headway in the matter, I am struck here unable to decide whether I should go back or continue to follow up my case," he made a representation.
Savita Raval (64), daughter of freedom fighter Chain Singh Chain (95), said it had taken her months, but she was yet to get her nativity certificate through the Suvidha Centre. "This certificate is important for me to stay back with my ailing dad, who is all alone at Green Park here or else I have to go back to the UK after every six months. When I first applied for the certificate, I was told much later that my file had got lost. Now they are telling me to meet one officer or the other for getting my work done. I am still groping in dark," she pointed out.