Speaker's relative elopes to marry
Chandigarh, August 13
In a Bollywood style drama, a 20-year-old IAS aspirant and relative of Haryana Vidhan Sabha Speaker reportedly eloped with her boyfriend, much to the chagrin of her parents who got a case of kidnapping registered against the boy and his Sector 35-based family.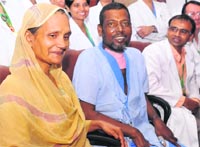 Slice of liver saves husband's life
Mohali, August 13
Sokina Begum gave a gift of life to her 48-year-old Bangladesh national Abdul Mannan by donating a part of her liver to him.




Bangladesh national Abdul Mannan with his wife at a press conference in Mohali on Monday. tribune photo: Vicky Gharu
Defer personal talk, CAT orders UPSC
Chandigarh, August 13
Acting on an application filed by five doctors of the Sector 32 Government Medical College and Hospital, the Central Administrative Tribunal today made it clear that it wanted the Union Public Service Commission (UPSC) to defer by a fortnight "personal talk" scheduled to be held on August 16 for the appointment of the institute's Principal.

Marching towards a perfect I-day
Mohali, August 13
The Mohali police has made three-tier security arrangements for Independence Day celebrations at Government College, Phase VI, where the National Flag would be hoisted by Punjab Deputy Chief Minister Sukhbir Singh Badal.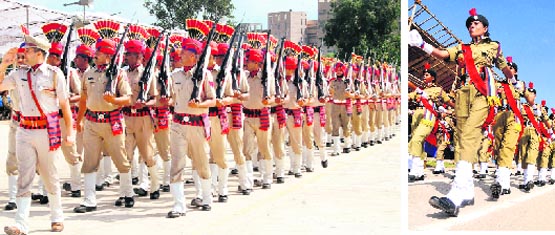 A rehearsal under way at the Parade Ground in Panchkula on Monday (L) and NCC cadets take part in a march past at Sector 17 in Chandigarh on Monday. Tribune photos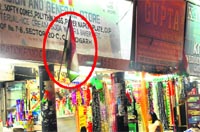 Check this out before hoisting Tricolour
Chandigarh, August 13
Every citizen of the country feels proud after hoisting the National Flag. But there are certain dos and don'ts, which the citizens forget.


As per rule, the Tricolour should be taken down after sunset. But it seems that the owner of the shop is not aware of the rule. tribune photo: Pradeep Tewari
P'kula DCP meets officials
Panchkula, August 13
The Panchkula DCP, Parul Kush, held a meeting with the ACPs, SHOs and Inspectors.
Traffic diversions on Independence Day; 3,000 policemen to be deployed
Chandigarh, August 13
The UT police has stepped up security ahead of Independence Day celebrations. Over 3,000 policemen ranking from constable to DSP will be on duty. The police will be on high alert. Moreover, traffic diversions will be in place in view of Independence Day function at the Parade Ground, Sector 17, and "At Home" function at Punjab Raj Bhawan.


Arrangements on for the I-Day at Sector 5 in Panchkula on Monday (L) and Students practise ahead of Independence Day at Sector 17 in Chandigarh. Tribune photos
MC byelections
Chandigarh, August 13
The State Election Commission will soon announce the date for the byelections from Ward No. 7.
Admn swings into action
Chandigarh, August 13
The Chandigarh Administration has decided to renovate bus queue shelters in the city.
Curtail expenditure towards year-end, ministry tells Admn
Chandigarh, August 13
The Union Ministry of Finance has directed the Chandigarh Administration to control the expenditure towards the end of the financial year.
Computerise land records within a month, revenue officials told
Mohali, August 13
The land records of more than 100 villages in Mohali district have not been computerised till now. While expressing displeasure at the situation, Commissioner, Roopnagar Division, Anurag Verma, have directed revenue officials to computerise all land records within a month.
P'kula police doesn't have divers
Panchkula, August 13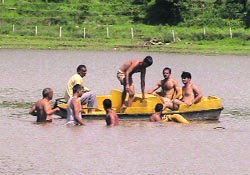 The Panchkula police had no professional divers of its own. Before the team of divers from Kurukshetra could reach the spot this morning, the nearby villagers were helping with the search operation since 6 in the morning and had already taken out the bodies of Jaswinder and Sandeep.



There weren't enough divers to spot the bodies from the Tikkar Taal in Morni on Monday. A Tribune photograph
Boys did not know how to swim: Police
Panchkula, August 13
The four boys who drowned in the Tikkar Taal did not know how to swim. The police said the vests of all of them were torn which indicated that when one began to drown, the others in order to rescue pulled at one another's vests.
All four friends just remain on Facebook now
Panchkula, August 13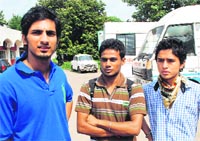 All four of them now just remain on their Facebook accounts. Just a day before their death, the four friends had spent a night together at Jatin's house. According to their friends, all of them were quite interested in sight seeing and loved adventures.



Anup's friends at the General Hospital, Sector 6, Panchkula, on Monday. Tribune photo: Nitin Mittal
No lesson learnt
Panchkula, August 13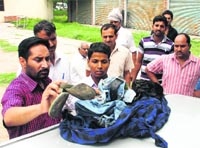 Despite several lives being lost at the Tikkar Taal in the past, the authorities have not yet woken up to the safety of those visiting the lake. The authorities continue to shift blame. The tourism authorities said that the area where the youths drowned did not fall under their jurisdiction. They said that they had installed a board of "prohibition" in the area but people did not pay heed to it. Deputy Commissioner Ashima Brar said that the area fell under the jurisdiction of the tourism department.
Belongings of the victims being identified at the General Hospital, Sector 6, Panchkula,
on Monday. Tribune photo: Nitin Mittal

Viscera report to be out in 45 days, says doctor
Mohali, August 13
It will take about 45 days for the viscera report of Anuradha Bali aka Fiza to come, said a doctor, who is a part of the medical team investigating the case.
Shopkeepers spend `80 per day on mineral water
Chandigarh, August 13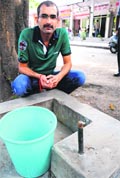 For the past one week, Harish Chander, a shopkeeper of Sector 44, is spending Rs 80 per day on the purchase of mineral water to meet his drinking and cleaning needs at his shop, as the water tap located in the market has been blocked by the Municipal Corporation. This is not the story of Harish Chander only, but 50 other shop owners of the market are also facing the same problem in the area.





The MC has blocked the public tap in Sector 44, Chandigarh. Tribune photo: Parvesh Chauhan
Oral health centre comes up
Chandigarh, August 13
An oral health centre was opened at Government Medical College and Hospital, Sector 32, here today. Equipped with microprocessor-controlled 10 new high-end chairs, the new centre was inaugurated by Adviser to the UT Administrator, KK Sharma.
Correction fluid only in form of pen: Union government
Chandigarh, August 13
The Union Ministry of Health and Family Welfare issued an order stating that correction fluids will be available in market only in shape of pens, once the existing stock comes to an end.
CBSE opens facilitation centres
Chandigarh, August 13
The Central Board of Secondary Education (CBSE) has opened two facilitation centres in Chandigarh to assist the CTET aspirants to fill in their applications online.
PU Senate poll: 69 candidates file nominations
Chandigarh, August 13
A total of 69 registered graduates have filed their nominations from the Graduate constituency for contesting in the forthcoming Senate elections. These include 13 sitting senators. The elections will be held on September 23 and there are a total of 80 seats in Panjab University senate. The nominations from the faculty have already been filed, while that of College professor constituency will be filed on Tuesday.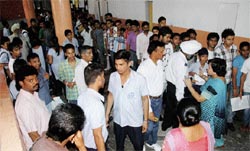 Third counselling begins
Chandigarh, August 13
The third counselling for Class XI admission began at Government Senior Secondary Schools today. More than 2,000 applicants submitted forms. Most of the applicants sought change of school or stream. The submission of forms will continue till August 14 (9 am till 1 pm).
Students submit forms during the third counselling at GMSS-19 in Chandigarh on Monday. Tribune photo: Manoj Mahajan
PU online hostel allotment system fails to take off
Chandigarh, August 13
Despite mooting a proposal last year to introduce online system to allot seats in Panjab University (PU) hostels, the authorities have again resorted to the conventional system of allotment this year.
25% questions out of syllabus, say students
Chandgarh, August 13
A day after Central Scientific Instrument Organisation (CSIO) Chandigarh held entrance test for its various diploma courses at Indo-Swiss Training Centre, many parents gathered in front CSIO in Sector 30 and alleged that more than 25 per cent of the objective paper of the entrance exam came out of syllabus. They said that the test was
SOPU stages protest
Chandigarh, August 13
Representatives of the Students Organisation of Panjab University (SOPU) today staged dharna and demanded a separate bus service for the students of Dr HS Judge Dental College.
INSO protests against poor upkeep of hostels
Chandigarh, August 13
Representatives of the Indian National Students Organisation (INSO) at Panjab University (PU), staged a protest outside the Vice-Chancellor's office today. They were demonstrating against the lack of maintenance of university hostels.