Revised licence fee list passed
Banks, units dealing in items like sugar, tobacco, alcohol to pay more
Megha Mann
Tribune News Service
Bathinda, August 27
The sub-committee, constituted by the Municipal Corporation Bathinda to decide the licence fees for various commercial establishments in the city, has passed the revised list.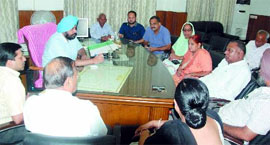 Mayor Baljit Singh Birbehman chairs a meeting of the MCB panel. Tribune photo: Pawan Sharma
The sub-committee increased the fees for money minting units that deal in items like sugar, alcohol, tobacco, sanitary fittings and ghee etc. At the same time, the fees for smaller units like blacksmith shops were reduced.
The meeting of the sub-committee was presided over by Mayor Baljit Singh Birbehman. Other members of the committee included municipal councillors Rajinder Mittal, Nirmal Sandhu, Rajinder Sidhu, Anjana Rani, Municipal Commissioner Uma Shankar Gupta, Assistant Municipal Commissioner Kamal Kant, the legal advisor to the Corporation and the licence superintendent, among others.
During the meeting, the councillors asked the officials of the corporation to ensure that members of the public do not face any harassment in getting the licences prepared and renewed.
Officials of the Corporation said the issue is not to collect revenue. The licence fees are so minimal that it would not amount to any major revenue inflow for the Corporation, they added.
The maximum licence fees of Rs 1,000 has been imposed on the banks in the city. All smaller units are to be charged Rs 100 to Rs 500 per year.
"Enlisting all traders together will go a long way in using the consolidated data for planning purposes. At times, there are schemes of the state and central governments that are given on the basis of particular number of industrial and occupational units," said Municipal Commissioner Uma Shankar Gupta.
The members of the sub-committee also discussed appointing more employees in the Corporation to deal with the licensing work. "Licensing would involve a lot of field work and survey. After all, one person can deal with a maximum of ten licences a day," reasoned a committee member.
The Municipal Commissioner said as of now, there were no plans to recruit more people. "The government is recruiting and we hope to get a handful of employees," he added.
Licensing units have been categorised as per the places where work is done like packing, cleaning, bottling, polishing, processing of different products and the industrial units of various sizes.
Fact file
Applications for new licences or renewal of the existing ones would be accepted from March 1 to March 15 every year.