Engg students unemployable, say industrialists
Megha Mann
Tribune News Service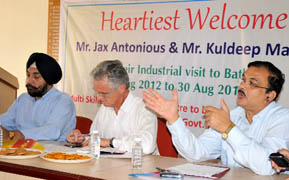 Project manager at GIZ-IS, Jax Antonious and Kuldeep Mathur, at an interaction held with the state industries department in Bathinda on Wednesday. Photo: Bhupinder Dhillon

Bathinda, August 29
Industrialists in the district today complained that engineering colleges were churning out unemployable engineers. The feedback came at an interaction held with the Germany-based GIS International Services Company and the state's industries department for setting up a Multi Skill Development Centre (MSDC) at Bathinda.
Industrialists from the power and transformer sector, petrochemicals, textile industry, fertilizers, ginning and other sectors, participated in a free-wheeling discussion that continued throughout the day.
GIZ-IS project manager Jax Antonious and Kuldeep Mathur spoke to the different industries about the kind of skilled employees they require to fulfill their demands and take industry ahead in the region. Additional Director, Technical Education and Industrial Training, Mohanvir Singh also discussed the issues with them at the Giani Zail Singh College of Engineering and Technology.
Based on the requirement of each industry, the courses would be tailor-made and run at the Multi Skill Development Centre (MSDC), which would be set up on 10 acres of land of the Government Industrial Training Institute, Bathinda. It is supposed to create a win-win situation for the unemployed youth and for the industries.
A majority of the industrialists were of the opinon that the engineering colleges were not producing employable engineering graduates. "Colleges are only providing certificates. Students do not have any knowledge of the concerned sector, leave aside hands-on experience. The rot needs to be stemmed at the college level itself and a sense of work culture needs to be inculcated. There are so many opportunities but not enough takers for the same," the industrialists observed.
Already, the GIZ-IS is running such MSDC centres at Gujarat. In Punjab, these centres are being established at Amritsar, Jalandhar, Hoshiarpur and Bathinda. Rs 240 crores will be spent and every year, around one lakh youngsters would be imparted job-oriented industrial education and skills.
Refinery to need only 15-20 new people every year
While interacting with the officials of Guru Gobind Singh Refinery, the team asked for the kind of professionals required for it. Officials replied that every year, not more than 15 to 20 new people are required.
"Since the project has been just commissioned and the machineries are new, the onus of operation and maintenance (O&M) lies with the service providers. We have tie-ups for a period of 5 to 10 years and hence, we do not require anyone for these purposes," refinery officials said. They added that three institutes in Punjab are teaching chemical engineering and pass-outs from these institutes would be enough to meet with their demands as the refinery is not a labour-intensive industry.
Mathur added that if more allied industries come up for processing refinery products, it would require skilled labour. "The end product of refinery is pet coke, which can further be processed into graphite. More industries should come up," he said. However, refinery officials reasoned that for the allied industry, Punjab government will have to give land on subsidy and introduce a single window clearance system, as is done in Gujarat.
Yarn testing lab demanded for textile industry
The textile industry, which Punjab plans to make into a textile hub of Asia, demanded that they be given yarn testing lab - a basic requirement for the textile industry. Industrialist JS Randhawa said Bathinda's textile industry had to visit Ludhiana for getting the yarn tested. "Here, we can have power looms, knitting and garment industry and all of them would require yarn testing," he said.
GIZ-IS officials proposed that Giani Zail Singh College's textile engineering can be provided with these labs, which would help the industry to which Randhawa agreed.
He also proposed that a six-month course be run for the lab invigilators wherein +2 pass students can be trained. "When turned into a hub, every industry would require at least 15 to 20 lab investigators for yarn, thereby generating enough employment," he added.
He added that earlier, all machines used in the industry were mechanical, which have now become electronic. Hence, courses should be crafted keeping the latest technology in mind.
Prominent among those present on the occasion were the Director, Harpal Singh, General Manager, District Industries Centre, Chaman Lal Garg, principal, ITI, Bassi Pathana, Balbir Singh, PHD Chamber of Commerce chairman, Raman Watts, Deputy Chief Engineer, PSPCL, Inderjit Garg and Deputy Secretary, PSPCL, MP Jain, among others.
Fact file
Thermal industry demanded courses in safety training.
Quoting a report of the Central Government, industrialists dealing in bio-waste said Punjab has the capacity to produce 10000 MW of power, which holds a great opportunities.
Petro industry demanded a course covering the requirements of machine fitters, electricians and instrumentation.