Dressed in decorum
Bat an eyelid and there is one thing that would have certainly changed — fashion. The glitter is in, then it walks out of the scene giving way to bold electric colours, and then we suddenly we find ourselves draped in satin and velvet!
Shake a leg!
It doesn't matter whether you like jazz or jive, waltz or salsa; if you don't like the drums, you'll like the violin, if not the piano, then definitely the guitar! Sooner or later, the music takes over. "I don't think there is a single person on this earth who can listen to salsa music without the desire to move their feet," Amelie Gataloca Pontailler, 34, from France, discovers the biggest plus of the dance form and flips it across like a challenge. She adds, "I discovered dancing through salsa when I was 21."
The final touch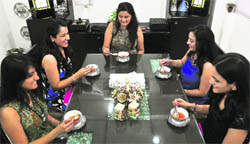 The state-of-the-art Swiss-style finishing school - ISOE (International School of Etiquette) has added another feather in the cap of Ludhianvis. It is the only premier academy of its kind in Punjab that has an affiliation with The Etiquette School of Manhattan, US. The School offers courses for all age groups starting from five years up to fifty years; the modules have been set by the Academy of New York, with the certification holding international value.
A delight to watch
They say if you are an expert, you can look into the deepest corners of an artist's soul just by looking at his or her work. A look at Rozy Varinder Kaur's Inner Delights and you learn the story of her personal growth as a woman. An artist and the curator of the ongoing group exhibition at Punjab Kala Bhawan-16, titled Contemporary Delight, Rozy talks about her love for art.



Different strokes: (L-R) Ragini Sinha, Anirudh Bundkar & Rozy Varinder Kaur. (L) and Different strokes: (L-R) Ragini Sinha, Anirudh Bundkar & Rozy Varinder Kaur.
STAR TRACK
Sizzling beauty from across the border
chatter box