Dressed in decorum
Fashion for these women in government circles is all about keeping it simple yet chic
Jasmine Singh
Bat an eyelid and there is one thing that would have certainly changed — fashion. The glitter is in, then it walks out of the scene giving way to bold electric colours, and then we suddenly we find ourselves draped in satin and velvet!
Bat an eyelid and see how hairstyles, accessories and shoes move back and forth with style. But when this same fashion slips into the cubicles of government offices, it slows down like the speed of running water that decreases near the banks. Fashion neatly slows down here and decides to change its course once a while. This is where it brings us, the dress code of women in power at the government offices. We don't expect revelations in style, but whatever we do is neat and simple. Here attire is looked at as a project of common sense rather than fashion sense. We check out.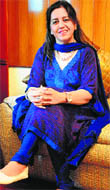 Decent dressing
Senu Duggal, Additional Director, Public Relations Department, Punjab
For Senu Duggal simple churidaars, salwar kameez and saris are a dress code. "I wear cotton or georgette saris, and Fab India kind of churidaars and salwar kameez. I don't wear anything that is too loud whether in colours or cuts. There is no going overboard. A pearl necklace or silver bangles or studs in the ears," shares Senu, who poses in a kaaftan and churidaar.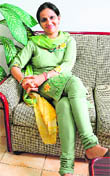 Elegant touch
Prerna Puri, Secretary Information Technology, UT
Fashion brings a whole new addition to the wardrobe, but when you look at office-wear, the options are always limited. Prerna Puri sticks to her suits and saris. "I wear suits which are smart, decent and elegant. I prefer pastelcolours," she says smiling at the idea of wearing accessories. "I do that whenever I have time — minimalist and classy. I am little particular about the hand bag."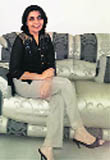 Comfort factor
Dr Jasjeet Kaur, Joint Director, Behaviour Change Communication, NRHM, Haryana
Dr Jasjeet wears her cotton, silk and tussar churidaars and suits. "These are comfortable, elegant and easy to carry. Pastels for summer and anything bright for winter," adds Dr Jasjeet. She also doesn't mind wearing trousers and denims one-odd time on leaner days.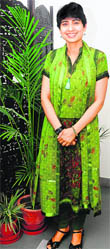 Traditional cuts
Garima Singh, Additional Commissioner of Income Tax
Garima Singh takes a traditional pick from her closet —churidaar and salwar kameez. "I like churidaars, which are comfortable and decent. I guess younger officers like to experiment more with it," says Garima, who likes to stick to her traditional attire. add
Simple take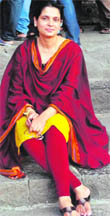 Poonam Nara, Additional Registrar, Co-operative Societies, Haryana
Meetings are a big part of office working, any minute and any time, which calls for proper dressing. Poonam Nara sticks to a no make-up look in the office. Hair neatly pulled back, she comes to the workplace in her pastel and soft-coloured churidaars. "Red is not the colour for the office. Other than this, any colour that is decent and not flashy fits the bill here," she says. Formal trousers can be a part of the office dressing, but I would rather wear traditional suits.
jasmine@tribunemail.com