A lesson well learnt
The dream begins with a teacher who believes in you, who tugs and pushes and leads you to the next plateau, sometimes poking you with a sharp stick called truth...wrote Dan Rather, American journalist. Indeed, teachers inspire and hold a place next to your parents if not before them. This Teacher's Day, we ask some on what has been their most cherished and challenging moments along the way.
Guru cool!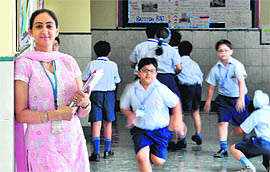 Her flowing hair, the red sari and the sexy smile, the chemistry teacher of Main Hoon Na Sushmita Sen carried with her the oomph, which made every real-life teacher wonder — 'Is this possible?' In Taare Zameen Par, Aamir Khan gels his hair, slips into trendy and interesting formal-wear to teach his students lessons in life while Mohabbatein saw Shah Rukh Khan, with a cardigan carelessly dropped on his shoulders, engage the students in playing the violin.
Harpreet Kaur Bachher
Masters of the art
Pretty they sit — the teenie-weenie eight-year-olds staring back at you; open to any queries you may have. And just when you wonder whether they'll utter any word, let alone answer any question, one of them grabs the microphone and dispels any misgivings. Currently, Om Chhetri and Jeet Das, runners-up of Zee TV's DID Li'l Master, are on a thanksgiving tour in Chandigarh or perhaps on a promotion of five-week series Dance Ke Superkids, bringing together the little champions of both seasons. No matter how grown up they act and give the well-rehearsed speeches, the duo has everyone around baby-talk them!
indulge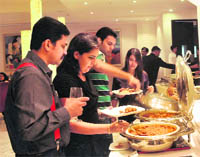 Taste of Delhi
Rakesyh Omprakash Mehra brought the real life and taste of old Delhi alive with his film Delhi 6. And, now it is Park Plaza's all-day dinning restaurant Cinnamon that has brought the same flavours of Delhi, served them on the platter with their on-going food festival Delhi-6 Fiesta. If you get lost in the busy by-lanes of Chandani Chowk at Cinnamon, be assured there are different streets and roads that will help you find your way.
High Spirits
Pink Floyd once more
This cocktail Pink Floyd is dedicated to the band Pink Floyd.
Star track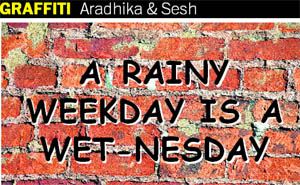 Getting to know Kirti Kulhari
The Charlie way
Long lasting effort
Over to the daughter
Kissing scene
Back to back
The guessing game
chatter box
Post the leap…
A party to remember
This time — it's a crime show
Out of the box
Retired hurt
Out of the box
The year ahead