Rain revival: Haryana on way to normal kharif output
Chandigarh, September 10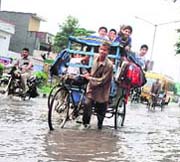 The late burst of rain in August and September has dispelled fears of drought-like conditions in Haryana. The state's rain deficit is down from 73% at the end of July to about 30% as of Monday.
RAIN GAIN: Many parts of Haryana have been lashed by heavy showers in the past few days. File photo

Circumventing law, political parties earn crores: Report
New Delhi, September 10
The Congress, the BJP and other major political parties may be diametrically opposite to each other ideology-wise, but when it comes to funding and finances, there are common connections with "trusts" floated by top corporate houses and similar tricks to circumvent law and hide incomes.
SC refuses to quash Nirmal Yadav's trial
New Delhi, September 10
The Supreme Court today refused to quash criminal proceeding against former Punjab and Haryana High Court judge Nirmal Yadav in the 2008 cash-at-judge's door scam.