Hike in diesel prices elicits widespread criticism from residents
Neeraj Bagga
Tribune News Service
Amritsar, September 14
Ahead of the festive season, the Union Government's decision to hike the diesel price by Rs 5 per litre and confining the supply of subsidised cooking gas cylinder to six a year has jolted the common man and elicited widespread criticism from the residents of the holy city.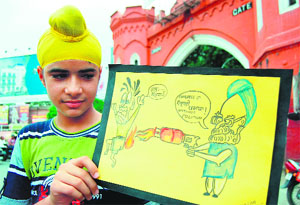 A boy shows a cartoon ridiculing the hike in LPG prices in Amritsar on Friday. Photo: Sameer Sehgal
In the local market diesel prices recorded a rise of Rs 5.47 per liter as its cost jacked up from Rs 40.49 to Rs 45.96. On the other hand, branded diesel was dearer by Rs 18 per litre as it is now available at Rs 63.97.
This came as a second blow for the residents after the state government recently levied fresh taxes on various essential items. The city residents feel that it will add more burden to them as diesel is widely used by transport companies and farmers.
Punjab Petroleum Dealers Association president JP Khanna lambasted the government's defence of raising the price on account of mounting losses to the PSUs and added that people must look at their balance sheets to know the truth. "The government only wishes to pocket a fat cheque at the end of the financial year," he said. He added that soon its impact would be seen on almost all essential items from textile and cosmetics.
Amritsar Retail Karyana Association president Kuldeep Rai Gupta said the impact of diesel hike would be far reaching as it would cause the increase in prices of almost all items used in kitchen. He reasoned that the majority of these essential items came here from different parts of the state primarily using trucks run on diesel for transportation of these. He mentioned that cereals were procured from Delhi, spices from South routed through Madhya Pradesh and oil from Rajasthan.
Fruit and vegetable merchant Harish Taneja said prices of vegetables and fruit were set to increase after the hike in diesel as all these crops came from various parts of the country. Transporters today increased the freight charge on a box containing 10 kg apple from Rs 13 to Rs 15. On an average a truck carried 500 boxes, which meant Rs 1,000 freight rise on a truck. Currently, apple was being procured from Chamba. He added that more clear picture would emerge within a couple of days as tomato was being procured from Maharashtra.
Amritsar Milk Halwai Association president Charanjit Singh Pappu, also proprietor of Gian di Hatti, famous for lassi (butter milk), said nearly Rs 5.50 hike per litre of diesel was very high and it would cause prices of milk and its allied items to increase. He said its impact would be known only next week.
Automobile dealer Rajat Kumar said the hike in the prices of diesel might have limited impact on the sale of cars. He said the consecutive increase in the prices of petrol had tilted the balance in favour of diesel cars and the sale of cars in the latter segment increased considerably.
An employee, Kusum Malhotra, said over 14 per cent hike in the prices of diesel in the city might be aimed at shoring up a weak fiscal position, but it would increase people's kitchen budget considerably.
A housewife, Ruchika, said it was strange that the government offered coal mines to its ministers and favourite companies and burdened "aam adami" with inflation. "I receive a limited sum from my husband to run the chores of the house and family, including kitchen and school fees of students, and am unsure how to adjust the domestic budget, which is set to rise", she rued. She demanded that at least 12 cylinders on subsidised rate must be ensured to each family. She added that a cylinder hardly lasted even a month and how could the government expected it to last for two months.
A company secretary, Arvind Bajoria, said the country's wholesale price index (WPI) rose 7.55 per cent, higher than expected in August from earlier year, mainly driven by higher food prices due to poor monsoon rains and in this light hike in the diesel prices would only add to the inflationary trend. He commented that the increase in diesel prices was anticipated to add 60 basis points to inflation.
A woman entrepreneur, Mirudala Bhardwaj, flaying the unprecedented increase of over Rs 5 in the diesel prices and limiting the number of subsidised LPG cylinders to six said the Union Government must spare a thought for the middle and lower income group families.